This was the trailer on my fanpages for a BUDDY HOLLY RADIO SHOW

coming from Augsburg / Germany, my weekly favorite music show.

It's the FROZEN SURF PARTY on www.frozenradio.de

Every Monday with 2 hours of good old rock 'n' roll music.

Mit diesem Flashtrailer habe ich im Jahr 2008 eine von mir gesponsorte

Sondersendung zu Ehren von BUDDY HOLLY angekündigt,

die am 4.2.2008 von 21 - 22 Uhr über den Internetradiosender

aus Augsburg weltweit verbreitet wurde.

Jeden Montag höre ich dort die FROZEN SURF PARTY von 19 - 21 Uhr.

Als treuer Stammhörer seit der ersten Sendung bin ich inzwischen

beim Sender als Ehrenmitglied der SURF PARTY gelistet.

Anmerkung April 2010: Leider gibt es Sendung und DJ nicht mehr bei dem Sender !




WE'LL ALWAYS REMEMBER



BUDDY HOLLY


ALWAYS . .










On the 4th of February, 2008 I had the opportunity to sponsor . . .

Holy ground: The studio decorated with Buddy vinyl, before the transmission started.

. . . "AN ADDITIONAL BUDDY HOLLY HOUR with Hans"

after the regular show.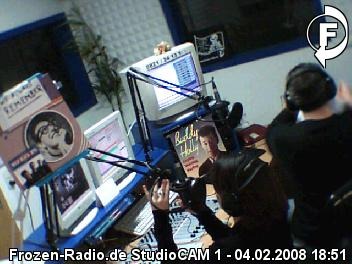 DJ Tobias Berndt and Bettie Boop.

The most famous artists related to Buddy,

who listened to my show via internet :

MIKE BERRY - SONNY WEST - TEXAS MIKE BELL - JOHN MUELLER

And BUDDY's last emcee on stage in the SURF, BOB HALE

Keeping the memory alive.

My good buddy SONNY WEST, composer of OH BOY and RAVE ON,

sent me a great post for this special Buddy Radio Show:

Greetings to you, my buddy Hans,

We are all travelers in this world for a brief moment in time we travel together between the past and future eternities. While we are together we should take each opportunity to bring joy and happiness to others.

It has been fifty one years since my writing and recording OH BOY. A few months after my recording of that song it was recorded by BUDDY HOLLY as lead vocalist for THE CRICKETS.


As we remember the anniversary of the day when Buddy passed from this world, we remember the music he left behind because he gave each song a certain style and mistique.



I am grateful each passing day to the fans who have refused to let this music fade away.



My buddy Hans and his huge website is responsible for bringing the music to an even higher level.

From the bottom of my heart ...

Thank you,

SONNY WEST

01. TRIBUTE TO BUDDY HOLLY (MIKE BERRY)

02. READY TEDDY (BUDDY HOLLY)

03. WELL ALL RIGHT (BUDDY HOLLY)

04. SLIPPIN' AND SLIDIN', fast version (BUDDY HOLLY)

05. RAVE ON (Buddy HOLLY)

06. CRYING WAITING HOPING (BUDDY HOLLY)

07. NEWSCAST ABOUT THE PLAIN CRASH

08. LOVE IS STRANGE (BUDDY HOLLY)

09. IT'S SO EASY (BUDDY HOLLY)

10. INTERVIEW WITH HANS ( 12 MINUTES )

11. LEARNING THE GAME (BUDDY HOLLY)

12. PEGGY SUE (BUDDY HOLLY)

13. OH BOY (BUDDY HOLLY)

14. NOT FADE AWAY (BUDDY HOLLY)



Hast Du die Show verpasst ? - Na logo, fast alle haben das, wie immer !

You've missed the show, as usual ? No problem, here we go again :

CLICK ON THE LINK BELOW

>>> http://buddyhollylives.info/INTERVIEW_FSP_4.2.08.mp3 <<<

Etwa 12 Minuten - About 12 minutes

Remembering BUDDY HOLLY with a fine internet radio show.

We had a competition looking for both names of a group singing

"THAT'LL BE THE DAY"

(THE QUARRY MEN - THE BEATLES)

The winner of my donated prize (Sonny West 45 of OH BOY from 1957) :

Gerd Muesfeldt

This internet radio show was proudly presented by Hans and



The world's most comprehensive Buddy Holly and The Crickets Fanpages
in both English and German.