| | |
| --- | --- |
| | |
| | A DEL SHANNON Album From My "Wish List" |



One of the best and most original rockers of the early '60s, Del Shannon

was also one of the least typical. Although classified at times as a teen

idol, he favoured brooding themes of abandonment, loss, and rejection.


In some respects he looked forward to the British Invasion with his

frequent use of minor chords and his ability to write most of his own

material. In fact, Shannon was able to keep going strong for a year or

two into the British Invasion, and never stopped trying to play original

music, though his commercial prospects pretty much died after the mid-

'60s.



Born Charles Westover, Shannon happened upon a gripping series of

minor chords while playing with his band in Battle Creek, MI. The

chords would form the basis for his 1961 debut single, "Runaway,"

one of the greatest hits of the early '60s, with its unforgettable riffs,

Shannon's amazing vocal range (which often glided off into a powerful

falsetto), and the creepy, futuristic organ solo in the middle. It made

number one, and the similar follow-up, "Hats Off to Larry," also made

the Top Ten.
| | |
| --- | --- |
| | |
| | DEL SHANNON EP |
Del Shannon had intermittent minor hits over the next couple of years

("Little Town Flirt" was the biggest), but was even more successful in

England, where he was huge. On one of his European tours in 1963, he

played some shows with the Beatles, who had just scored their first big

British hits. Shannon, impressed by what he heard, would become the

first American artist to cover a Beatles song when he recorded "From

Me to You" for a 1963 single (although it would give him only a very

small hit).

Shannon's melodic style had some similarities with the burgeoning

pop/rock wing of the British Invasion, and in 1965, Peter & Gordon

would cover a Shannon composition, "I Go to Pieces," for a Top

Ten hit.


These Del Shannon albums are stored

on my external hard drives.





| | |
| --- | --- |
| | |
| | One of the idols of my youth: DEL SHANNON |
Del Shannon got into the Top Ten with a late-1964 single, "Keep

Searchin'," that was one of his best and hardest-rocking outings. But

after the similar "Stranger in Town" (number 30, 1965), he wouldn't

enter the Top 40 again for nearly a couple of decades.

A switch to a bigger label (Liberty) didn't bring the expected commercial

results, although he was continuing to release quality singles. Part of the

problem was that some of these were a bit too eager to recycle some of

his stock minor-keyed riffs, as good as his prototype was.

A brief association with producer Andrew Loog Oldham (also

manager/producer of the Rolling Stones) found him continuing to evolve,

developing a more Baroque, orchestrated pop/rock sound, and

employing British session musicians such as Nicky Hopkins.

Much to Shannon's frustration, Liberty decided not to release the album

that resulted from the collaboration (some of the material appeared on

singles, and much of the rest of the sessions would eventually be issued

for the collector market).




By the late '60s, Del Shannon was devoting much of his energy to

producing other artists, most notably Smith and Brian Hyland. Shannon

was a perennially popular artist on the oldies circuit (particularly in

Europe, where he had an especially devoted audience), and was always

up for a comeback attempt on record. Sessions with Jeff Lynne and Dave

Edmunds in the '70s didn't amount to much, but an early-'80s album

produced by Tom Petty (and featuring members of the Heartbreakers as

backing musicians) got him into the Top 40 again with a cover of "Sea

of Love." He was working on another comeback album with Jeff Lynne,

and sometimes rumored as a replacement for Roy Orbison in the

Traveling Wilburys, when he unexpectedly killed himself on February 8,

1990, while on anti-depressant drugs.
| | |
| --- | --- |
| | |
| | DEL SHANNON CD |
Del Shannon war musikalisch für mich ein treuer Begleiter,
schon als Schüler zu meinen Gymnasialzeiten war ich von
seinen Titeln fasziniert und regelrecht elektrisiert.


Ich habe eine kleine Sammlung seines Lebenswerks, Vinyl,
CD's und ein Live-Konzert auf DVD.


Er konnte singen, das konnten nicht alle Stars der damaligen
Zeit von sich behaupten. Ich habe von ihm z.B. eine CD mit
dem Titel: "Del Shannon sings Hank Williams"


Meine Lieblingstitel:


"Runaway", "Hats off to Larry", "The Swiss Maid".




Del Shannon was always by my side, when I was a pupil.

I was fascinated by his songs, therefore I have a collection

of Del Shannon songs on vinyl and CD and a concert on DVD,

he could really sing, not the standard for most of the stars

from yesterday.



One of the CD's in my collection is

"Del Shannon sings Hank Williams"


My Del Shannon favourites:


"Runaway", "Hats off to Larry", "The Swiss Maid".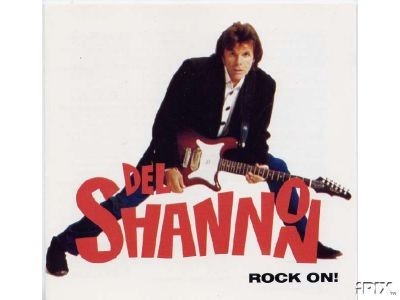 Nach seinem Tod veröffentlicht, eine grandiose CD ! Mit viel Herzblut gesungen, ich liebe diese CD ! Habe ich bei eBay erworben, daher auch das Logo unten rechts.

Great songs, great voice, with a lot of feeling.

Released after Del's tragic death.

Let The Good Times Roll - Big Top - Del Shannon



Del Shannon - Greatest Hits (16 tracks)



Unforgettable Memories - Del Shannon



Del Shannon sings Hank Williams



The Magic Collection - Del Shannon



Del Shannon - Live In England



Del Shannon - . . . And The Music Plays On



Del Shannon - GOLD



Del Shannon - All The Hits And More !



Del Shannon - Greatest Hits (20 tracks)



Del Shannon - Home And Away CD 6 Bear Fam.



Del Shannon - I Go To Pieces



Del Shannon - Little Town Flirt



Del Shannon - Runaway - The Original Hits



Del Shannon - Runaway Hits !



Del Shannon - The Liberty Years



Del Shannon - This Is Del Shannon



Del Shannon - Rock On !



Del Shannon - Runaway With Del Shannon




plus some vinyl 45, vinyl 33 and a DVD.