Anfang bis Mitte der 60er haben die beiden, die sich von der High School her

kannten, mit richtigen Namen hiessen sie Dick St. John Gostling und Deedee

Sperling, sehr schöne und einfühlsame Lieder herausgebracht.

Zum Beispiel "River Deep, Mountain High", "Young and in love", "Thou shalt not

steal" und meinen absoluten Top-Favoriten "TURN AROUND".

Leider ist Dick schon verstorben, aber die Musik erklingt bei mir weiter.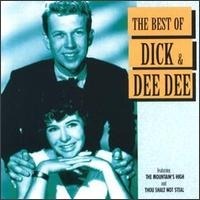 These 2 wonderful singers, who knew each other from High School, their real names were Dick St. John Gostling and Deedee Sperling, sang wonderful songs in the early sixties with a lot of feeling.

My absolute favorite song is "TURN AROUND"

A pity that Dick had to leave this world so early, but their

music lives on.

Several times per year I listen to some of their songs.