| | |
| --- | --- |
| | |
| | Winter Dance Party Logo |

| | |
| --- | --- |
| | |
| | SURF BALLROOM - Clear Lake IA |
The crash of '59 claimed the lives of Buddy Holly, Ritchie Valens, J.P. "Big Bopper" Richardson and the pilot, Roger Peterson. The year was 1959 and the "The Winter Dance Party Tour" was under way. They had just finished performing at the Surf Ballroom on a cold winter's night in Clear Lake, Iowa. They were bound for Moorhead, MN. They never made it.

The tour bus developed heating problems and broke down while in route to Clear Lake Iowa. Other means of transportation had to be arranged. Carl Bunch, the drummer for Buddy Holly, developed frostbite and had to be taken off the bus and hospitalized. That would be the last time he saw Buddy. The tour bus finally arrived at the Surf Ballroom in Clear Lake at 7:30 pm. They were met at the door by the manager, Carroll Anderson. They were all cold, tired and disgusted. There were 1200 teenagers waiting outside in sub zero temperatures eager to pay $1.25 to see their idols. The majority of them were chaperoned by their parents.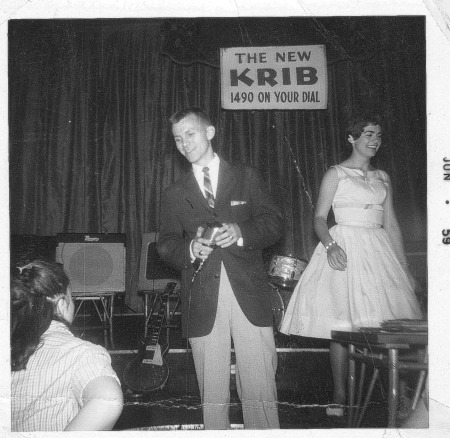 Bob Hale pic from the Surf, 1959, not from that final day.

The show started on time at 8 pm. Bob Hale would MC the event. Buddy didn't have enough money to replace Carl Bunch on the drums so he swapped guitar for drums and back again during his performance. He closed the first half of the show at 9:30 pm. Buddy had had enough of the unheated bus and needed some much need sleep and clean laundry. With the help of Carroll Anderson he chartered a plane for himself and his guys. The flight cost $108.00 total. Only three people could be accommodated.

Jerry Dwyer, from Mason City Iowa lived in Clear Lake Iowa. He was the owner of the flight service. At the time of the call he didn't know who the passengers were going to be. A young 21 year old pilot named Roger Peterson, who worked for Jerry Dwyer's Flying Service, agreed to fly them. He had been a pilot for four years. It was later discovered that his records noted a hearing disability and a tendency to panic during night flights when forced to rely solely on his instruments. That night the weather was bad, with flying advisories out. Only instrument trained pilots could handle, but the Dwyer planes weren't licensed for instrument flying, plus Peterson had recently failed his instrument test.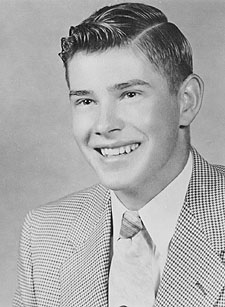 Pilot Roger Peterson

Buddy called his wife Maria in New York at 10:30 pm. He didn't mention the impending flight. Maria Elena had a premonition of his death in a plane crash and he didn't want to worry her unnecessarily. After the show was over the word got around that Buddy had chartered a plane and everyone wanted a seat. Originally scheduled to fly with Buddy was Waylon Jennings and Tommy Alsup.

The Big Bopper came to Waylon Jennings and said he had the flu and was very sick and tired and was unable to sleep. He asked if he could take his place on the plane. Waylon said if it was OK with Buddy it was OK with him. Ritchie Valens asked Tommy Alsup three or four times if he could fly in his place after he heard the Bopper was flying. Alsup said no.

Before leaving to the airfield Buddy had Waylon get them some hotdogs. They were eating hotdogs and talking as Buddy sat in a chair and leaning up against a wall in a cane-bottom chair. Buddy started laughing at him and said, "So you're not going with us tonight on the plane, huh? Well, I hope your ol' bus freezes up. It's 40-below out there and you're gonna get awful cold." So Waylon said, "Well, I hope your ol' plane crashes." Waylon was nineteen or twenty years old at the time. This friendly banter of friends would haunt Waylon for years. Waylon was always afraid that someone was going to find out that he said that. To make matters worse he blamed himself and felt guilty that he was still alive. He would later name a son after Holly.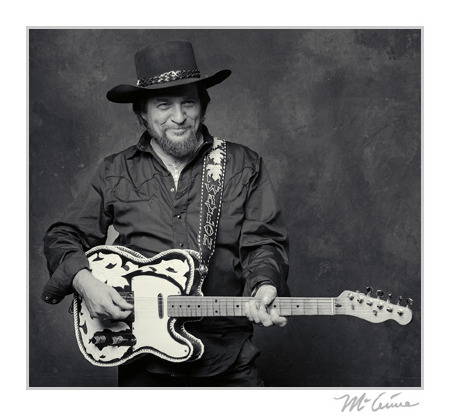 WAYLON

Carroll Anderson, Buddy and the Big Bopper were pulled up at the back door in a station wagon ready to go to the airport. Alsup got on the bus and packed his stuff in a little bag and carried them to the station wagon. He got in the back seat with the Bopper. Before they left Buddy asked Alsup to go back inside the Surf Ballroom and check to see if everything got loaded. Buddy had never asked that before. When Alsup went back in he saw Ritchie Valens signing an autograph. Ritchie asked Tommy again if he could go in his place. Tommy said if you want to go that bad, he reached into his pocket and pulled out a fifty-cent piece and flipped it in the air and said call it. Ritchie called "heads". Tommy said "your on" so Ritchie walked out to get his clothes off the bus.

Alsup walked back out and told Buddy that Ritchie was going in his place. Buddy asked him why? Tommy said they flipped for it. Tommy told Buddy that his mother had sent him a letter to general delivery in Fargo and would Buddy pick it up for him at the post office? Buddy asked Tommy for some ID. Tommy pulled his wallet out and started taking his driver's license out. Buddy reached over, took the whole wallet and stuck in his coat pocket.

On February 3, 1959, at 12:15 am. Carroll Anderson, his wife and son along with the three tired musicians arrived at Madison City Airport. After they each paid their $36.00 fare Buddy, Ritchie and the Big Bopper, accompanied by Jerry Dwyer, made their way across the tarmac towards the waiting Bonanza. On the plane Buddy sat in the front seat as Ritchie and the Bopper sat in back. The weather bulletins predicted a storm front, 150 miles away, directly in front of their proposed flight path to Fargo, North Dakota.

At 12:40 am, the plane taxied into the night headed towards runway 17 where it paused for an instrument and equipment check. Roger Peterson was contacted by the tower and asked for his flight plan. Peterson said he would give his flight plan when he was airborne. The normal procedure at that time was to activate your flight plan after you took off.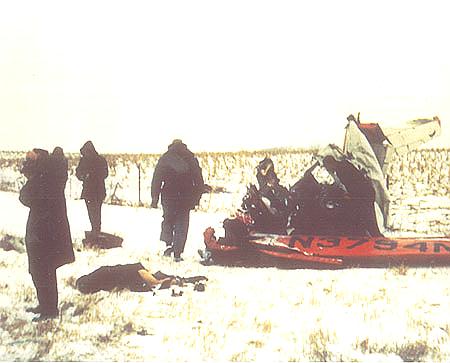 Crash site

At 12:50 am. Jerry Dwyer watched his plane take off. He climbed up to the airport control tower and attempted to contact Peterson by radio. He had his eyes fixed on the tiny white tail lights which seemed to be gradually drifting downward. He said to the man in the tower that the plane was going down. The man responded by saying that it was an optical illusion. Dwyer said that he'd been flying since he was 13 years old and had watched a lot of airplanes. He thought it was going down and hoped he was wrong. Dwyer went home and called the tower at Fargo, North Dakota a number of times throughout the night. He was later told that no Bonanza had landed there and that no Bonanza was going to land because of a blizzard that limited visibility to less then ten feet. He knew he had a problem.

The plane crashed in a cornfield only 5 miles from the airport within four minutes after take off. Witnesses adjacent to the crash site reported hearing a plane in trouble and seeing low flying airplane lights at approximately 1 am. The 12 year old Beach Bonanza, N3794N was torn apart like tissue paper as it hurtled to earth at 160 mile an hour.

At 7:15 am, Mr. Dwyer called Carroll Anderson. He told Anderson that his plane never checked in at the first checkpoint in Alexander, Minnesota. He said he was going up and would check back with him as soon as he heard anything. At 9:35 am, Dwyer flew out of Madison City Airport and took the same route as Roger Peterson to see if he could find any wreckage. As he flew, he could see ahead of him what seemed to be plane wreckage. It was thought to be a hog house. As they descended they circled around and confirmed the plane wreck. He called the sheriff's office.

Bob Hale later broadcasted, on air, the tragic plane crash as reported to him by Carroll Anderson. The plane had crashed while in route to Fargo, North Dakota, for that night's performance of the Winter Dance Tour.

Sheriff Jerry Allen was first on scene. He observed the aircraft up against a fence line with three bodies lying outside of the plane. Ritchie was lying approximately 15 feet away from the plane. To the left of the wreckage was Buddy Holly. About 40 feet beyond the fence line was the Big Bopper. The only thing the Bopper had on was his pants. The crash tore everything off him, shoes, socks and coat. The pilot was found wrapped up inside the mangled aircraft.

In the pocket of the Bopper's light-blue cotton pants, they discovered some dice, his wedding ring, a guitar pick and $202.53 in cash. They also found the Bopper's briefcase, which contained a half-empty pint of whisky, some aspirin, a hairbrush and mirror, some ties a guitar strap and fragments of song lyrics he hadn't yet set to music.

The Corner's office arrived on scene. Jerry Allen escorted Doctor Ralf Smiley out to examine the location and take photographs of the scene. They released the bodies to a funeral home in Clear Lake. The pilot's body was taken to Mason City, Mercy Hospital and an autopsy was performed which was required by Federal regulations. There were no autopsies performed on the others.

After the bodies had been removed, the Civil Aviation Board stepped in and investigators spent three days sifting through the wreckage. They laid the blame firmly on Roger Peterson. Referring to his history of poor instrument reading, lack of concentration, over confidence, hearing disability, lack of experience, and for ignoring the bad weather warnings.

The rest of the tour group was sleeping on the bus and completely unaware of the tragedy as they headed for the next venue. As the bus pulled up to Moorehead, Minnesota, Waylon woke up and Tommy Alsup sat across from him. The tour manager walked out to the tour bus and told Waylon he needed to talk to him. Waylon felt something was wrong and said, "no", and told Tommy to go. Tommy and the manager walked into the lobby of the building. Tommy saw that the television was on and there was a picture of the Big Bopper on the TV. He thought they were plugging the show. He asked the desk clerk for a room next to Buddy Holly. The desk clerk asked Tommy, "Haven't you heard? Those guys got killed in a plane crash down in Iowa." Tommy reported back to Waylon and the guys and told them "the boys" didn't make it and were killed in a plane crash.

Carl (with hat on), 2002

Still laid up in the hospital Carl Bunch was told of the awful news by telephone. Hospital staff came in to his room with a wheelchair and told him he had a phone call. They rolled him down the hall to a pay phone. His mother was on the phone. She asked him what he was going to do now. He responded by saying he would thaw out and join the crew. She said, "No, you don't understand. Buddy, Ritchie and the Bopper were all killed last night in a plane crash." He cried. It was hard to believe that those guys were dead.

Waylon called home later that day. Everybody back in his home town of Lubbock thought that he had died. It was reported that Buddy Holly and his band had died in the plane crash. Alsup's wallet was found at the crash site and it was reported they found five ID's and only four bodies. Alsup called home and told his mother that he was not on the plane.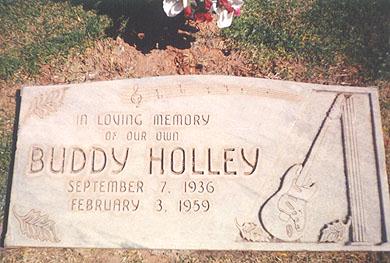 Buddy's grave

Buddy Holly's funeral was on February 7, 1959. It was held at 2 pm. at the Tabernacle Baptist Church in Lubbock, Texas. The Rev. Ben D. Johnson, Pastor, officiated. He had performed the wedding for Buddy only six months before. Burial was held in the City of Lubbock Cemetery under the direction of Sanders Funeral Home. Buddy's wife did not attend because she was too distraught. She has never visited Buddy's grave. Maria was about a month and a half pregnant at the time, but she miscarried shortly after Buddy died.

The Big Bopper's funeral was held at Broussard's Funeral home in Beaumont, Texas, on Friday, February 6, 1959, at 2 pm. He was buried at Forest Lawn Cemetery in Beaumont. From Germany, US Army private Elvis Presley sent a wreath of yellow roses encircling a guitar. Ritchie Valens was buried February 7, 1959, in San Fernando, California, Mission Cemetery.

A memorial service for Roger Peterson was held at Redeemer Lutheran Church, Ventura, Iowa on February 5. A funeral was held the next day at St. Paul Lutheran Church in his hometown of Alta; Peterson was buried in Buena Vista Memorial Cemetery in nearby Storm Lake.

In 1988, Ken Paquette, a Wisconsin fan of the 1950s era, erected a stainless steel monument depicting a steel guitar and a set of three records bearing the names of each of the three performers. It is located on private farmland, about one quarter mile west of the intersection of 315th Street and Gull Avenue, approximately eight miles north of Clear Lake. This is where the plane crash occurred. He also created a similar stainless steel monument to the three near the Riverside Ballroom in Green Bay, Wisconsin. Dwyer's Flying Service, still in operation today, consisted basically of owner Jerry Dwyer.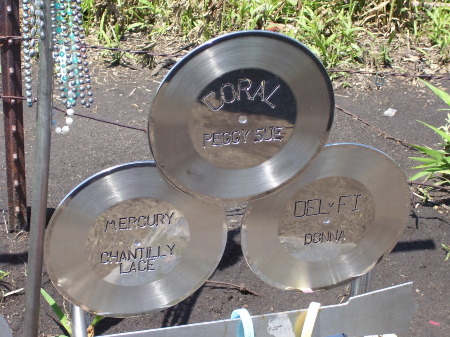 Crash site monument.

The plane crash claimed the lives of Buddy Holly, Ritchie Valens,

J.P. "Big Bopper" Richardson and the pilot, Roger Peterson.

Three of Rock and Roll's most promising performers were gone.

Their tragedy was memorialized for generations to come by Don McLean

in his classic music parable, "American Pie," "The Day the Music Died."



Source: Buddy Holly - The Final Day