| | |
| --- | --- |
| | |
| | BUDDY HOLLY UK 1958 |


Diese Auflistung erhebt keinen Anspruch auf Vollständigkeit, aber gibt vielleicht

einen kleinen Überblick, wie unsere Nachbarn im Vereinigten Königreich von den

Printmedien über "den Tag, als die Musik starb" informiert wurden.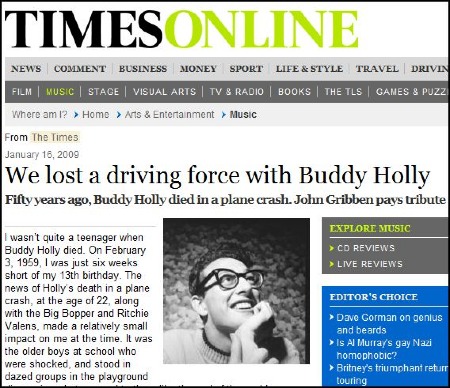 16 Jan The Times " We lost a driving force with Buddy Holly " – John Gribben

18 Jan The Observer

" Forever raving on " – Paul McCartney

23 Jan The Independent

" Oh boy: Why Buddy Holly still matters today " – Spencer Leigh

30 Jan The Times

" Why Buddy Holly is still pop's hero " – Chas Hodges

30 Jan The Guardian

" The angel with devil's music " – Richard Williams

31 Jan The Independent" Buddy Holly - Unseen images of the rock 'n' roll icon ", Proud Galleries have an upcoming exhibition featuring never-before-seen photographs of rock 'n' roll icon Buddy Holly.

31 Jan Daily Express

Photo trailer for 1 Feb Sunday Express

1 Feb Sunday Express.

" Free CD for every reader BUDDY HOLLY " " To mark the 50th anniversary

of Buddy Holly's death, Charlotte Heathcote looks at why his short career left an

immortal legacy " " What Buddy Mean't To Me… Keith Richards…Graham Nash…

Paul McCartney…Brian Poole." " Buddy was the father of rock 'n' roll " " Buddy's

Final Hour " - Charlotte Heathcote

3 Feb Daily Telegraph

" Fans mark 50th anniversary of Buddy Holly's death " " The 50th

anniversary of an unlikely legend… we trace Buddy Holly's posthumous ascent from

boy next door to rock and roll's first real artist" – Neil McCormick; "Unhappy Buddy,

Why are Buddy Holly's six last songs so full of heartbreak ?" – Julian Lloyd Webber

" Why Buddy Holly will never fade away " – Philip Norman

3 Feb The Guardian " In praise of…Buddy Holly " " Buddy Holly was a real rebel, a real punk …taught me how to write songs, believe in myself…and make my sister laugh."

3 Feb The Scotsman

" 50 years since Buddy Holly's death…"

3 Feb Scottish Daily Record

'That'll Be The Date'. 2009 Is Packed With Famous Anniversaries

It's 50 Years Since Buddy Holly Died In A Plane Crash " – Samantha Booth

3 Feb The Times

" Fans Mark 50th Anniversary of Buddy Holly's Death " Veronica Schmidt

5 Feb Daily Star

" Celeb News, 'Holly And The Dalai Lama Remembered At Tibet House Show. 'Punk

icon Patti Smith and Vampire Weekend honoured two sad anniversaries on Tuesday

night (03 Feb) in New York when they remembered Buddy Holly at the 2009 Tibet

House benefit.' "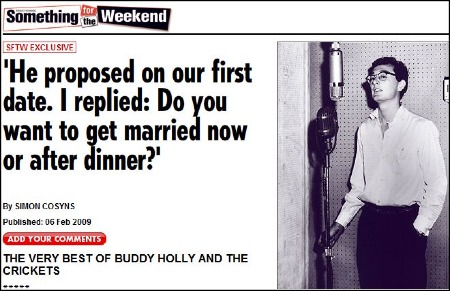 6 Feb The Sun " 'Something For The Weekend' - 'I feel Buddy's still here with me.' Exclusive: 50 years after his death SFTW speaks to Rock star Buddy Holly's widow. 'He proposed on our first date. I replied: Do you want to get married now, or after dinner ?' "– with wedding, honeymoon & photo-booth pics - interview by Simon Cosyns.

6 Feb The Mirror

" What Would Buddy Holly Have Made Of Today's World ? " – Home News columnist,

Paul Routeledge

8 Feb The Observer

Review of John Gribbin's 'Not Fade Away', " The geek who kick-started rock n roll "

8 Feb The Sunday Times

"…imagine if art were only judged by the vitality (living) or otherwise

of the artist…no Beethoven, no Bacon, no Buddy Holly. " – Jenny Hjul

10 Feb The Times

" Paul Anka at the London Palladium', 'One of the most affecting passages

found him picking up the acoustic guitar to commemorate Buddy Holly on a down-

home treatment of 'It Doesn't Matter Anymore' " – Clive Davis

13 Feb Daily Mail

Mail Online Promotions with CD-photos & 'Everyday' themed video -

" Buddy Holly CD and DVD pack absolutely free "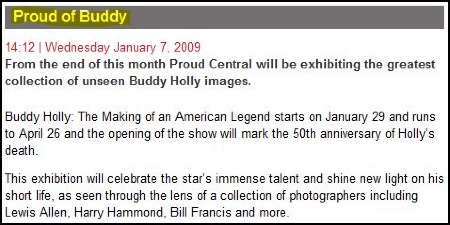 Jan 8 Music Week " Proud of Buddy - From the end of this month Proud Central will be exhibiting the greatest collection of unseen Buddy Holly images. 'Buddy Holly: The Making of an American Legend' starts on January 29 and runs to April 26 and the opening of the show will mark the 50th anniversary of Holly's death. This exhibition will celebrate the star's immense talent and shine new light on his short life, as seen through the lens of a collection of photographers including Lewis Allen, Harry Hammond, Bill Francis and more.

New Musical Express

" February 3 The Day The Music Died – Buddy Holly remembered…here's what some

of the biggest names in rock n roll have to say about Buddy Holly over the years…"

The Stage

Some lines about BBC Radio 2's 'Crying Waiting Hoping – The Story Of

Buddy Holly's Last Tour', plus '50th Anniversary' specials.

Now Dig This

" A Long Long Time Ago " with pics of Bopper, Buddy, Ritchie. Inside, " Winter

Dance Party Diary – Day-by-day guide to the doomed tour "…" The Purple Line-

Backer Meets The Disc Jockey – The Story of The Big Bopper "…" Hits & Rarities

– Universal's new Buddy Holly packages reviewed ".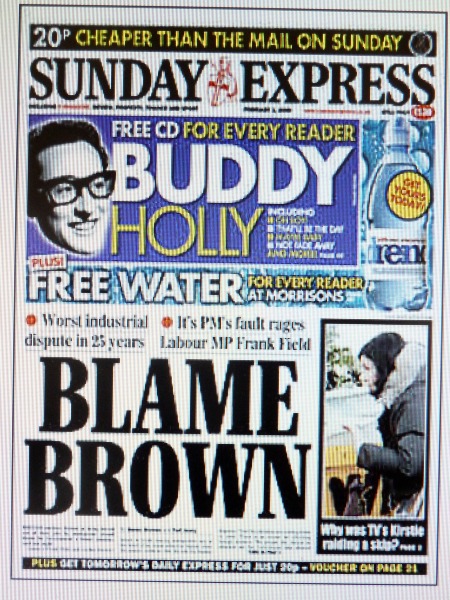 SUNDAY EXPRESS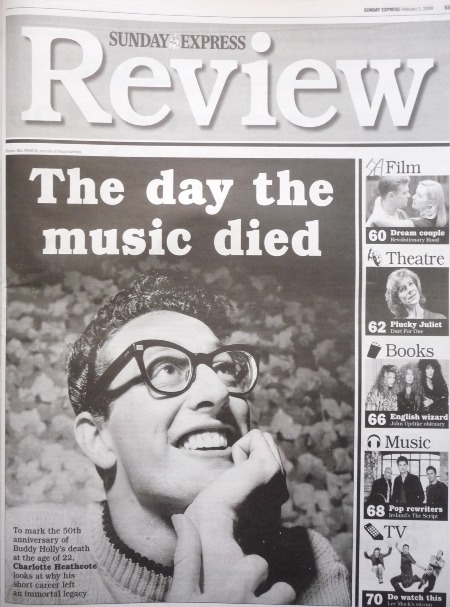 SUNDAY EXPRESS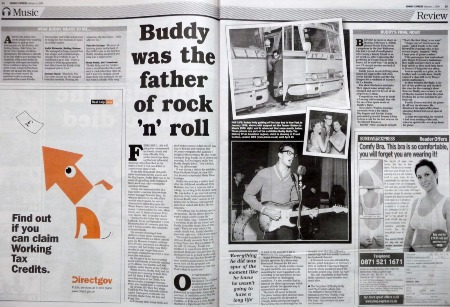 SUNDAY EXPRESS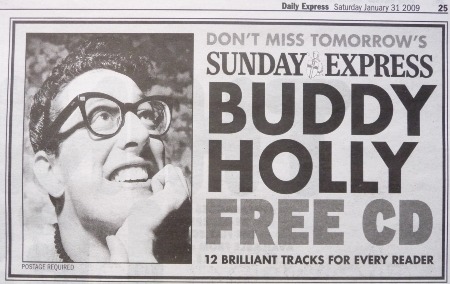 DAILY EXPRESS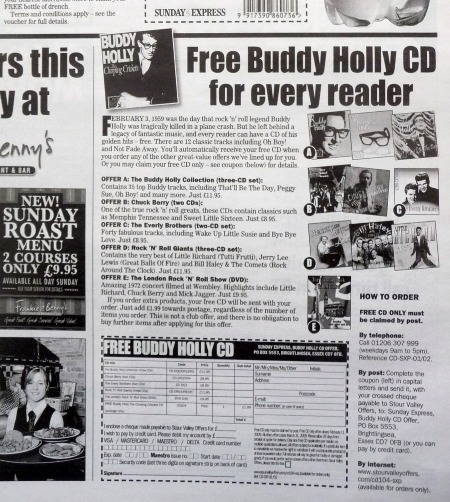 SUNDAY EXPRESS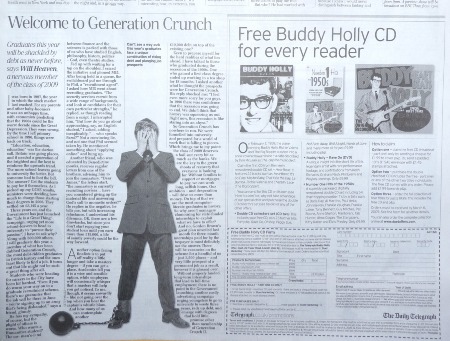 DAILY TELEGRAPH