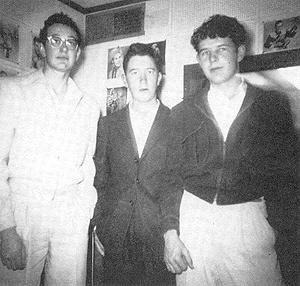 Buddy, Larry & Bob at KDAV Lubbock TX, 1955.

Larry played upright bass with the "Buddy, Bob & Larry" trio (Buddy Holly,

Larry Welborn & Bob Montgomery) in 1955 - they played fairs, clubs,

skating rinks, and any place they could showcase their new rockabilly

sound - opening for such acts as Bill Haley & The Comets, Jerry Lee

Lewis, Johnny Cash, and even the great Elvis Presley. Recording wise,

he appeared on the early undubbed recordings "Down The Line",

"Brown Eyed Handsome Man", "Bo Diddley" & others.

With Buddy's stratocaster.

Larry war ein Jugendfreund von Buddy Holly. Mitte der '50er Jahre machte er zusammen mit Buddy und Bob Montgomery Musik mit dem Standbass. Die drei traten bei jeder sich bietenden Gelegenheit auf, auch als Vorgruppe für Bill Haley, Jerry Lee Lewis, Johnny Cash und Elvis. Bei einigen frühen Aufnahmen von Buddy Holly ist Larry mit von der Partie.

Als sie sich trennten, machte er bei den "FOUR TEENS" auf der Gitarre weiter, dabei Joe B. Mauldin, Terry Noland und Brownie Higgs. Sie erlangten im Raum Lubbock und Umgebung einen großen Bekanntheitsgrad und brachten Platten auf den Markt, von denen "GO LITTLE GO CAT" und "SPARK PLUG" sowie andere erfolgreich waren. In Clovis arbeitete er bei Musiksessions und war in den '60ern kurze Zeit ein CRICKET.

Heute tritt er jedes Wochenende mit seiner Band auf und hat kürzlich sein eigenes Aufnahmestudio eröffnet.

Zur Zeit arbeitet er mit Jack Neal an einer CD, die Anfang 2007 erscheinen soll.



His most notable performance is on "That'll Be The Day" & "I'm Looking For

Someone To Love" which were recorded in Norman Petty Studios - Clovis,

New Mexico.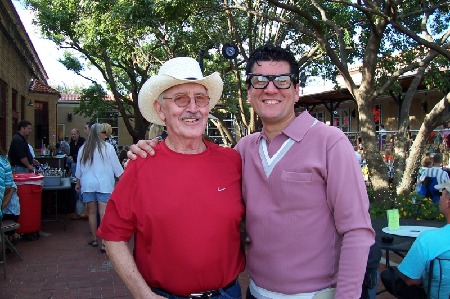 Larry Welborn and Johnny Rogers at the Buddy Holly Center Lubbock TX during the 70th Birthday Celebrations honoring Buddy Holly.

Photo courtesy of Johnny Rogers.



When Buddy & Bob split, Welborn switched to guitar & the Four Teens were

formed which included Joe B. Mauldin on bass, Terry Noland & Brownie

Higgs (drums). The group became very popular in the Lubbock area and

released some recordings that did well for them too including "Go Little

Go Cat" and "Spark Plug".

| | | | |
| --- | --- | --- | --- |
| | | | |
| | © T.Gordon | | |


Welborn continued to do session work at Clovis & was briefly with The

Crickets in the 60's. He now resides in Durant, Oklahoma and keeps busy

performing with his band every weekend and recently started up his own

recording studio.

Together with Jack Neal he prepares a new CD to be on the market in the

first half of 2007.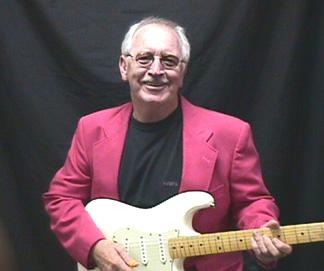 Larry Welborn

Larry was influenced by:

Buddy Holly, Merle Haggard, Waylon Jennings,

Jack Neal, Western Swing, Old Country & Rockabilly



Hallo Hans-Werner,


schön, dass es jemanden wie Dich gibt. Jemanden der soviel Zeit und Mühe in eine HP steckt, um anderen in diesem www äußerst unterhaltsame und emotionale Momente zu bescheren.
Beim Stöbern bin ich an Deiner Seite hängen geblieben und sie ist wirklich wunderschön!
Obwohl ich erst 7 Jahren nach Buddy´s Tod das Licht der Welt erblickt habe, kann ich mich an seiner Musik garnicht satt hören. Und während ich hier so lese und mir dazu Buddy aufgelegt habe, kullern mir die Tränen....


Danke und liebe Grüße


Petra