Buddy Holly vit - Buddy Holly lives - Buddy Holly vive - Buddy Holly lebt

| | |
| --- | --- |
| | |
| | Buddy Holly |

From the Ian Higham Collection

- Cassettes Buddy Holly (7) -


Buddy Holly Musikkassetten ( 7 )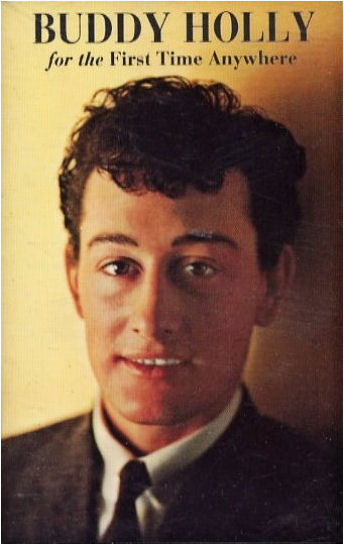 BUDDY HOLLY for the First Time Anywhere

MCA MCLC 19185 UK (2nd Issue)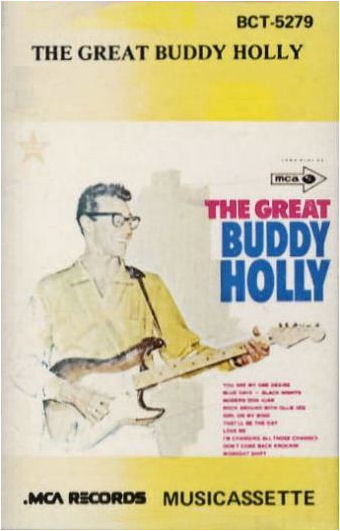 THE GREAT BUDDY HOLLY

MCA BCT-5279 AUSTRALIA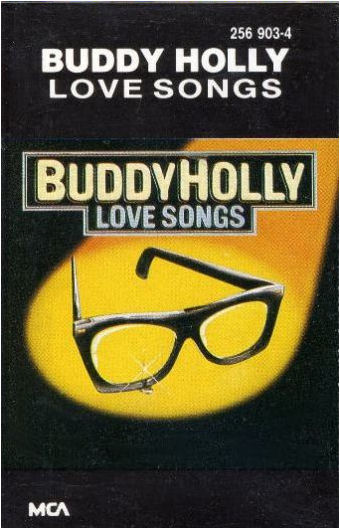 BUDDY HOLLY - LOVE SONGS

MCA 256 903-4 AUSTRALIA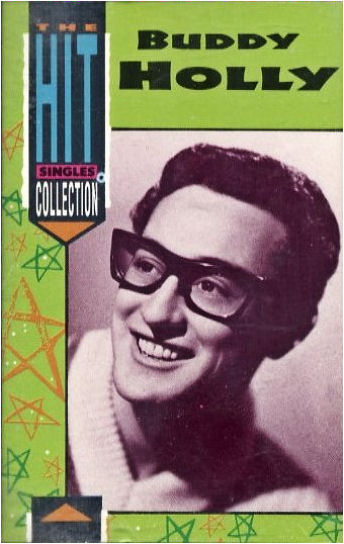 BUDDY HOLLY - THE HIT SINGLES COLLECTION

MCA 252 459-4 GERMANY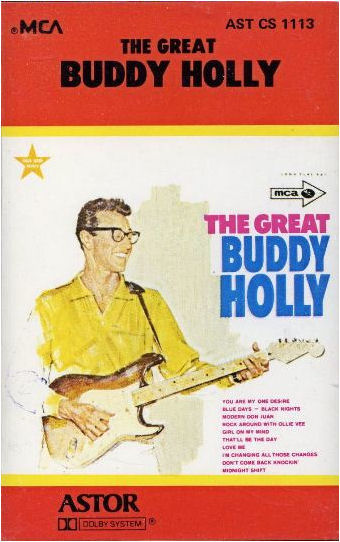 THE GREAT BUDDY HOLLY aus Australien

ASTOR AST CS 1113 Australia

THE VERY BEST OF BUDDY HOLLY - Aus deutscher Produktion

ARCADE 8800137 Germany

GOOD ROCKIN' TONIGHT - BUDDY HOLLY - From Germany

MCA Coral COTB 80 088 GERMANY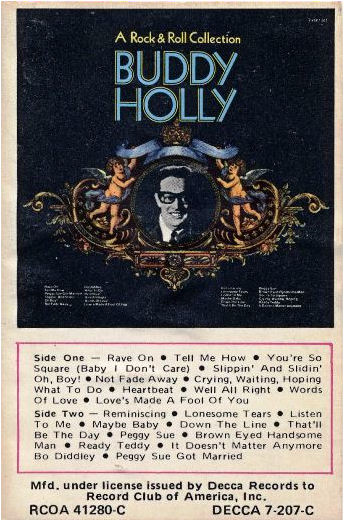 A Rock & Roll Collection BUDDY HOLLY - USA

RCOA 41280-C DECCA 7-207-C USA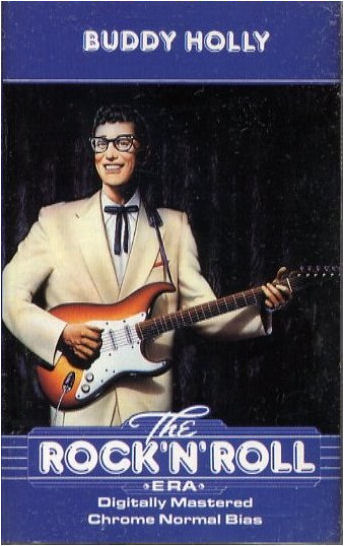 Buddy Holly - The ROCK'N'ROLL ERA - Germany

TIME LIFE TL 515/15 GERMANY

Buddy Holly - Rave On - Singapore

747 6212 SINGAPORE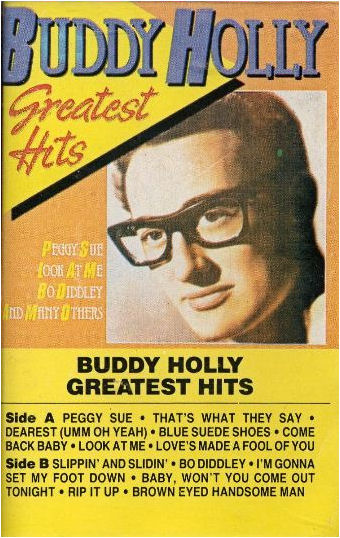 BUDDY HOLLY - Greatest Hits - Belgien - Belgium - Belgie

FUNC 9043 BELGIUM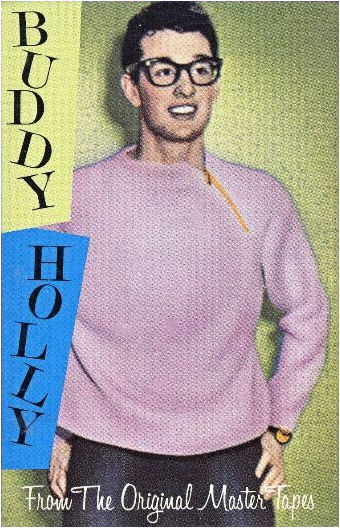 BUDDY HOLLY - From The Original Master Tapes

MCA MCLC 19186 UK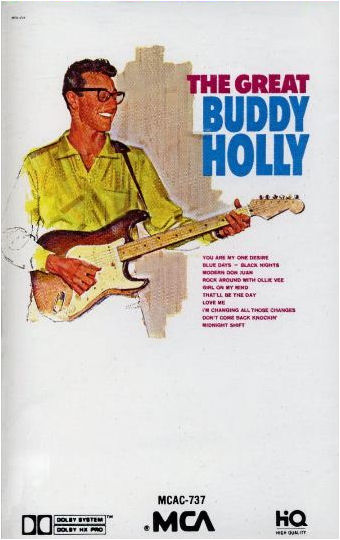 THE GREAT BUDDY HOLLY

MCA MCAC-737 USA (Alternate insert)

BUDDY HOLLY - Hits and Other Favorites - 30 Great Tracks

TREASURE 05190 EEC 1990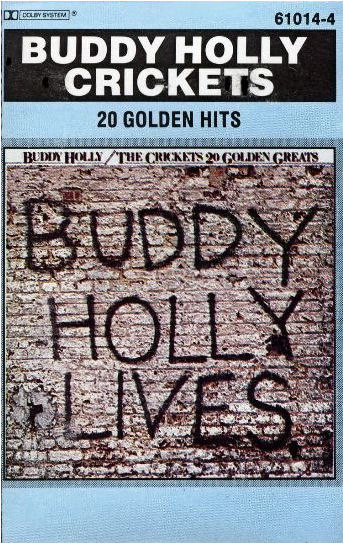 BUDDY HOLLY & THE CRICKETS - 20 GOLDEN HITS

MCA 61014-4 AUSTRALIA

BUDDY HOLLY BALLADS - 20 LOVE SONGS

TELMAK TMAK-067 C AUSTRALIA

THE GREAT BUDDY HOLLY

MCA CORAL COTB 80092 GERMANY 1970

BUDDY HOLLY

MCA MCLC 1752 UK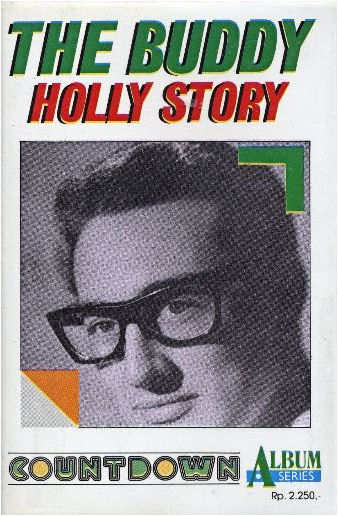 THE BUDDY HOLLY STORY FROM INDONESIA

ATLANTIC RECORDS CD0004 INDONESIA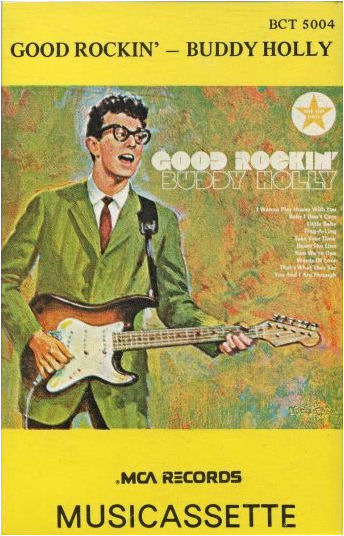 GOOD ROCKIN' - BUDDY HOLLY - From Australia

BCT 5004 AUSTRALIA (2nd INSERT)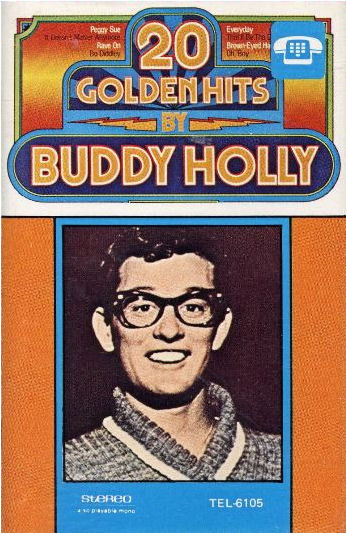 BUDDY HOLLY - 20 GOLDEN HITS

TEL-6105 No country of origin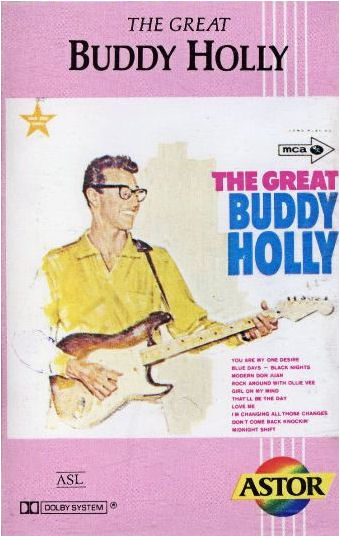 THE GREAT BUDDY HOLLY

ASTOR ASL 1113 AUSTRALIA

WORDS OF LOVE - 28 Classic Songs from BUDDY HOLLY AND THE CRICKETS

POLYSTAR 514 487-4 AUSTRALIA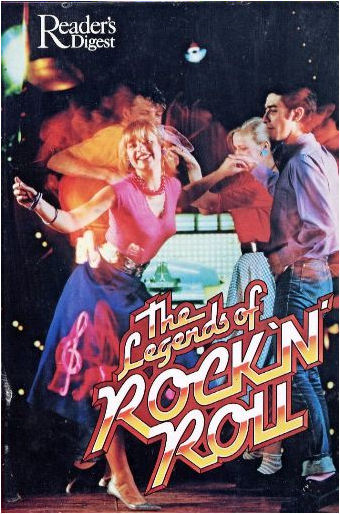 The Legends Of Rock 'N' Roll

READERS DIGEST RDCP4-367-2 AUSTRALIA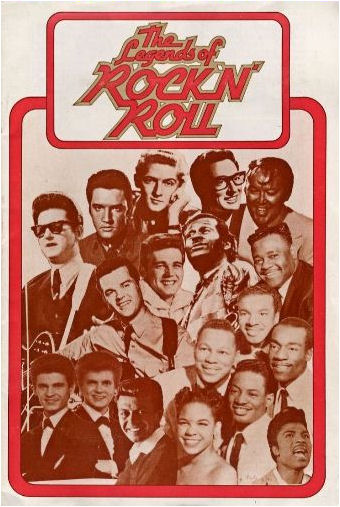 THE LEGENDS OF ROCK 'N' ROLL

Five cassette fold out pack with booklet containing

one Buddy Holly & The Crickets cassette

Buddy Holly and The Crickets cassette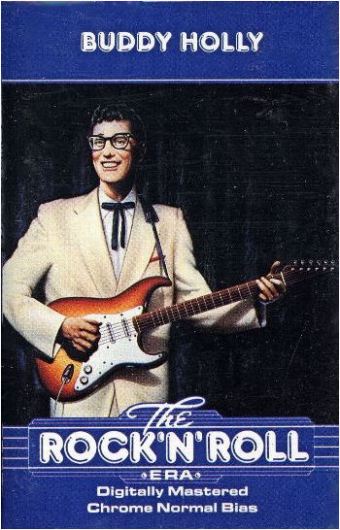 BUDDY HOLLY - The ROCK 'N' ROLL Era

TIME LIFE 840 329-4 AUSTRALIA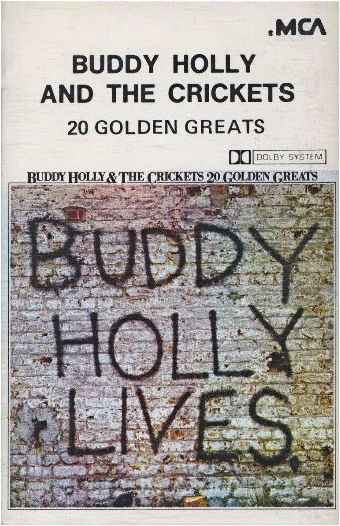 BUDDY HOLLY AND THE CRICKETS - 20 GOLDEN GREATS

MCA MCBH20 NEW ZEALAND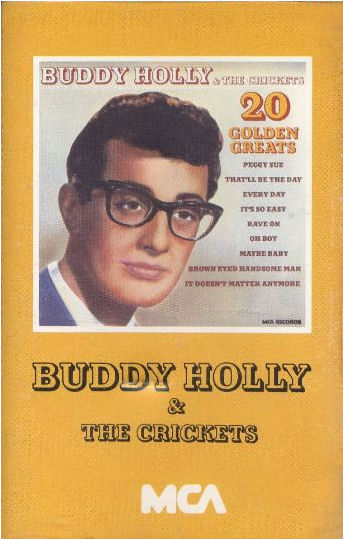 Aus Deutschland ist diese Kassette. Buddy Holly & The Crickets - 20 Golden Greats von MCA. Als schön empfinde ich es persönlich, dass die Crickets auf dieser Kassette namentlich erwähnt sind. Bei vielen anderen Tonträgern ist dies nicht der Fall. Da steht nur der Name Buddy Holly. Musste einfach mal gesagt werden als kleine Meinungsäußerung des Editors dieser Webseite, made in Germany.

MCA 401 367 GERMANY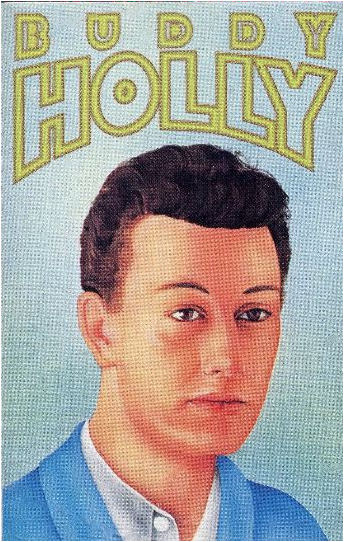 BUDDY HOLLY CASSETTE - UK

PROMO SOUND MC 13086 UK

The Best Of Buddy Holly And The Picks

PEGASUS PEG MC 253 UK Made in the EC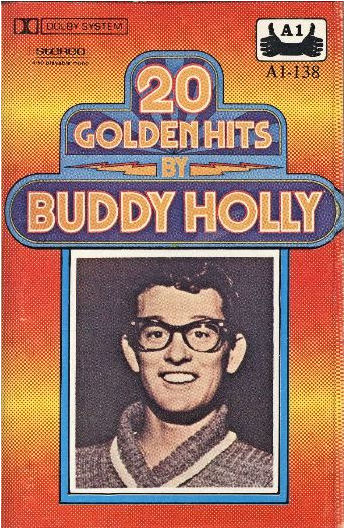 20 Golden Hits By Buddy Holly

A1 A1-138 (No country of origin)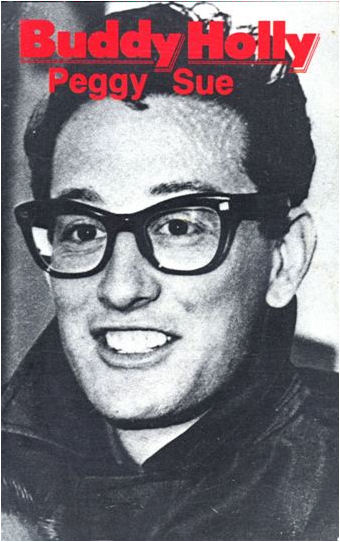 Buddy Holly - Peggy Sue

nCb MC 32027 DENMARK 1985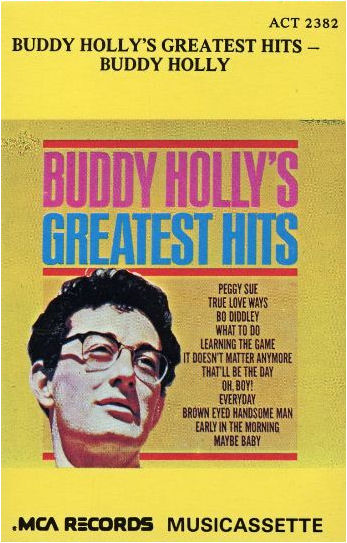 BUDDY HOLLY'S GREATEST HITS - BUDDY HOLLY

MCA ACT 2382 AUSTRALIA with alternate insert

A LEGEND . . . BUDDY HOLLY

MCA CORAL ORK 78490 ITALY 1979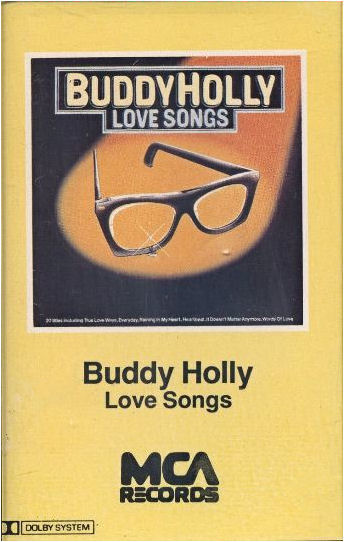 Buddy Holly - Love Songs

MCA 403 997 Germany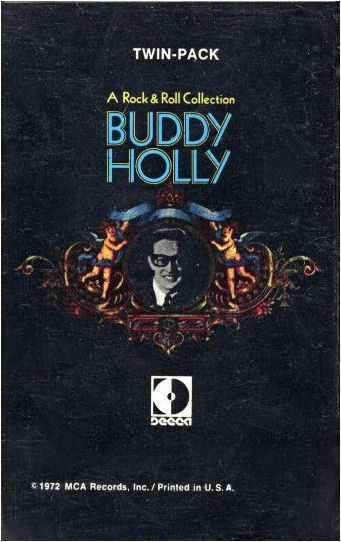 A Rock & Roll Collection - BUDDY HOLLY

DECCA D73 207 USA 1972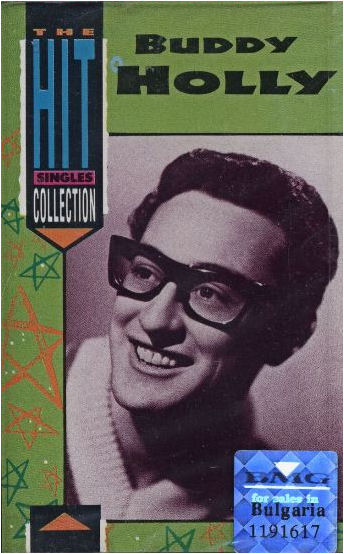 Buddy Holly - The Hit Singles Collection - Ian's first Buddy tape from Bulgaria!

MCA MCC 10300 MCAC 10300 BULGARIA 1985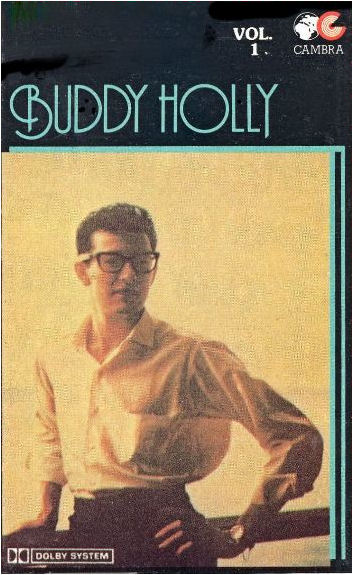 BUDDY HOLLY VOL. 1

CAMBRA CRT 008 UK (Alternate Vol. 1 insert)

A Rock and Roll Collection BUDDY HOLLY

MCA DP 123 AUSTRALIA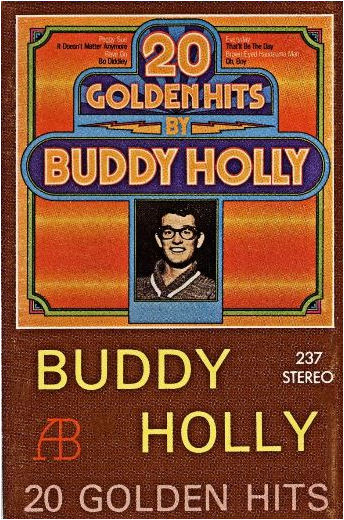 20 GOLDEN HITS BY BUDDY HOLLY - believed to be from Germany

AB 237 (No country of origin shown,

but believed to be from Germany)


Est. 13 January, 2005


For the love of Buddy
Buddy Holly lives - Buddy Holly leeft - Buddy Holly vive - Buddy Holly lebt