Nach dem Besuch an Buddy's Grab (vorige Seite) fuhren wir zum

Buddy Holly Center, wo wir um 17:30 Uhr mit Sherry Holley

verabredet waren.



After visiting Buddy's grave we pulled off the road near by the BHC to meet Sherry Holley there at 5:30 p.m.

This cap is available at the BHC.

Ich begrüßte Sherry wieder mit 2 Wangenküssen und bat sie, meine

Gitarre zu signieren. Vorher hatte ich meinen Sohn vorgestellt, der

hier seinen ersten Besuch machte.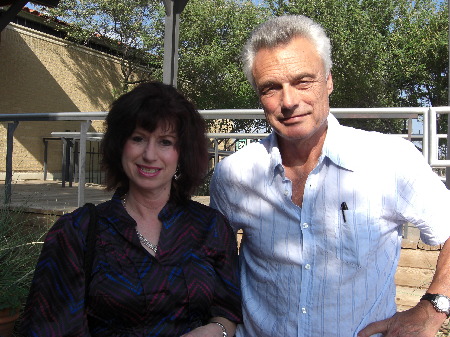 I gave Sherry a peck on each cheek, as I did before in 2002.

After introducing my son I asked her to sign my guitar.

Dann gingen wir in den Innenhof des BHC, wo Larry, Travis und Jack Neal saßen.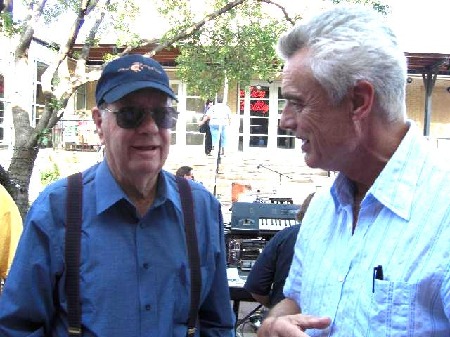 Then we went to the courtyard, where Larry and Travis Holley and Jack Neal were sitting.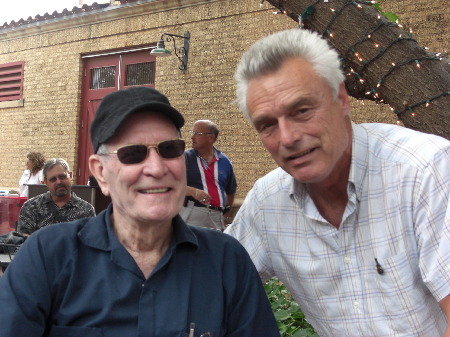 Jochen and Travis, Buddy's brother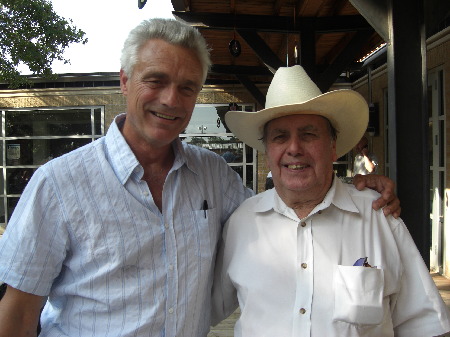 Jack Neal meets Jochen for the very first time.

Travis signierte noch einmal meine Gitarre, nun mit dem richtigen Stift.

Dann schrieb er mir eine Widmung in ein von mir mitgebrachtes Buch

über Buddy Holly. Jack Neal signierte meine Gitarre ebenfalls.



Now Travis used the right pen (waterproof) to sign Jochen's guitar.

Afterwards he signed Jochen's book about Buddy with a personal autograph.











Travis and his guitar.

Nun erfreuten wir uns an den Darbietungen der Brüder Larry und Travis

sowie Sherry's Gesangseinlagen. Super Sache !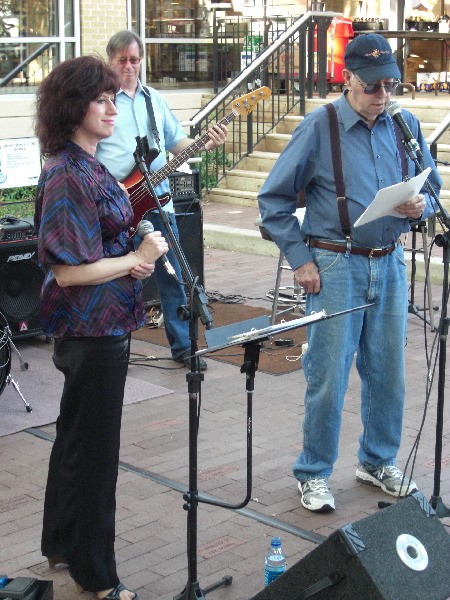 There was enough time left to enjoy the music of Larry and Travis and Sherry singing some songs, too.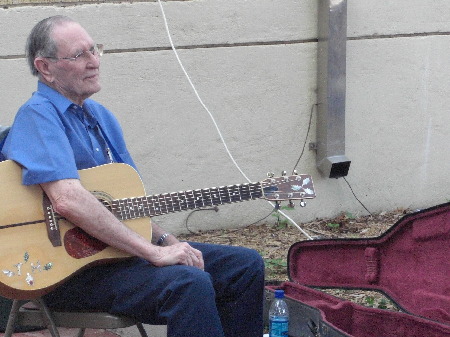 Travis Holley.










Jochen watching Larry Holley.










Travis singing.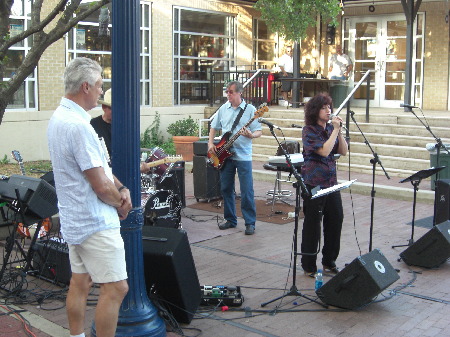 Jochen near by Sherry.

Ca. 20 Uhr mussten wir das BHC verlassen, um rechtzeitig am Flughafen

zu sein und meine Frau zu empfangen. Nach 4 Tagen konnte ich meine

Frau wieder in die Arme nehmen, die Familie war endlich wieder komplett.

About 8 p.m. Jochen left the BHC to welcome his wife at the Lubbock

Airport. After 4 days the family was reunited.

What a wonderful moment ! I think you can imagine how they felt.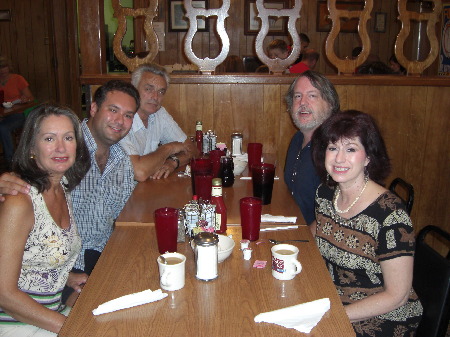 Friends at the PANCAKE HOUSE in Lubbock:

Sherry Holley and her husband Tom Scales and Jochen and his family.

9. 9. 2007 :

Morgens die Koffer gepackt, dann zum Frühstück in das "PAN CAKE HOUSE" gefahren. Dort trafen wir Sherry und ihren Mann Tom Scales. Nach einem ausgiebigen Frühstück verabschiedeten wir uns von den beiden.

Bevor wir Lubbock verließen, haben wir meiner Frau die Buddy Holly Statue und das Grab von Buddy Holly gezeigt.

Dann ging es weiter über Monument Valley, Grand Canyon, Las Vegas, San Francisco und Los Angeles. wo es einen BUDDY HOLLY DRIVE gibt.

After leaving Lubbock they had a look at a lot of places in the USA:

Monument Valley, Grand Canyon, Las Vegas, San Francisco and Los Angeles.

There in Los Angeles they took a pic of the BUDDY HOLLY DRIVE.









The car and the town.









What a foggy day.










Where is the sun?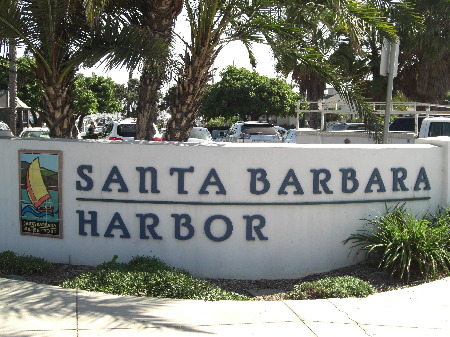 SANTA

BARBARA

HARBOR




SANTA

MONICA

YACHT

HARBOR









BUDDY

HOLLY

DRIVE










HOLLYWOOD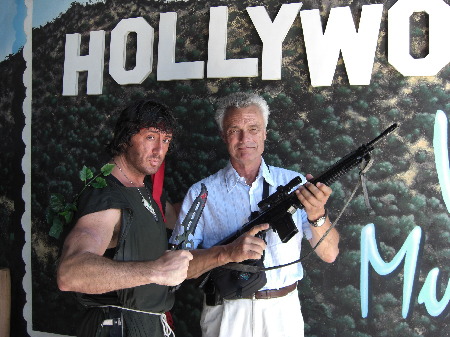 RAMBO Jochen

Über Tombstone und Roswell nach Clovis.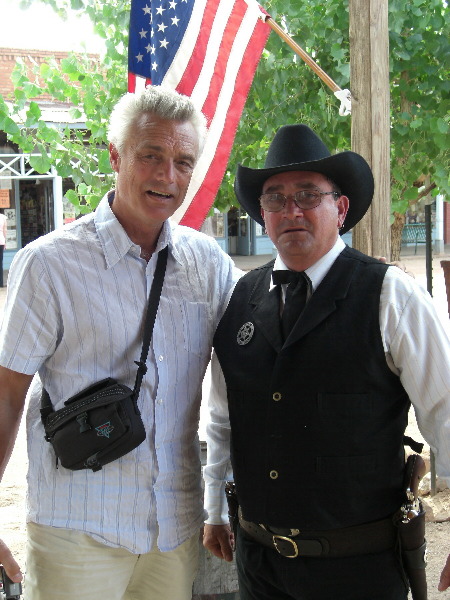 Next travel destinations:

TOMBSTONE,

ROSWELL,

CLOVIS.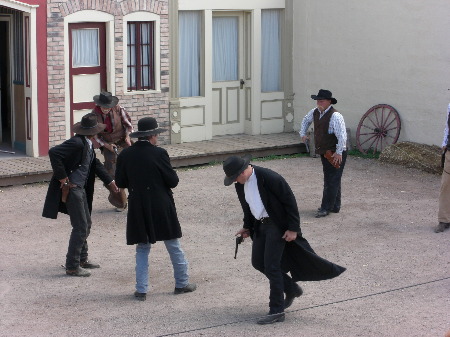 TOMBSTONE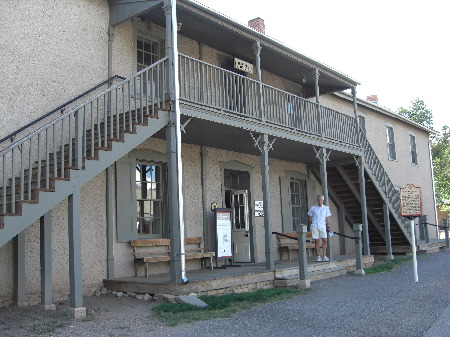 The courthouse where Billy The Kid had a narrow escape.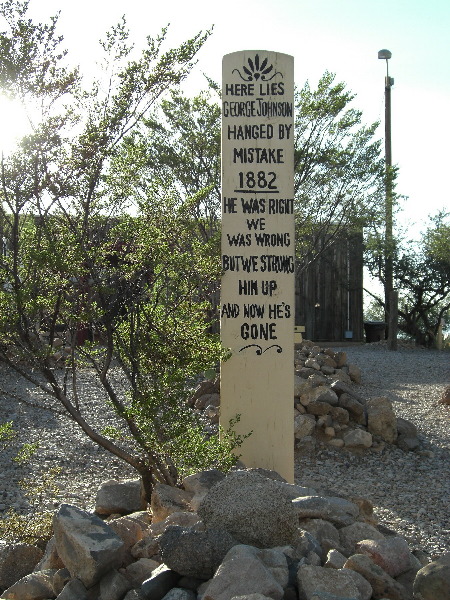 Somehow funny, although we talk about death.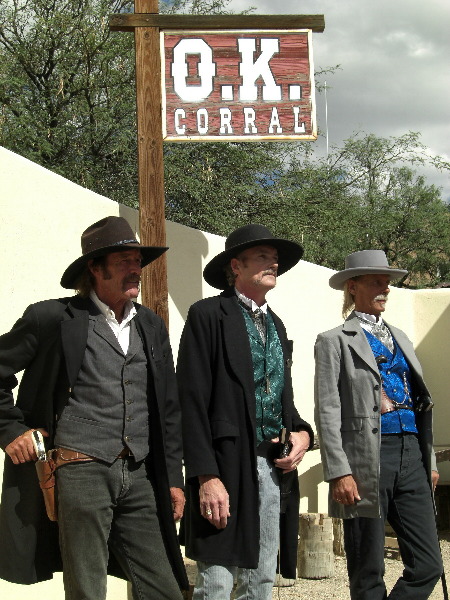 O.K. CORRAL










Roswell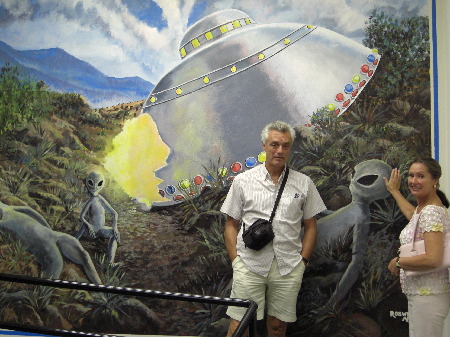 This is a place, where Hans (editor) would like to be, too, as a die-hard fan of the X-files.

In Clovis fuhren wir noch einmal in das Norman Petty Studio,

damit auch meine Frau es erstmals sehen konnte.





Back to Clovis giving Jochen's wife the aibility to have a look at the Norman Petty Studios, too.

Shirley Broad, die Frau des Managers, wollte meine Frau unbedingt

kennenlernen. Wir wurden herzlich empfangen.







Shirley Broad was happy to meet Jochen's wife.

Danach machten wir uns auf den Weg zum CLOVIS NEWS JOURNAL,

um zu erfragen, ob ein Artikel über meinen Sohn und mich erschienen war.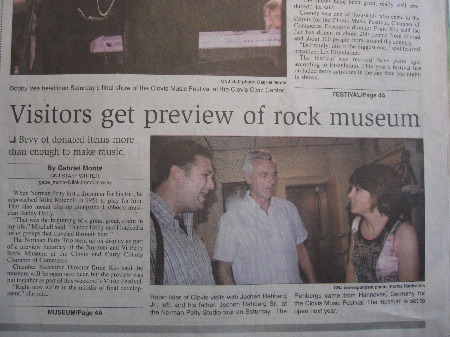 Then we went to the CLOVIS NEWS JOURNAL to ask for the article about the visitors from Germany.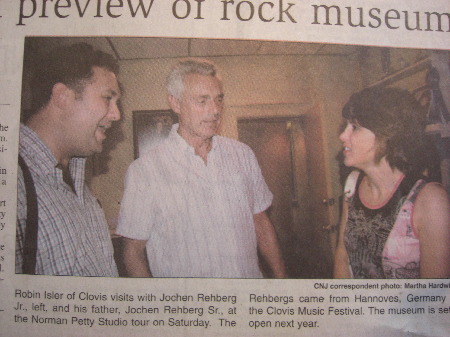 We got it, it was published on the 9th of September and we paid 1 dollar for the newspaper.

Und tatsächlich: Nachdem ich die Sachlage erklärt hatte, wurde ein Exemplar vom 9.9. 2007 mit freundlicher Unterstützung von mehreren Angestellten gefunden.

Auf der ersten Seite war ein Artikel mit Farbfoto erschienen. Für einen Dollar konnten wir die Zeitung mitnehmen.









The people there were so kind and cooperative. Thanks again, folks!


Über Amarillo fuhren wir nach Dallas, wo wir noch einmal übernachteten.

Am nächsten Tag gaben wir den Wagen nach 8000 km Rundreise ab,

dann zum Flughafen.

Am 23.9. 2007 landeten wir sicher wieder in Deutschland.

Hans Werner als Herausgeber der Webseite und Jochen als Autor hoffen,

dass auch dieser Reisebericht wieder Gefallen bei den Fans findet.

Via Amarillo back to Dallas, one more night there in a hotel, return

of the hired car at the car company, then to the airport.

Back in Germany on the 23rd of September.

Hans (editor) and Jochen (author) hope you like this report, too.