| | |
| --- | --- |
| | |
| | Buddy Holly |
Hello Hans,

Here's a report from the last show I saw. Both Johnny and Tommy send their

warmest wishes and thanked you for all the good work you do, they really do

appreciate it asked me to pass these words of thanks on to you!

BW

Ian



Wenn man eine Legende (Tommy Allsup) live erleben möchte, dann war das eine

super Gelegenheit, während der Feierlichkeiten der 50. Wiederkehr der UK Tour

von Buddy Holly und den Crickets in Großbritannien diesen Künstler zu erleben.

Als Partner mein guter Freund Johnny Rogers, der mit seiner Interpretation von

Buddy Songs die Fans begeisterte. Mit geschlossenen Augen waren viele nicht

mehr in der Lage, einen Unterschied zwischen ihm und Buddy zu hören. Genial !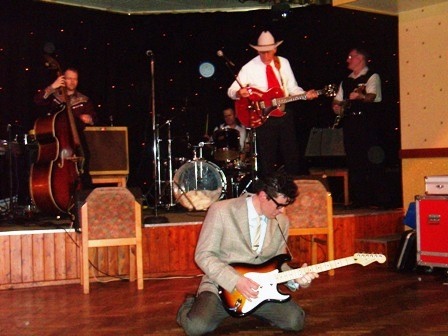 Johnny Rogers rocks the joint

Tommy Allsup und Johnny Rogers haben mir liebe Grüße bestellt und bedanken

sich sehr für die Arbeit, die ich in meine Webseite gesteckt habe, um die

Erinnerung an Buddy und seine Freunde wachzuhalten.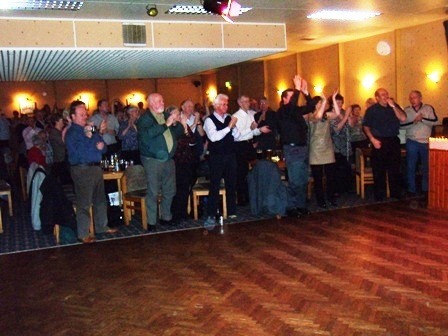 The standing ovation (is that Sonny Curtis in the front row?)

Ich bedanke mich bei guten Freunden, die mit mir den gemeinsamen

"Kreuzzug" machen, denn Buddy Holly lebt, das ist unser Anliegen.

Die Welt soll es wissen. Und ich weiß, dass die Welt verstanden hat.

So viele Zugriffe kann eine Webseite nicht haben, wenn kein

Interesse an Buddy Holly & The Crickets bestehen würde.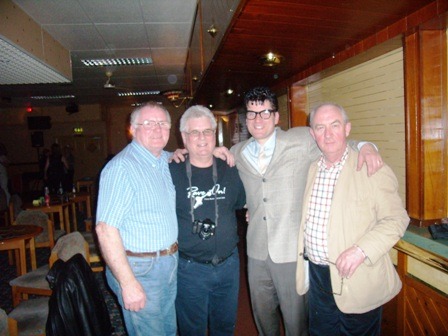 Tony Marsh, Ian Higham, Johnny Rogers and Paul King

Schön, dass immer mehr junge Fans dieses einzigartige Gefühl

erleben, Originalmusik der ersten Sahne heute erstmals zu erleben.

Und sie fahren drauf ab, wie ich aus zahllosen Mails erfahren darf . . .



The penultimate show of the Tommy Allsup and Johnny Rogers British and

Holland tour took place at the Holy Rosary Parish Centre in the Aintree area

of Liverpool.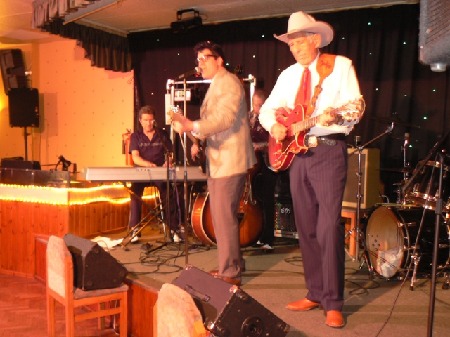 Johnny Rogers, Tommy Allsup

This was a friendly members club, pleasantly furnished and equipped. For a

modest £5 admission fee we were about to witness another spectacular show

from the American duo fast gaining a revered reputation amongst British and

especially Liverpool fans.

Johnny Rogers, Tommy Allsup

'Juke Box Eddies' fronted by excellent vocalist and keyboard player Mike Byrne

started the evening off playing a wide range of rock 'n' roll standards. Having seen

the band before I knew we were in for quality. We got no less. At around 10 p.m.

after a short break for records from the house disco, the moment came for what

the sell out crowd of 180 had been waiting for.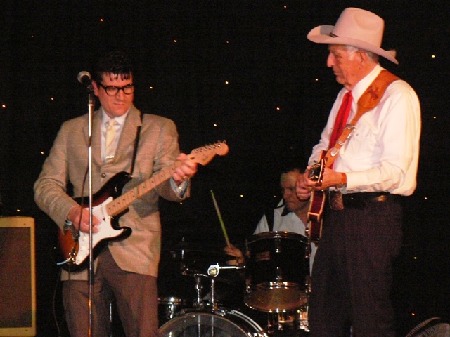 Johnny Rogers, Tommy Allsup

You must remember that many there did not know of Tommy Allsup and Johnny

Rogers. This was about to change! Johnny started the evening with 'Maybe Baby'

and soon had the audience in his grasp. 'It Doesn't Matter Anymore' followed, then

'Think It Over' 'Ollie Vee' and Tommy again played 'Love's Made A Fool Of You' to

perfection.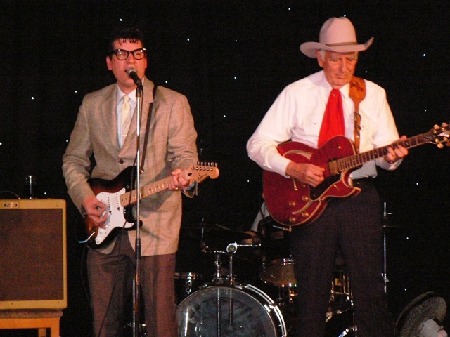 Johnny Rogers and Tommy Allsup

To me, every show is different, never a repeat of the last, always something new.

Tonight there were many dedicated Holly fans in attendance and the show featured

mainly Holly classics with Tommy taking over the vocals on 'Gotta Travel On'.

Johnny Rogers and Tommy Allsup

They were again supported by the hard working 'Juke Box Eddies', with Tony

Marsh taking over on rhythm guitar and harmony vocals. Again Johnny Rogers

performed some of the lesser heard songs like 'Last Night' and 'It's Too Late'.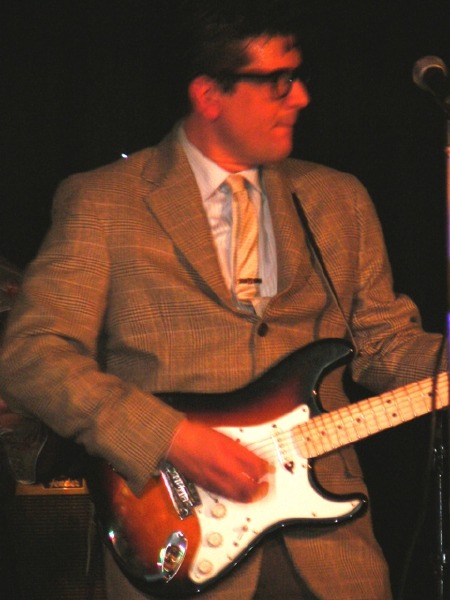 JOHNNY ROGERS

It is clear he has studied the original recordings in great depth, his interpretation

is perfect. As their reputation has grown since they arrived, more and more want

tickets to see them.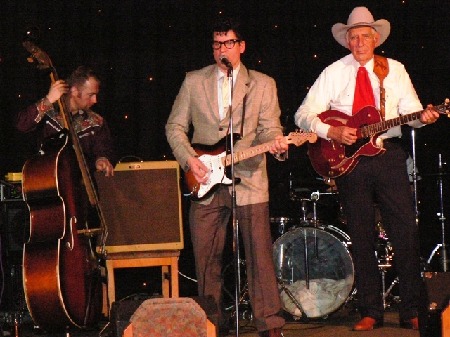 Johnny Rogers and Tommy Allsup

Sadly several were turned away as all tickets were sold. With stringent capacity

regulations there are restrictions on how many could be admitted. The evening

ended with a rousing 'Not Fade Away' and a great encore of 'Early In The Morning'

not the easiest song to perform after an hour and a half of strenuous singing!

Johnny Rogers

Paul King and I made our way southwards after the show still full of admiration for

these two great performers. They have helped create not only new Buddy Holly

fans but Tommy Allsup and Johnny Rogers fans too!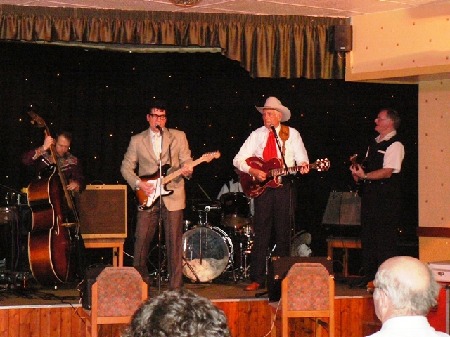 Johnny Rogers and Tommy Allsup

They are keeping the music alive.

If you get the chance, don't miss these guys.

Ian Higham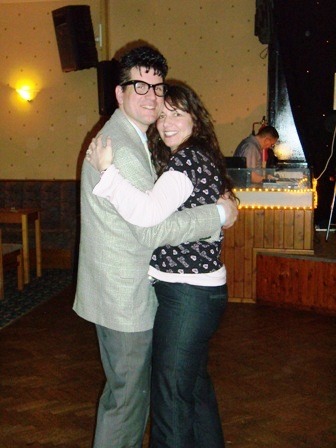 Mr and Mrs Rogers - Johnny and Lisa

| | |
| --- | --- |
| | |
| | THE MUSIC NEVER DIED ! |
| | |
| --- | --- |
| | |
| | Let's keep the flame alive and burning bright ! |

Hello Hans

I really enjoy visiting your Buddy Holly Website.

Buddy's music is international & everlasting.

Thank you for keeping his memory alive.

Keep up the good work.


Hello from Antioch California, USA


Cesar Romero