| | |
| --- | --- |
| | |
| | John Beecher |


TIME GOES BY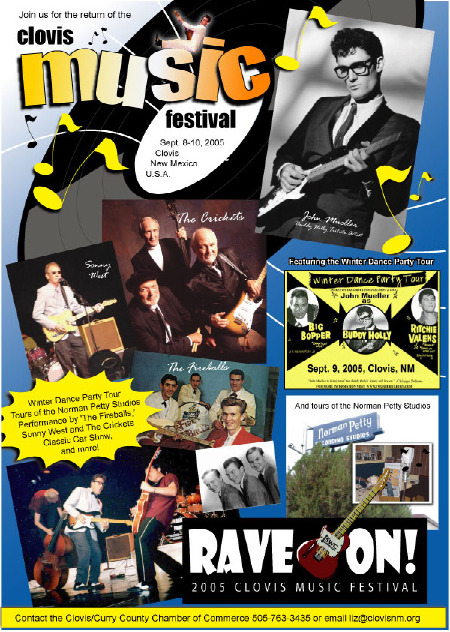 CLOVIS FESTIVAL 2005 POSTER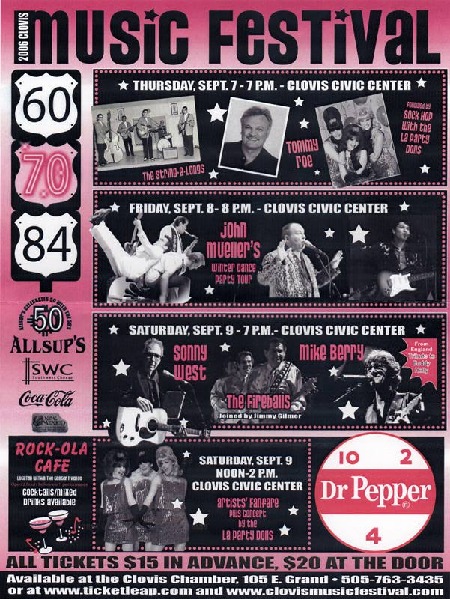 CLOVIS FESTIVAL 2006 POSTER

CLOVIS FESTIVAL 2007 POSTER


My British friend John Beecher, President of Rollercoaster Records,

well known Buddy Holly fan and historian, asked me to publicize

his reports from the Clovis Music Festival 2007.

It's a real pleasure for me.


Posted: Tue Sep 04, 2007 12:26 pm

Post subject:

Down The Line....

Tuesday September 4th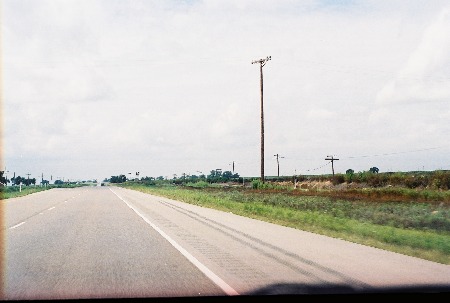 DOWN THE LINE TO CLOVIS NM

Some things don't change much. Highway 84 is a little more difficult to get onto from Avenue Q in Lubbock due to the roadworks going on there - it seems the disruption to the city starts around Buddy's birthplace and where 6th Street used to be is still going through major redevelopment, bringing more stores and business premises to that area. But once on the road, Littlefield, Sudan, Muleshoe, Farwell and any number of interesting names flash by and they certainly look like they don't ever change. The "Home of Waylon Jennings" signs over the Littlefield nameboards are pretty minimal and look hand-painted by someone just wanting to let us know, which is kind of nice in a way as it gives the impression the town hasn't taken advantage of their best-known son too much.

So on to Clovis and it all makes one think of the journeys the Crickets made here over the years they were associated with the Petty Studios ... Joe B at the wheel with the cruise control on; feet on the dash maybe and the speedo clocking over a hundred miles an hour? I wouldn't do it today but it's tempting to put your foot down, especially when the road is clear both ways...

Coming into Clovis you see the worst effects of out of town development along 84 and some pretty ugly new building ... and then you're down by the railroad station area with derelict buildings and the old marshalling yards to your left and the dear old Clovis Hotel rising above it all with its rooftop Indian heads looking down in disapproval at what the planners have done to their part of town. The businesses that were here have probably moved to the outskirts leaving the downtown area to crumble - a classic case of the wrong policy which only leads people out of the city rather than enjoying life in it. It could be such a great area.

But then a right turn onto Main Street and Clovis comes to life, here's the Mesa Theater on the left - where Norman set up his state of the art studio when he moved out of the legendary 7th Street base. And further up, the State movie theatre and the good old Lyceum where Sonny West recorded his first single under Norman's direction in 1956 - in order to get the natural echo sound.

I'm an early bird here, the crowds have yet to arrive and it's Labor Day when everyone barbecues an animal of their choice pressed into a burger and sits in the yard with a beer. I head for the hotel, turning off just short of a police roadblock where they are maybe looking for drunk drivers who have run out of beer at home. I'm soon in the spa pool, grateful to have my eyes off the road for a bit. I look up at the night sky and surely there's a star there thats blinking a message from someone we all think of and I wonder ... what would he make of it all?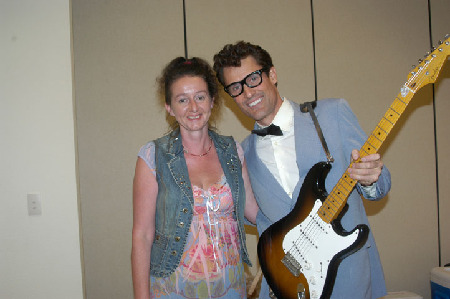 LIZ EISENBRAUN and JOHN MUELLER


Posted: Wed Sep 05, 2007 11:11 am

Post subject:




Where are you from and why are you here?

Two questions that come up pretty often when you wander round Clovis and ask directions or purchase something. I suppose we sound weird to the locals, us 'Brits', or whatever we get called around here. You learn to adapt your pronounciation so you can get understood quicker, it used to be called 'going native' I suppose, and I can really understand how outsiders want to fit in.

I don't know what the locals made of a hundred or so Irish farmers and the like who are here to visit the local Southest Cheese plant but it threw me when I went down for breakfast in the morning as the dining area sounded like a pub in Dublin with accents from all over Ireland. Pity they have to leave before the Festival starts as I reckon they would have enjoyed it. Some had clearly enjoyed the previous evening at Kelly's bar as they missed the bus to the plant but seemed happy to chatter about music festivals in Ireland and how things had changed there as well as here.

There are many outsiders here - I don't know what the PC term is but Hispanic will suffice for the more obvious and large group - but others are not so obvious as nearly everyone is related to someone at the local Cannon Air Force base and that means you will meet wives, husbands and children of serving personnel in the area - or in Iraq and Afghanistan. The spouses mostly work locally and their concern for family members serving overseas is obvious. Never mind the rights and wrongs for now of whats happening in those places, it's upsetting to think of what they go through every time there are casualties overseas. But everyone lightens up when they hear about the Festival and why we are here. Most know the artists and many are going to the shows - partly because its a big night out in a town where there is actually not that much going on in the way of entertainment and events.

The other interesting thing that's linked to the base is that if you tell someone of a certain age you are from the UK, very often the response will be, "Oh I was there years ago, in the military..." and tales will follow of visits to English pubs in Suffolk and "do you know such-and-such a place".

That way when I drop in at the Civic Center where the shows will be held I meet Carl, a local who happens to know Billy Grammar of "Gotta Travel On" fame - and we spend some time discussing what a good artist Billy is along with Stonehenge and places he and his wife have been to in the UK.

John Mueller arrives and we go in search of beer - not as easy to find here as it is at home and not so easy to purchase either. Everyone must have ID and establish their age if they look young. Not a bad policy, rather than actively encouraging young people to booze as we seem to have done in the UK. We go to Walgreens, otherwise a drugstore - then armed with our Guinness and some Mexican beer we pop in to Chilis restaurant on the way back and have a quick meal while discussing the state of the Holly catalogue, lack of box set, the new release and all the stuff that gets discussed here. John is thrilled to be back in Clovis even after a long days travelling from California and in fact we are both so tired we forget the beer's in the back of the car and retire pretty early for a couple of so-called rock'n'rollers..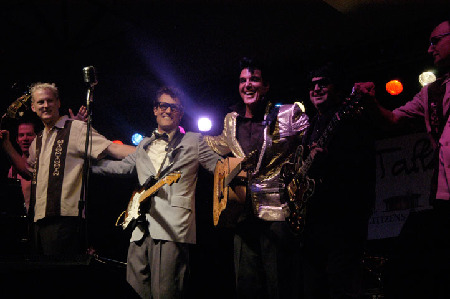 TRIBUTE TO BUDDY, ROY AND ELVIS


Posted: Thu Sep 06, 2007 6:36 am

Post subject:


No, we didn't see any tornados, just a light breeze here and something like 92 degrees. Quite pleasant, although tomorrow its supposed to get hotter and more humid.

I'm up early, having woken at 4am and worked on an idea for a song for an hour or so. Then a nap and along to the breakfast room and surpisingly, John Mueller reappears looking better refreshed than me. He informs me over breakfast that he is expected at the Petty Studios around 10am to do some filming for a music video. I decide to tag along and give him a lift, as I want to chat with Kenneth Broad about a project I am working on. The video producer, Stacey Dean Campbell is already there (you can check out his work about the studio at http://www.broncoroads.com/) and he informs us he needs me to volunteer to play a bit part in the video. OK, I wanna be a star, where's my dressing room?. The filming takes a couple of hours and I won't spoil the plot but it was fun to do. We meet up with Roddy Jordan, David Bigham and other friends of the studio, Danny and Jay, and enjoy a chatter with Ken and Shirley Broad. They keep the studios just as they were and we all marvel once again at just being there.

After a while we leave for a quick lunch at a great Mexican place on 7th Street, then we are off again, this time to meet Liz Eisenbraun at the Clovis Chamber of Commerce and have a quick look at the Mesa Theater where Norman Petty transferred his recording activities in the mid-60s. This building is now owned by the Clovis Community College and was unfortuantely not available as a venue for the festival. John and Stacey complete their filming here and I take a look around the building with Liz. It's amazing - much money and work went into turning an a theatre into a state of the art studio, but its now laying idle with many parts are in their original condition - not for long I suspect - including the gold chain curtains around the stage. But its all a bit sad and spooky. The last time was here Norman played me a production of his protege in the 80s, John Kevin Meadors. I was not impressed and told him so. I don't think he was best pleased.

John and I do a bit of shopping, including a visit to a large pawnbrokers store where I pick up a nice condition 60s Pentax camera and he finds a wallet just like the ones Buddy used to make for friends - when buying this he casually informs me he owns one that Buddy made... What John is really after is a '58 stratocaster for 99 dollars but the store owner is too cute for that and so we leave clutching our consolation prizes.

Then on to the local radio station which is promoting the Festival, KICA, which is one of the oldest stations in the NM area and now owned by Tallgrass Broadcasting (see http://www.clovismusicfestival.net/5year.htm) who have recently committed to keeping the festival going for another five years. I drop off a copy of the new Buddy Holly CD and they promise some airplay on the Clovis Music Sound channel - this station on AM just plays music recorded in Clovis or by Clovis artists.

Back to the hotel where we both need a rest from our activities. I remember vaguely I dreamt of something very pleasant but by the time I wake up I can't remember so it's back to 'work' and we find that a whole bunch of artists and visitors have arrived, including Travis Holley, Jack Neal, Larry Welborn, Scott Porter, The Tolletts and Tommy Allsup. Suddenly the hotel is buzzing with fans and musicians and we all congregate in the Hospitality Suite. Instruments and amplifiers are producers and suddenly a jam session is in progress. There's a young lad, a protege of Tommy's, playing the fiddle and he's pretty good too.

Travis & Tommy join in and everyone's soon singing along. Nice idea this, to have a kind of fringe event for those staying at the 'official' hotels. Chris Rees, our friendly photo archivist has brought along a DVD copy of the show Tommy did in the Isle of Wight (UK) earlier this year and we all gather round to watch. It's almost as good as the real thing with Tommy and Kevein Montgomery on good form. We chatter a bit about the new CD and everyone is interested in the picture of Buddy, Jack Neal and Don Guess in the booklet - especially Jack who remembers both Don and Buddy with affection.

A few beers later and we're all off to bed, me to dream of my name in lights above the title of the film, no doubt. Tomorrow it all gets going with the first concert at the Civic Centre. Unless the tornado finds its way here....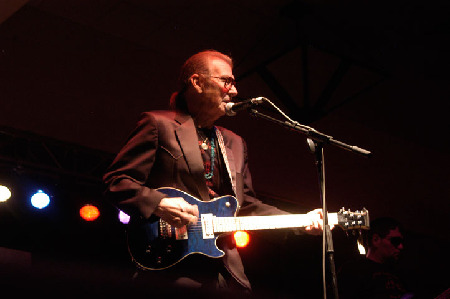 SONNY WEST ON STAGE


Posted: Fri Sep 07, 2007 3:03 pm

Post subject:


Thurdsay September 6t

The first day of the Clovis Music was so eventful I really doubt I can do it justice - but there will be other reviews thanks to people like Barry Holley from the UK who is covering the event for Now Dig This.

We're all up early (well, not all, but I am) and on the road again, a quick breakfast & chatter with Gary & Ramona Tollett (who have the most energy of all of us) and Bud, Georgiana and Angela Hagen then its off to the Civic Center where everyone is lending a hand to set up the decorations in time for the show this evening. The Center is like Civic buildings everywhere, hardly inspiring, but that's the venue we have as some of the other possibilities (the Mesa and Lyceum Theatres are apparently not suitable due to fire and safety regulations, a great pity as both have great 50s feel to them and probably more comfortable seating!



Rehearsals start early and its a chance to say hello to some of the artists, I finally get to meet Charlie Phillips and fellow Sugartimer Jimmy Schell (who helped us with the booklet notes on the new Buddy Holly CD). Larry Welborn hasn't changed and nor has Travis Holley - they are both great people who take everything in their stride and manage to say a lot without saying a lot!



Sonny West is around too, I always feel Sonny is worrying about whether things will go OK, but he is so loved here I think he could go on stage and say nothing and get an ovation. In the event he usually says quite a lot but he's such a natural it's OK.



We're all disappointed Larry Holley can't make it this time and we also are surpised to hear that Bill Griggs will not be coming after all. I'm told Larry had a motorcycle accident recently but also gather Clovis is maybe not a place he would want to spend his vacation. Sherry Holley is around and we hear that Larry's book will be on sale later which promises to be interesting.



After a spot of housework I leave for the Petty Studios as the State have announced they will be unveiling a marker celebrating Norman's contribution to music history outside the studio. I arrive to find that the Pentax camera I bought yesterday has already gone missing, so I spend most of the next hour worrying about that. There's quite a crowd at the studios and several tv cameras and radio reporters are setting up equipment. We're all called to order as I run into Tony Eisenbraun, Liz's husband and guitar-pickin top man at Tarpley Music Store in Clovis (a great & friendly place to pick up a Strat while you're here!)



Several speeches follow and the musicians are brought forward to witness the unveiling and make some comments of their own about the studios and Norman. The plaque is unvieled, or rather, unblanketed, and we discover there are several typos in the text which causes a few laughs - it will have to be remade. At least they spelt Norman's name right. Stan Lark and George Tomsco of the Fireballs, Sonny West, Mike Mitchell, Gary & Ramona Tollett, Charlie Phillips, Georgiana Hagen and for all my muddled head knows, Elvis and Buddy, recount tales of the studios and we all cheer. The current owners, Ken & Shirley Broad, are held in great esteem here for preserving and opening the studios to visitors and Randy Steele and Danny Todd come forward to present Ken with a gold disc to commemorate his hard work.



There's more filming inside the studios as a film company are making a documentary about Norman. I wish Vi could have been here, she would have loved all the media attention. I shall try to remember her enthusiasm for the cameras when I contribute later - this will be done after my mobile dressing room and personal dresser arrive tomorrow morning....



Times flies by with no time for lunch but plenty of time for me to have a row with the staff at Walgreens pharmacy who demand ID (for which my passport is useless) and keep me hanging around. I go back to the Center and a quick sandwich prepared by the Center's resident and charming chef, Kim Meeks.



By the time 5pm rolls around the fans are starting to arrive and pick the best seats for the show starting at 7pm. Luckily my camera is there on the merchandise dstall, right where I left it this morning....



Time is short so I will leave the full review to others and just give a quick rundown ....



First on following an intro from Mark Shelton of Tallgrass Radio, the sponsors and broadcasters of the Clovis Music radio station, are The Knights, who will be backing Sonny West. They are best described as an instrumental band like the hundreds who sprang up in the wake of The Shadows and Ventures in the 60s. This may give them less credit for originality than they deserve but their sound was a little boomy so it was hard to hear what was what from where I was at the back of the hall. Sonny soon appeared and got things rocking in his own style, he really shone on "Rave On" which kind of evolved from his version to Buddy's and his song, "Clovis Highway", a biographical effort that is all the more interesting if you know the words. I guess whoever is first on in a show of this kind suffers a bit from the sound being adjusted as they go on but Sonny as always was really entertaining.



Tommy Allsup & his band took the stage and got into some hot instro picking on "Peggy Sue/Everyday" and then some nice Bob Wills style vocals on "Big Balls In Cowtown" and "May You Never Be Alone" as Charlie Phillips joined in. His big hit "Sugartime" drew cheers and he told how it "got me off the tractor" when he received his royalty cheques.



Things were moving fast due to the amount of people appearing, with no time for encores and Jack Neal came out as fast as he could and told of his association with Buddy. His version of "I Saw The Moon Cry Last Night" felt really good with a full band and he rocked up "Modern Don Juan" very effectively.



Scott Porter,who introduced all the artists on the show with great little bits of information about them, got his own chance at the mic performing "Party Doll" and was joined by the Tollets, both Gary and Ramona wearing 50s outfits they had worn back then. They looked great and showed no signs of being let out to make them fit...



Larry Welborn is another great picker and he and his band rocked up "Blue Days Black Nights" and "That'll Be The Day" which with David Bigham & The Tollets on backup sounded just like it should.



Then here's a surprise to close the first half, there's a guy who has been accompanying everyone on piano and Scott announces he is Quincy Stringham, currently Chuck Berry's piano player and has played with a whole lotta stars, with that he launches into "Lucille" and "Johnny B Goode", with ten long fingers on 88 keys - wow what a talent he is!



A really short break and then Travis Holley is on stage for a sweet old-fashioned country set. He is pretty laid back and the songs, "Remember Me" and "When My Blue Moon Turns To Gold" hardly strain his voice but what he does is somehow special when you remember he probably taught Buddy those songs. He then goes into "Save The Last Dance For Me" to end his set - a strange choice which leads into "Oh Boy" and Tommy Allsup's taking the lead on "Right Or Wrong", bringing John Mueller up for rousing versions of "Its So Easy" and "Love's Made A Fool Of You". On "Easy", David Bigham is the star with his bass voice vocals, joined by Tommy on some harmonies. Nice! Then a bit of a semi-finale with Travis, Tommy, Larry Welborn & Jack Neal on "Raining In My Heart".



When Tommy Allsup is on stage a young man about half Tommy's height appears with him playing fiddle in the old Bob Wills style - he was discovered by Tommy during one of his music classes and shows real talent on the instrument and gets big cheers from the audience every time he takes a solo.



Events director for the Clovis Chamber of Commerce, Liz Eisenbraun, was then invited up on stage to be presented with a framed award for the Clovis Museum (to be opened in 2008) which contained pictures of Buddy with Tommy and a coin - the same date as the one Tommy flipped for his plane seat back in 59. Everyone appreciates Liz's efforts on the shows and the museum and hopefully she has established this event as a permanent fixture in the Clovis calendar.



The Fireballs, or rather 4 balls of the Fireballs are next, just Stan & George augmented by George Mueller on guitar (he's been hitting hot licks all evening too!) and they give the crowd what many have been waiting for - a bit of Fireballs showmanship with their dance steps and guitar swinging. One realise how popular they must have been locally as the crowd roars approval for "Bulldog", "Sugar Shack" and "Bottle of Wine". Great stuff even if like me you don't like "Bottle".



So, the finale: Everybody on stage for the big one, "That'll Be The Day" again (well it is the 50th anniversary), the almost obligatory "Not Fade Away" and the high spot of the evening for me and many with the audience on their feet singing along as Travis goes into "I'll Fly Away". Possibly some great harmonies were lost in the mix but it was pretty effective.



The show was very nearly sold out which says something for Clovis' enthusiasm for a music show featuring only local heroes and legends who, to be fair, are pretty well unknown outside code 505. They all did a great job and can be proud to have been part of the evening. It goes almost without saying that the event was another triumph for the folks at the Chamber of Commerce who organise it all and for this years major sponsors who contributed advertising and promotion to bring in the crowds.



My only regret is that the Crickets weren't here to celebrate the most important year in their association with Clovis, NM. What a party that would have been.



Apologies for any ommissions and errors in this day's report which I have prepared in between other comittments! Oh, and the documentary for which we are being filmed is a full length profile of Norman Petty and his influences. Should be interesting....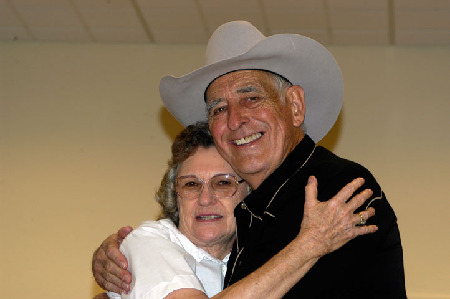 TOMMY ALLSUP and RAMONA TOLLETT


Posted: Sat Sep 08, 2007 11:32 am

Post subject:


Friday September 7th

Today marks Buddy's birthday and we're all aware of that - unfortunately I have to run to the Petty Studios again for the filming and miss The Rock'n'Roll Assembly at Mesa Elementary School. This was a highlight last year when the children put on a high-powered rock'n'roll show. They know far more about 'our' music than one would expect and I was really sorry to miss their effort this year, which Liz informs me was even more impressive than last time.



Tom Drake (not the same fellow who wrote the screenplay for JI's doomed 20th Century Fox feature film, Not Fade Away) is producing a documentary about Norman Petty's life and his influence on popular music. Sonny West and I are at the studios early where our contributions are to be filmed. As usual I find any kind of interview nerve-racking but Sonny sails through his with ease, giving the story of his first recordings in Clovis and working with Norman. Tours of the studio are taking place as we are filmed and I feel bad about the way we have to divert these people from Ken & Jay's tour so that we can witter on to the camera, but it all gets done and eventually we leave for the Civic Center. Here Buddy, Roy and Elvis are doing sound-checks and they all sound pretty good. By the time the show starts in the evening some people seem to be under the impression that the guys on stage really are Buddy, Roy and Elvis so I am obliged to inform them that they are in fact, impersonators. John Mueller starts the proceedings with his slick and convincing Buddy show and a highlight for me is his 'alternate take' rendition of "Midnight Shift", complete with "Ohh Annie!" holler at the end. A couple of other tracks from the new CD are also authentic versions and John entertains us all admirably, including his own "Hey Buddy" tribute song.



Then we almost believe its Roy Orbison as Neil Morrow takes the stage and runs through the Big O's hits to loud cheers from the audience - "Ooby Dooby" gets special applause and I guess it was popular local as many people are singing along.



The star of the evening is of course, Elvis, and Scot Bruce has a great time convincing us its really him and not some bloke down the chip shop on Main Street. He has the looks, movements and voice and soon women are screaming and throwing knickers at the stage. During the finale for some reason t-shirts are thrown back and fought over by the crowd so I guess there are lots of bare-chested sound crew and roadies back stage as they keep passing them up to the performers.



I'm not a big fan of tribute shows but this one is good and the Center is sold out and turning away people without tickets - a real boost for the Festival and another reason why it will surely continue for many years. As in previous years, I am impressed by the broad spectrum of customers, babes in arms alongside teenagers, seniors and those in the middle who cannot have been old enough to remember the music in the 50s. And they all get along just fine at this super-value Festival - $15 admission and well worth it!



During the evening, Peggy Sue appears and we chat about her forthcoming book, which has gone to the printers this very day. She promises that its full of laughs, "mostly at my expense", and is very revealing about everyone who has shared their life with her. I have my doubts that JI or Maria Elena will be quite so thrilled as Peggy is with her work but the book wil certainly be of interest to fans. I do hope it has an index - unlike Larry Holley's 228 page effort which is a fascinating read (and has been available at the Festival) but ambles through Larry's life with no means of looking up specific names and events in the back. No doubt this will also be reviewed in Holly International and other magazines and in any case I have done little more than skim through the photos (which are very interesting and include several of Buddy I have not seen before). Pity Larry could not be here to sign them.



By the time I get back to the hotel its pretty late and I'm pleased to see that Colin Davies (host of the 'Professor Rocks' radio show) has arranged some food for the hospitality room at La Quinta. I have to update our website and this forum so only manage a brief much and glug of wine and more importantly I miss Geogiana Hagen's birthday in her room as by the time I am done its past midnight and I feel sure she will have finished celebrating. This gracious lady, who sang with the Petty trio and has many wonderful photographs from those days, is backup to spped following an accident earlier in the year and we all wish her many more birthdays. The hospitality, which this year seems to involve much hollering and raucous rock'n'roll singing, continues long into the night, spilling out into the grounds of the hotel, other rooms and the lobby and corridors. A great way to round off the evening, I think, so thanks to whoever organised this little extra.



I'm falling asleep now so look out for Saturday's report on Sunday!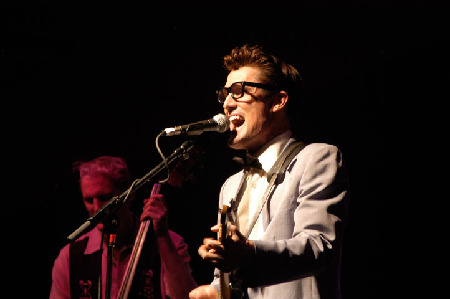 JOHN MUELLER ON STAGE


Posted: Sun Sep 09, 2007 2:29 pm

Post subject:

Saturday September 8th

I am off to Lubbock today to attend a benefit gig for Bobby Smith of the Mystics at the Cactus Theater, and to meet up with friends in the music biz there. So this will be short for now.

At 12 we all attend the Rockin' Round Table discussion group at the Civic Center which actually turns out to be a Rockin' Oblong Table but never mind as the panel includes David Bigham, Stan Blitz, Jimmy Schell, Odis Echols jr, Stan Lark, Gary Tollett, George Tomsco, Tommy Allsup, Bobby Vee, Sonny West and Dick Stuart.

It's a lively and informative discussion with the panel answering questions and giving details of the lives in music. Organisation is a bit lacking and a few basic rules running this little event would have been appreciated, but the questions, comments and answers were fascinating. Stan Blitz seemed as out of place as a divebomber in a flock of seagulls, as his interest is in American Bandstand with rather tenuous links to Clovis, but the rest were better suited to fans of the music of the area. Hopefully a full transcript will be available and the event like many others this week was filmed for the PBS documentary.

This event rolled into the FanFare, a merchandise opportunity for artists and others. Unfortunately by the time we reappeared from the discussion most of the tables had been packed up and visitors had gone, but Echo McGuires stall was particularly impressive as it featured artefacts of hers related to Buddy.

Next was a 4pm opening of the temporary exhibits at the Norman and Vi Petty Museum in the Clovis Chamber building. I was overwhelmed with this - a great collection of recording equipment, old radios and photographs related to the studios and NM music in general. I cannot praise the efforts of the Chamber staff enough for getting this previous area together in time for the Festival. A really amazing collection of items that would put some permanent museums to shame. Included is one of the original mixing desks as used by Buddy & The Crickets, various taperecorders and other pieces of equipment. This museum will alone be well worth a visit for anyone coming to Clovis. Presentations and thanks were given to members of the Festival sponsors and members and a $200 guitar, signed by all festival headliners as auctioned for $2000, the winner being the chairman of Tallgrass Broadcasting, co-sponsors of the CMF. There was well-deserved applause for Liz, Chase, Ernie and others involved in the organisation and the finale, a medley of 'apartment tape' songs by John Mueller was emotional and much appreciated by Holly fans present. A couple of hundredweight of cheese portions with bread and fruit was provided by Southwest Cheese, another Festival sponsor - and much appreciated by those of us who were rather peckish due to attending the previous events with little time for lunch.

The evening was upon us quickly and thus no time for dinner either, for me at least. A great show from Tommy Allsup and Bob Wills' Texas Playboys included all the best-known Wills tunes with standouts being "A Maidens Prayer", "Faded Love", "San Antonio Rose" and a surprising effective Western Swing version of "Raining In My Heart" featuring the ubitiquous John Mueller.

The headline act, Bobby Vee, recorded his first (unissued for many years) album in Clovis and of course ran through his own and many of Buddy's hits. Sonny West performed a short set within Vee's and as usual was given a big reception from the audience, as were the Tollets and David Bigham on backup vocals. Bobby is a true professional - some might say almost too pro, but the audience loved him and the Editor of Now Dig This may even have appreciated a rockin' version of the instrumental, "Wipe Out"!

We're all sleeping on our feet by the time the last autograph-seekers have left the building. I have time for a quick chat with Sonny and Bobby and share a stall with Echo McGuire & husband Ron - sweet people to spend time with (their display was also featured at all other events today). Then back to the hotel for a rowdy session in the hospitality suite and finally to bed - not much sleep due to the racket and I am up early for the Sunday finale - an outdoor Gospel Sing at the Norman Petty Studios.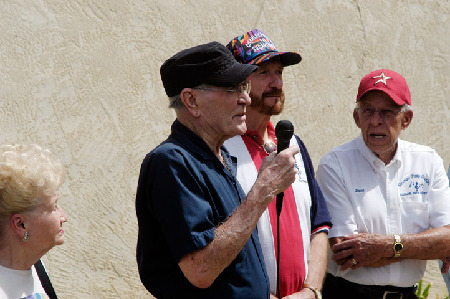 TRAVIS HOLLEY SPEAKS AT THE MARKER DEDICATION




Posted: Mon Sep 10, 2007 2:32 pm

Post subject:




Anyone who knows me will probably remember not to get me started on organised religion. I don't go to church services much and if I did it would be to reflect quietly not listen to a preacher and if I ever pray it would be for peace, not to ask to become one of a special group of people belonging to a particular religion. So I don't go to religious meetings with enthusiasm.....

But this one is different, for a start its at the Petty Studios and it involves a lot of gospel singing which I confess I do like. It also has Randy Steele, who is a Christian and I suppose preaches, but what he says is fun and based on his experiences and anyway ... I like Randy. Kenneth and Shirley Broad are kind enough to organise this part of the Festival and its obvious they are held in great esteem by locals and by many fans, not just for giving free tours of the restored studios but for being there thoughout the year to answer questions from the many visitors to Clovis. This is their day and they should be supported.

George Tomsco and Stan Lark are on hand as usual to provide some amplified musical backing and lead the crowd in the singing. George has a mic and fortunately he doesn't give me one. But we all sing along to some old favourites and George's own religious song which is great and as good as the old ones.

Ken reads the lesson and generally keeps us all in order, as does Shirley. I do not create a scene!

Echo McGuire was on hand this time and told a funny story about Buddy and the rival churches to which they belonged, which was greeted with much laughter. I reckon that there should be more laughter in churches, thats the way to get everyone together rather than apart!

We enjoyed it all and chatted afterwards for some time. A nice, relaxed, end to the Clovis Music Festival.

Hope to see old a new friends and fans here next year.....


John





MUCH MORE PHOTOS AVAILABLE ON THE NEXT PAGE !!

Viel mehr Fotos auf der nächsten Seite !