Hello Hans !

You mentioned on John B's board that you had not received many pics from this

year's festival. I attended the first two days then moved on to Lubbock.

Hope the attached are of interest.

Thanks for all you are doing to keep the flame alive !

Best wishes

Barry (Yorkshire, England)


The Clovis Festival has got to be one of the friendliest and most informal ways of meeting fellow buddyholics and hearing the music live once more. Again we received a very warm welcome from everyone at the Chamber of Commerce – Ted Glasscock made us all feel at home with his excellent post-show hospitality. Having booked when we thought the Crickets were appearing, we decided to change our plans and just spend two days at the festival, then take off for Lubbock.

So it was back to the studio for the tour on the first morning. Once again there was a good turnout with our excellent guides, Scott, Ken and David. You always hear something new when these guys start to reminisce. A superb moment comes with the an original reel to reel tape of 'Heartbeat' comes through those giant Altec speakers – real state of the art for 1958! David Bigham of the Roses described the all night sessions in the studio with its remarkable wavelike walls and warm ambiance. In the adjoining apartment Norman Petty's German made radiogram still looks like new; it includes not only a deck but also a Grundig tape recorder.

Ken was interested to hear that my 1959 Grundig TK 20 is still in working order too – 'Worth a fortune' he assured me! Then Ken invited me to sit at the table in the kitchen diner in Buddy's chair, holding his coffee mug – and do I look pleased with myself in the pic! In the lounge Peggy Sue was waiting to sign copies of her memoirs. It proved to be a very enjoyable if naturally subjective view of those special years when she knew Buddy and was married to Jerry Allison. Peggy found an authentic and personable voice to convey her clear narrative. Sure enough the first couple of chapters read like an extract from a fifties teen magazine. But then how else would a young high school student express her experiences and feelings? Now come on, JI, let's hear your side of the story!

The 2008 festival saw the official opening of the Rock and Roll Museum in the basement of the Chamber of Commerce. A personal tour with Dan Merrill gave us a great insight into how much progress had been made since last year with the many exhibits from the Petty estate. Now you enter through a replica fifties diner with booths and jukebox and a small viewing area for the video now being produced especially for the venue. Then you enter a long room with the precious memorabilia displayed behind strong glass from floor to ceiling. The Norman Petty Trio's career is detailed with instruments, stage clothes and records. There are plenty of great blow-ups of the many artists who recorded at Clovis, including the first one of all, Jimmy Self, who made his debut there in 1954. Alongside The Crickets, there are fascinating items about the Fireballs, the Stringalongs, Charlie Phillips, local boy Homer Tankersley and Carolyn Hester.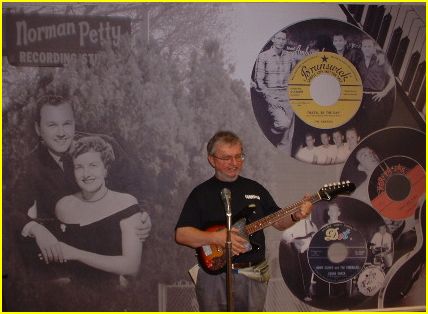 You can even pose for pictures with a guitar in front of a large montage of the Pettys and the Crickets – well, it might have caused offence not to! A major feature is the reconstructions of Norman's control room and studio itself. You can sit in the producer's chair and check out the soundboard, disc cutter and speakers; apparently these are all original items which Norman either used or had available for backup. The whole project is an appropriate and deserved tribute to the Pettys' achievements which put the Clovis sound on the musical map half a century ago.

Back at the motel there was time to chat with ace Holly experts and collectors Chris Rees, Randy Steele, Danny Todd, Roddy Jordan and Graham Pugh. Roddy brought along his recently published second edition of 'Buddy Holly and the Crickets:A Musical History in Australia'. It's a jaw-dropping huge tome reflecting his amazing efforts in researching the early 1958 tour. Chris kindly introduced me to Buddy's brother, Larry, and we joked about our similar names.

This year the Festival shows returned to the Marshall High School auditorium, a vintage fifties venue. The first night featured Tommy Allsup effortlessly picking on his Tradition guitar and taking us through selections from the Holly songbook with the able support of Kevin Montgomery, Bob's son. They were joined by Holly tribute artist, Johnny Rogers, who hails from Chicago. Johnny opened up with 'Peggy Sue' and you'll never guess who sat down in the row in front of us ten minutes later! Among the many highlights were Kevin's beautiful rendition of his Dad's composition, Wishing, and Tommy revisiting his solos on 'It's So Easy' and 'Love's Made a Fool of You'.

George Tomsco and Stan Lark of the Fireballs looking suave in full evening dress compered the show. They introduced the Killer Vees led by the remarkable singer/guitarist Sting Ray. The former are Bobby Vee's own band, including two of his sons, Tommy and Jeff. Ray is remarkable – he looks like Ritchie Valens and of course does great versions of his hits. But he has the talent to go anywhere in the rock n roll repertoire with a superb voice and excellent guitar work. And he knows how to work the room, aided and abetted by Master Vee on bass. It was a very impressive set which got the place jumping.

The Fireballs joined him for a few numbers; George played bluesy mouth harp on a wonderful rendition of 'Baby What Do You Want Me To Do?'. Then Mr.Vee senior appeared for 3 songs including a good version of Buddy's 'Down The Line'. It was a great start to the trio of live shows; the next evening Bobby headlined with Johnny Preston, Chris Montez and the Chiffons; the final show featured the three tribute acts from 2007.



Barry Holley

THANX,
BARRY
Vielen Dank an Barry Holley (interessanter Nachname) aus Yorkshire in England,

der freundlicherweise einige Fotos vom Clovis Music Festival 2008 von Anfang

September 2008 zusammen mit Erklärungen und Bemerkungen schickte.

DANKE,
BARRY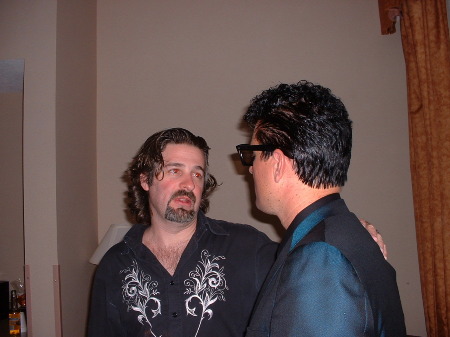 Kevin Montgomery looks longingly into Johnny Rogers' eyes - is it love at second sight?

Stand by me

One more to hug, now they are three, with Bobby Vee !

Hier ein erneuter Beweis: Die wahre Liebe ist nur unter Männern . . .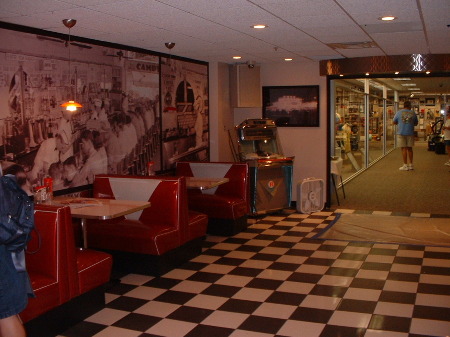 Clovis Sound Museum Entrance

Barry Petty oder Norman Holley ? NEIN. B. Holley in Norman Petty's Studios.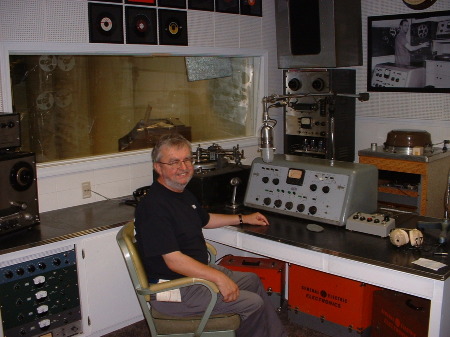 Then at the museum you can sit at Norman's sound desk.

Unten und weiter oben der Eingang zum "CLOVIS SOUND" Museum. Eine beeindruckende Ausstellung, die den musikalischen und aufnahmetechnischen Lebensweg von Norman Petty in Verbindung mit den Künstlern, die bei ihm ihre Aufnahmen machten.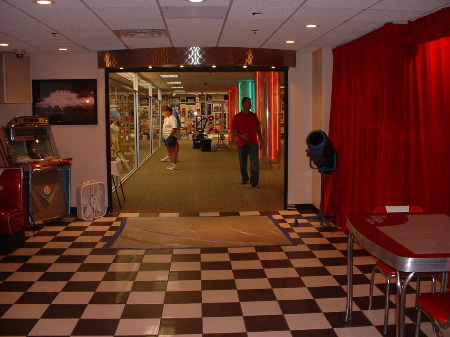 The entrance to the new 'CLOVIS SOUND' museum at the Chamber of Commerce, Clovis. This is set up as a fifties diner with a small area to the right for viewing an introductory video. This was being filmed this year.

The exhibits trace the story of Norman Petty's musical and recording career with attention to all the key artists who recorded there - wonderful artefacts, photos, musical instruments, radios - recording equipment duplicating that still in situ at the studio has been set up to replicate the studio in rooms adjoining the main museum area. Very impressive!

Barry with David Bigham (The Roses) behind the mike at the 7th Street Studio.

Barry steht neben David Bigham von den Roses hinter dem voluminösen

Mikrofon im 7th Street Studio.

© content: Barry Holley, 2008