" hey hans,

these exclusive photos are just 4-u

they are from crystal rock 50th

enjoy

your buddy johnny "


Do you remember? On July 13, 1958, the Summer Dance Party Tour played the Crystal Rock Ballroom in Rhinelander. A 21 year old rock and roll star named Buddy Holly sang his hit songs "Peggy Sue", "Maybe Baby" and "That'll Be The Day." Performing with Holly that day was guitarist Tommy Allsup.



This Sunday, July 13, exactly 50 years later to the day, Allsup will play Crystal Rock once again. This time, a young man named Johnny Rogers will play the part of Holly. It's a 50th Anniversary tribute to Buddy Holly.



"It's really a piece of rock and roll history," said Rogers. "To have Buddy's guitarist here in this show, fifty years to the day, in the very same venue, that's pretty special."



Allsup will always have a place in rock music lore as the man who lost a coin toss to singer Richie Valens. The winner would get the last seat on a small charter plane that also carried Buddy Holly and the Big Bopper, J. P. Richardson. The plane crashed in Iowa on a cold February night in 1959, killing everyone on board. The event would be immortalized as "the day the music died" in the song "American Pie."



Since that night Allsup has continued to do what he does best, play music.



In the years since Holly's death, Allsup has been a prominent part of the world of western swing music, including performing with and producing records for Bob Wills' Texas Playboys.



A Grammy winner, Allsup has performed on over 9,000 recording sessions and continues to perform live whenever possible.



Tommy Allsup raves about Johnny Rogers, "I'm not easily impressed, but this guy is just amazing. He does the best showman I've ever performed with. I don't think there's anything he can't do."



Johnny Rogers is quickly gaining a reputation for being America's #1 Buddy Holly tribute artist. Rogers is dedicated to recreating Buddy's music, from vocals to guitar.



"My Daddy was in the music business," said Rogers. "I was 15 and heard the song "Rave On" and that song went right through me and turned a switch on. My Daddy showed me 7 or 8 chords on the guitar and that was the beginning.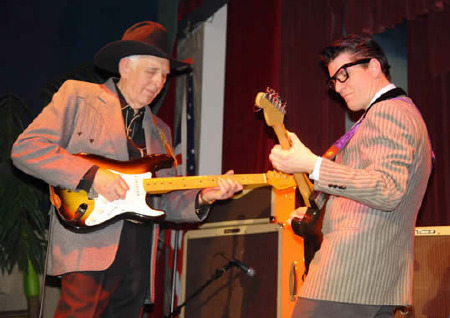 Tommy Allsup and Johnny Rogers

I started my own band when I was 16 and wore vintage clothes and the black glasses in high school. It didn't work very well with the girls. I'm 36 now. I wanted to be him."



Rogers said he has been called an old soul. He said he's been a greaser all his life. "I still put grease on my hair," said Rogers. "I wear the vintage clothing all the time. Some have said I'm Buddy Holly 24/7. I do believe we are kindred spirits and that this is my destiny. This is what Buddy wanted me to do. I've felt his presence, especially at his grave in Lubbock.



His music was catchy and simple, good writing, a good hook and good music. I'm trying to bring Buddy's music to a younger audience. I'm living the dream."



At a recent performance in Holly's hometown of Lubbock, Texas, Rogers played to a large crowd that included Holly's brothers Larry and Travis and niece Sherry. "Tears came to their eyes," said Rogers. "Larry said this young man is the best. I talk with him every other week. It was even scarier meeting Maria Elena, Buddy's wife. She came up to me with tears in her eyes and hugged me. I'm in the inner circle, it's the cat's meow."



Rogers will be playing Clear Lake Iowa next year on February 3, 2009, the 50th anniversary of Holly's last concert, February 3, 1959. "We're going to the airport after the concert and recreate the flight," said Rogers. " Jerry Dwyer will be there, he gave pilot Roger Peterson the OK to take off and saw the plane go down.



I'm finishing the things Buddy started. Tommy (Allsup) and I are in the studio recording the songs Buddy was going to. And there's a new screenplay in the works called 'The Toss of the Coin.' "



In addition to the music of Buddy Holly, Rogers also performs the songs of other legendary artists during his show, including Ritchie Valens, Elvis, Jerry Lee Lewis, Ricky Nelson and Roy Orbison.



It's David versus Goliath on Sunday, the Buddy Holly Tribute up against the Hodag Country Festival. According to Rogers' agent Bruce Mcgrew, "Some tried to talk us out of doing the anniversary show, or at least do it another time because of the Hodag Fest, but it just wouldn't have the same historical value any other time. At least there's an alternative."





50 Jahre nach dem Konzert von Buddy Holly und den Crickets gedachten


die Fans diesem historischen Ereignis an gleicher Stelle im Crystal Rock


Ballroom in Rhinelander, Wisconsin, USA.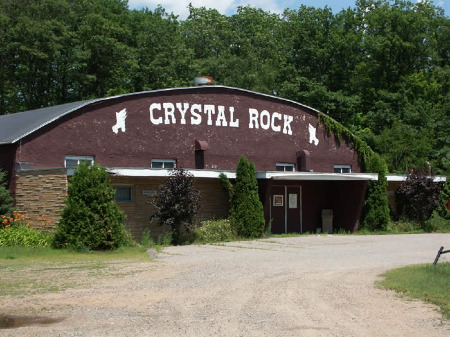 Crystal Rock, the place where music history was made, and is still today!

The Historic Crystal Rock Roller Rink

(Formerly known as the Crystal Rock Ballroom)

In Wisconsin's Beautiful Northwoods.

THANX to Crystal Rock Radio for some pics and linking my site

Click the logo to view their website

The Famous Stage

Roller Rink pics courtesy Crystal Rock Radio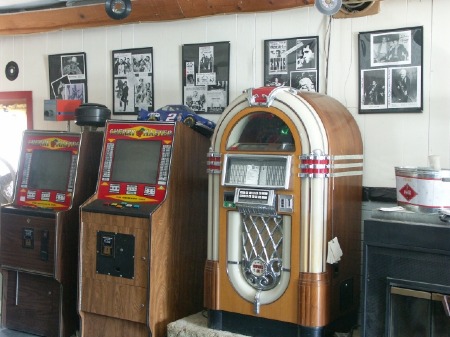 The Wall Of The Folks Who Made The Rock Famous





Hans,


Thanks for the information on your links. I have visited your site a
few times before I had worked with Johnny Rogers, and always found it a
pleasure to browse through.


I had a wonderful time working with Johnny, Tommy and the band. They
provided a great time for all who were in attendance, and who listened
on the internet. I couldn't have had more fun.


I hope you listen in to some of my future shows, Wed. evenings 4 pm to 8
pm Central Daylight Time USA, and Sunday evenings 7 pm to 10 pm CDT, USA.




Cheers and best in your endeavors.


JL


DJ-Minime / Crystal Rock DJ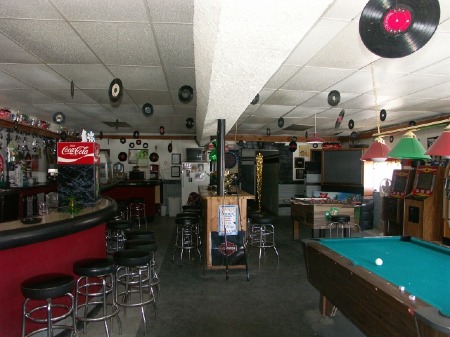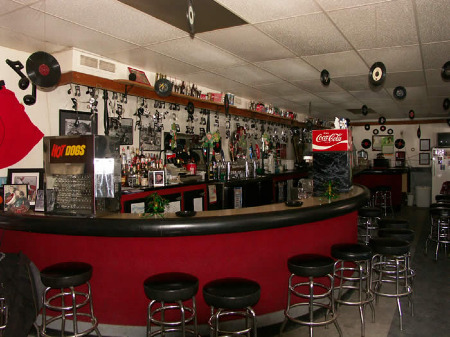 " hey hans,

these exclusive photos are just 4-u

they are from crystal rock 50th

enjoy

your buddy johnny

ps tommy says hey man and thanks for everyting adios amigo "














































u-bet i've got some great photo's still 2-come from fans including one with judy bender, who told people at the show as soon as i took the stage she got chills and was taken back to 1958.


it was so cool to meet so many teenagers of yester year who were at the show it was a great honor to be the 1 to recreate that nite for so many people.


2 sell out shows in a row with a lotta youngsters 2.


it was magic big bro i wish u could've been there.


well i'll keep in touch




GOD BLESS your little bro and buddy always


Johnny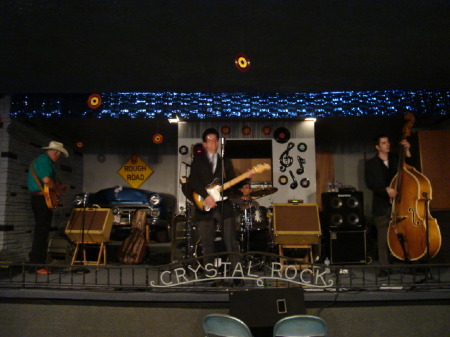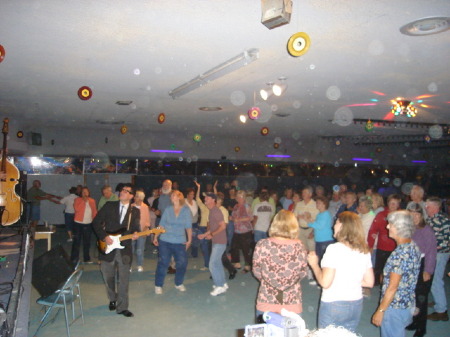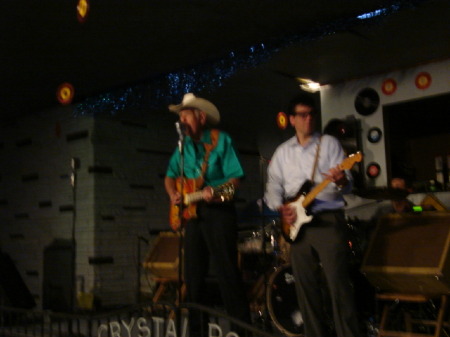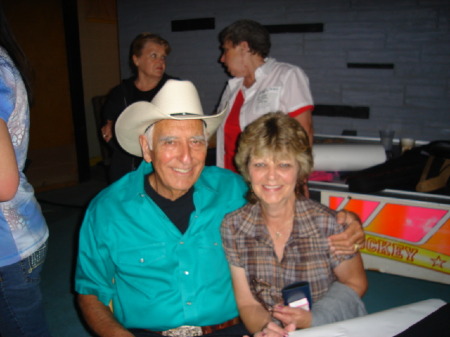 Tommy Allsup with a fan.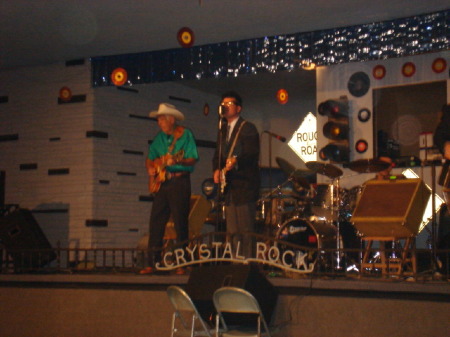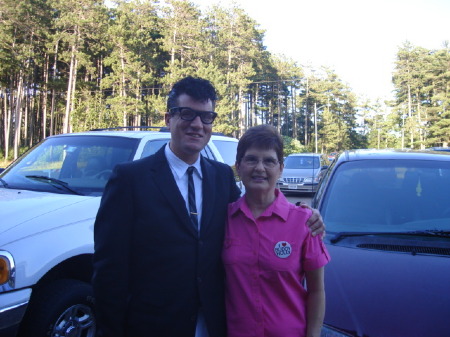 Johnny Charles Rogers with Judy Bender, one of the famous twins well known from the 1959 Winter Dance Party.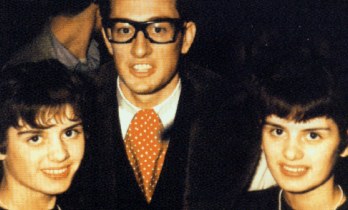 DO YOU REMEMBER ?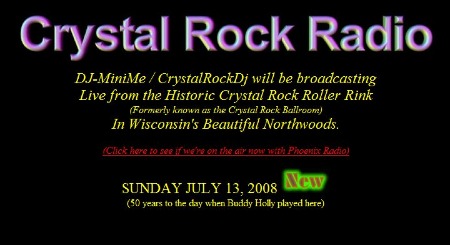 what a superb read, do not have words to discribe

the enjoyment it has given me, i keep going back

and back to it.

thank you so much.

take care,

ron lewis, england