| | |
| --- | --- |
| | |
| | BUDDY HOLLY by KRYSTIAHN |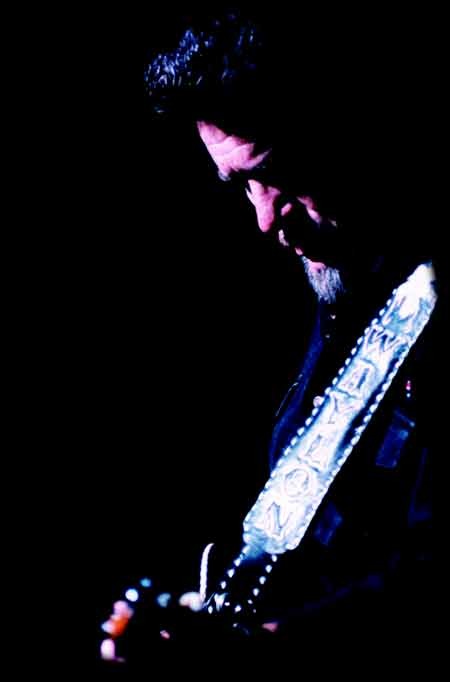 The late and great Waylon Jennings. Have a look at my Waylon page, please.

"Someone once asked me where I thought music would've taken Buddy.

I said 'you're asking the wrong question.

Where was Buddy gonna take music ?"

Waylon Jennings


There he (Buddy Holly) was, those same songs that I've heard for the last forty years. They sound just as good as the first time I heard them.

John Mellencamp

Total about what influenced my drumming – Buddy's guitar playing influenced my drumming more than anything else. I haven't played with anyone since that I could play with as well, because I learned to play drums with what Buddy played.

Jerry Allison

They crowned Elvis as King, but Buddy was the rightful heir. Only pity was him leaving this life so soon.

Travis Holley

"I only needed specs for reading, but as a result of wearing them all the time to try to look like Buddy Holly, I became genuinely nearsighted."

Elton John

One summer I remember, I got exposed to Chuck Berry and Buddy Holly and Buddy Holly was a very very big, made a very big impression on me. Because of a lot of things, you know, the way he looked and his charisma. There was something lonely about the guy and very ordinary, you know he was, he gave hope to millions of kids with glasses.

Eric Clapton

People always say that they remember exactly where they were the day that President Kennedy was assassinated. I don't, but I do remember walking onto the school playground on the day Buddy Holly died, and the feeling that was there. The place was like a graveyard, and no one could speak, they were in such shock.

Of all the music heroes of the time, he was the most accessible, and he was the real thing. He wasn't a glamourpuss, he had no act as such, he clearly was a real guitar player, and to top it all off, he wore glasses. He was one of us. It was amazing the effect his death had on us.

After that, some say the music died. For me it seemed to burst open.

Eric Clapton

Holly passed it on via the Beatles and via us.

He's in everybody...this is not bad for a guy from Lubbock, right ?

Keith Richards

Buddy Holly gave you confidence. He was like the boy next door.

Paul McCartney

Without Elvis, none of us would have made it.

Buddy Holly

The singers and musicians I grew up with transcend nostalgia. Buddy Holly and Johnny Ace are just as valid to me today as then.

Bob Dylan

I play Buddy Holly every night before going onstage. It keeps me honest.

Bruce Springsteen

Yeah...Buddy Holly...check m' out...bad motherf.....

Keith Richards

"At least the first forty songs we wrote were Buddy Holly influenced".

Paul McCartney

Cricket Jerry Ivan Allison, Buddy's best buddy.

Credits go to Peggy Sue Gerron

"When someone like Paul McCartney says 'If it wasn't for the Crickets, there wouldn't be any Beatles', I say 'Excuse me? I'd like to hear that again!"

Jerry Allison

If anyone asks you what kind of music you play, tell him 'pop.' Don't tell him 'rock'n'roll' or they won't even let you in the hotel.

Buddy Holly

"He made it okay to wear glasses. I WAS Buddy Holly."

John Lennon

To English people Buddy Holly was an enormous inspiration. Therein lies the difference because he was a songwriter, which Elvis wasn't.

And he wrote very simple songs - sort of lesson one in songwriting. Great songs, which had simple changes and nice melodies and changes of tempo and all that.

You could learn from Buddy Holly how to write songs, the way he put them together. He was a beautiful writer.



Mick Jagger

Ohne Elvis hätte es keiner von uns geschafft.

Buddy Holly

"Buddy Holly was a poet. Way ahead of his time."

Bob Dylan

"It all came out of this idea of three chords, a group standing up there playing your instruments...you can see echoes of Buddy Holly and the Crickets in the Beatles."

Paul McCartney

We like this kind of music. Jazz is strictly for stay-at-homes.

Buddy Holly

Mick had been singing with some rock and roll bands, doing Buddy Holly... Buddy Holly was in England as solid as Elvis. Everything that came out was a record smash No. 1. By about '58, it was either Elvis or Buddy Holly. It was split into two camps. The Elvis fans were the heavy leather boys and the Buddy Holly ones all somehow looked like Buddy Holly.

Keith Richards

I still can't get enough from this great film. Over the years I've seen the movie several times.

Turn it off, I don't like that surfin' shit. Rock and roll's been going downhill ever since Buddy Holly died.

John Milner (American Graffiti)

Buddy Holly's life was an enactment of the American Dream and his music mirrored his spirit. What we long for, we never quite obtain, and yet we keep searching; and if we have reason to be sure of the outcome, we cling to our faith that the effort will not go unrewarded.

John Goldrosen (Holly Biographer)

Buddy had the four qualities that few artists have. He could sing good, play the guitar good, write good songs, and he had the innovation to make them catch the public's ear.

Larry Holley

It's destiny, Peggy Sue...everything's destiny.

Buddy Holly, winter 1958

I have thought about making a career out of Western music if I am good enough but I will just have to wait to see how that turns out...

Buddy Holly, 1953

"Nach der Premiere einer "Buddy Holly"-Produktion ging Clint Eastwood in die Garderobe des Hauptdarstellers und sagte in seiner heisersten Clint-Tonlage: "You rock." Mehr nicht. Mehr war auch nicht nötig."



© Der Spiegel 22/2010