| | |
| --- | --- |
| | |
| | BUDDY HOLLY |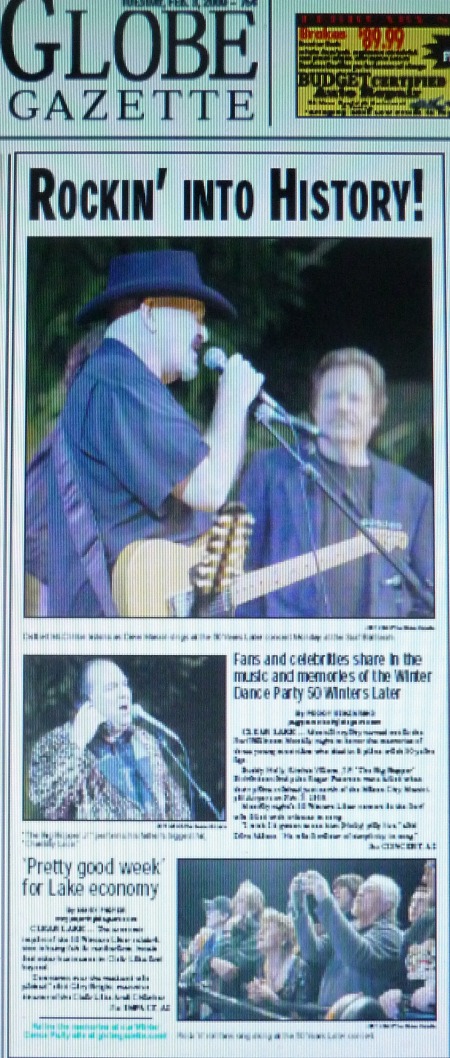 Globe Gazette

Feb 3 Mason City Globe-Gazette, Io.

" ROCKIN' INTO HISTORY ! " (Top-of-page photo) " Delbert McClinton listens as

Dave Mason sings at the 50 Years Later concert Monday at the Surf Ballroom – Jeff

Heinz/The Globe Gazette. " (Next pic, of 'Bopper Jr' with phone to ear) " The Big

Bopper Jr. performs his father's biggest hit, 'Chantilly Lace.' Jeff Heinz/The Globe

Gazette." (Next pic, of stage-front fans) " Rock 'n' roll fans sing along at the 50

Years Later concert - Jeff Heinz/The Globe Gazette." " Fans and celebrities share in

the music and memories of the Winter Dance Party 50 Winters Later. By Peggy

Senzarino — Musical royalty turned out at the Surf Ballroom Monday night to honor

the memories of three young musicians who died in a plane crash 50 years ago.

Buddy Holly, Ritchie Valens, J.P. 'The Big Bopper' Richardson and pilot Roger

Peterson were killed when their plane crashed just north of the Mason City Municipal

Airport on Feb. 3, 1959. Monday night's 50 Winters Later concert at the Surf was

filled with tributes in song." " ' I wish I'd gotten to see him (Holly) play live,' said

Dave Mason. ' He was a master of simplicity in song.' See CONCERT, A2 " " Pretty

good week for Lake economy. By Mary Pieper Clear Lake — The economic impact of

the 50 Winters Later celebration is being felt at restaurants, hotels and other

businesses in Clear Lake and beyond. 'Downtown over the weekend was packed,'

said Gary Bright, executive director of the Clear Lake Area Chamber…. See IMPACT,

A2. Re-live the memories at our Winter Dance Party site at globegazette.com."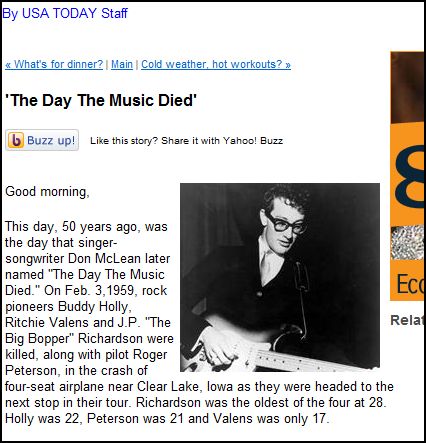 USA TODAY online

Feb 3 USA Today

" Today marks the 50th anniversary of 'the day the music died' Buddy Holly was

just 22 when he was killed in a plane crash with Ritchie Valens and the Big Bopper."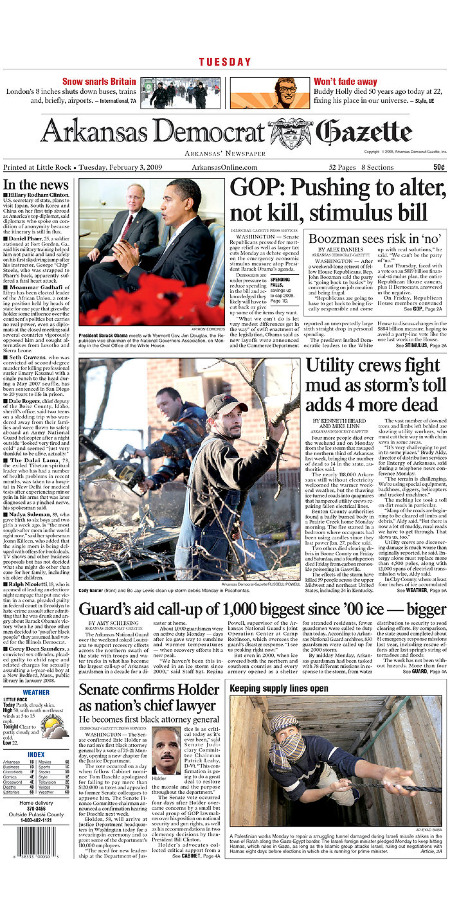 Ark. Democrat Gazette

PRESIDENT OBAMA and BUDDY HOLLY on first page

Feb 3 Arkansas Democrat Gazette, Little Rock, Ark.

" Won't fade away. Buddy Holly died 50 years ago today at 22, fixing his place

in our universe. "

Des Moines Register

Feb 3 Des Moines Register, Io.

" That'll be the day: '50s back in style… The Surf's concert commemorating

Buddy Holly's final show draws worldwide fans'… continued inside on page 6A "

– Kyle Munson.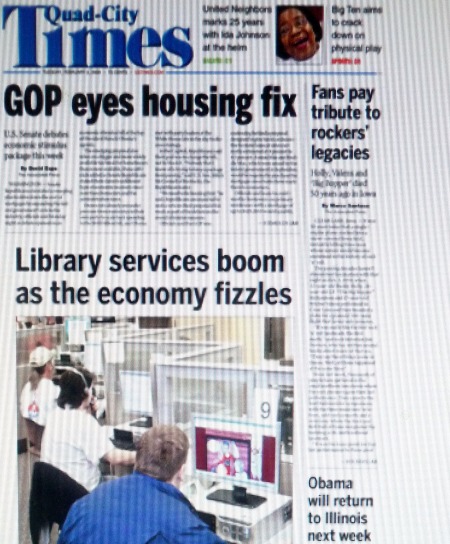 Quad-City Times

Feb 3 Quad City Times,Davenport/Rock Island/Moline/Bettendorf,Io-Ill.

" Fans pay tribute to rockers' legacies…continued inside in 'Rockers|A3' " – Marco

Santana, The Associated Press – syndicated.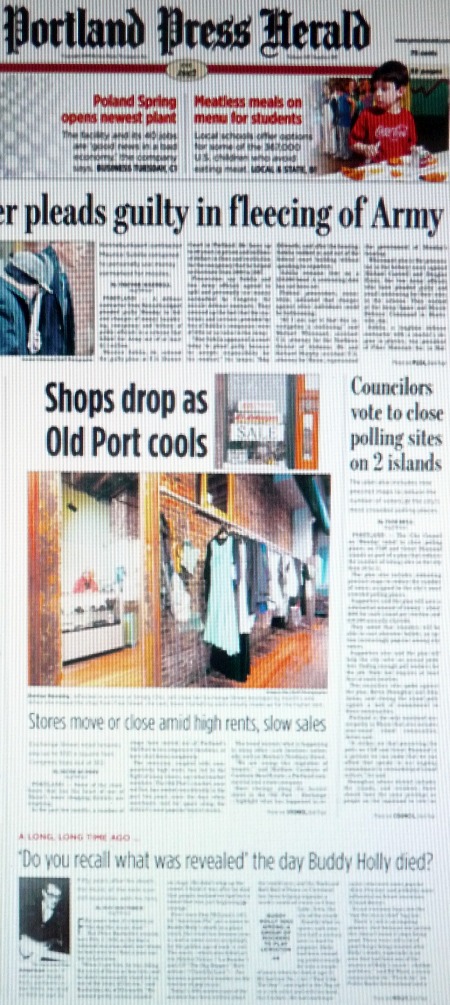 Portland Press Herald

Feb 3 The Portland Press Herald, Mne.

" 'A long, long time ago…' Do you recall what was revealed the day Buddy Holly

died ? … 'Please see HOLLY, Back Page' - Ray Routhier Staff Writer."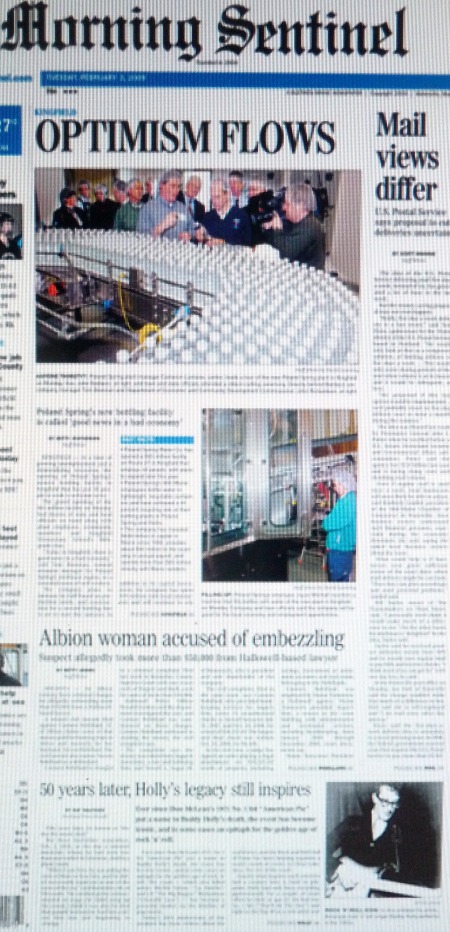 Morning Sentinel

Feb 3 Morning Sentinel, Waterville, Mne.

" 50 years later, Holly's legacy still inspires…Ever since Don McLean's 1971 No. 1 hit

"American Pie" put a name to Buddy Holly's death, the event has become iconic,

and in some cases an epitaph for the golden age of Rock 'n' Roll…Please see HOLLY

A6 " – Ray Routhier Portland Press Herald (syndicated).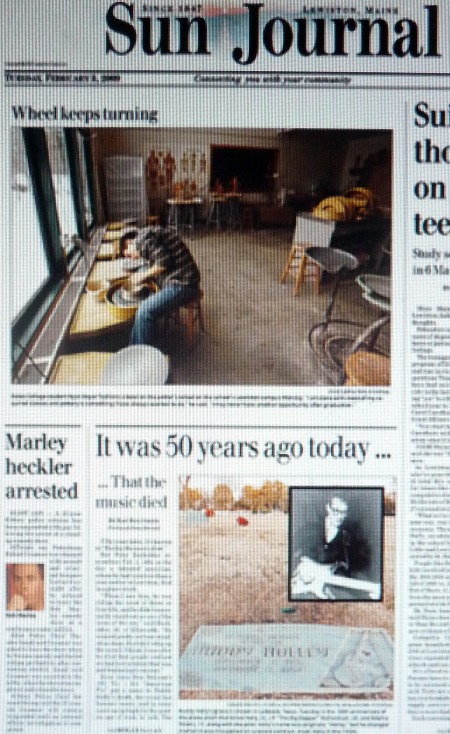 Sun Journal

Feb 3 The Sun Journal, Lewiston, Mne.

" It was 50 years ago today…That the music died…See HOLLY page A3' " – Ray

Routhier Portland Press Herald syndicated.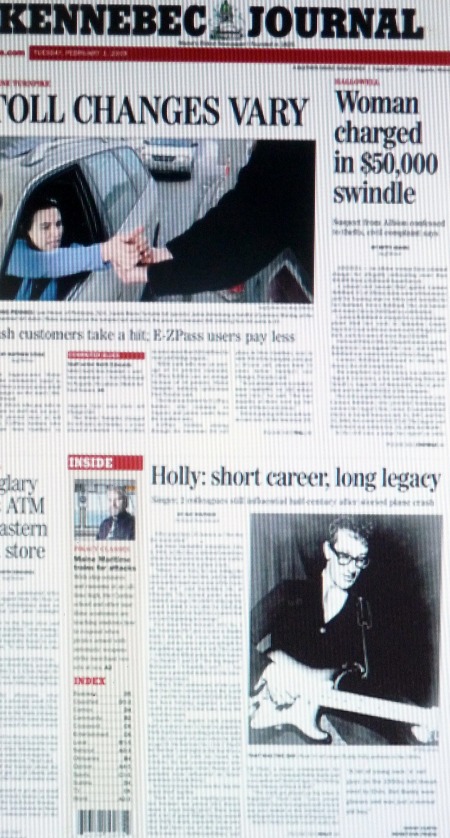 Kennebec Journal

Feb 3 Kennebec Journal, Mne.

" Short career long legacy…singer 2 colleagues still influential half-century after

storied plane crash…please see HOLLY A6', plus Sonny Curtis quote, 'A lot of young

rock n roll guys felt threatened by Elvis. But Buddy wore glasses and was just a

normal old boy.' " – Ray Routhier Portland syndicated.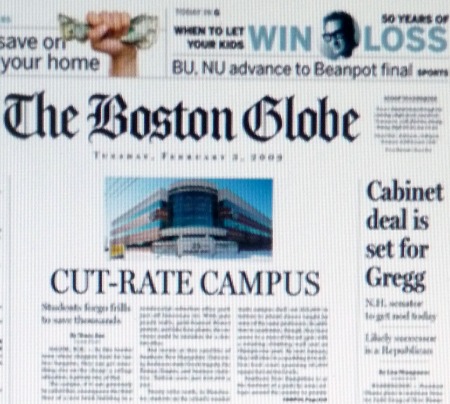 Boston Globe

Feb 3 The Boston Globe, Mas.

" Today in G… 50 Years Of Loss "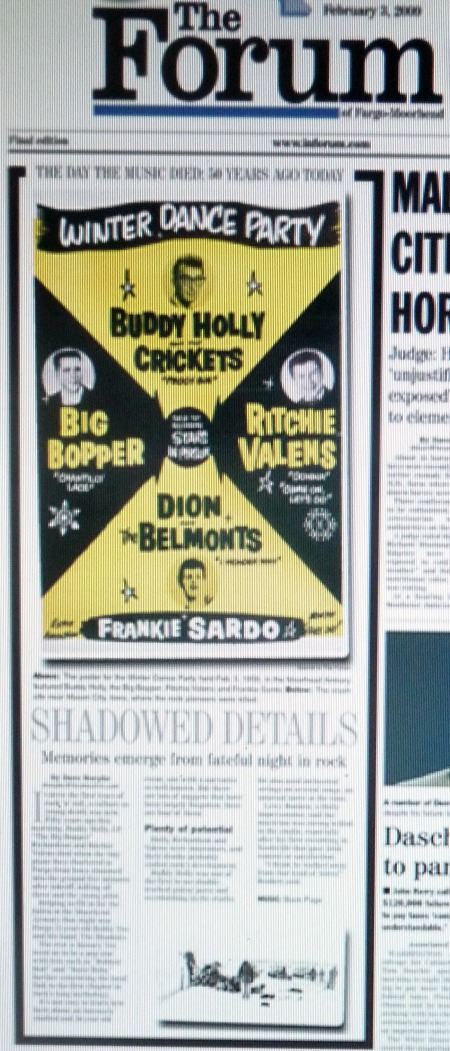 Forum

Feb 3 The Forum, Fargo-Moorhead, ND-Min.

" The Day The Music Died: 50 Years Ago Today…Shadowed Details, Memories

emerge from fateful night of rock " plus, " Music Back Page' " – Dave Roepke.

St. Cloud Times

Feb 3 St Cloud Times, Min.

" An Echo, An Honor…Musical legends pay tribute to rock stars lost in 1959…

50 Winters the rise of a local legend…see CONCERT, A4 " – Adam Hammer.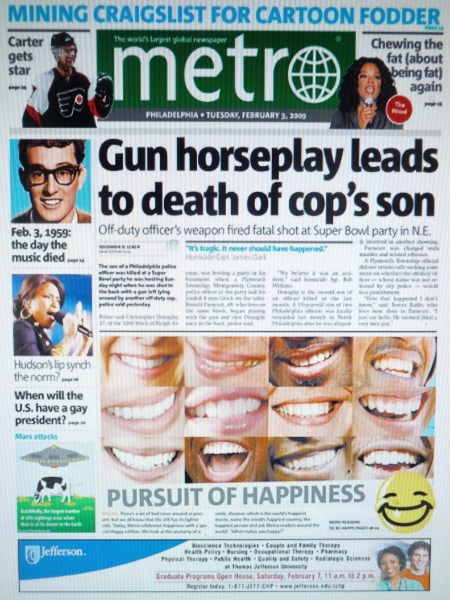 Metro

Feb 3 Metro Philadelphia, Pa.

" Feb 3, 1959: the day the music died Page 14."

Dallas Morning News

Feb 3 The Dallas Morning News, Tx.

" Buddy Holly's Legacy Lives On. Today marks 50 years since a plane crash

killed Buddy Holly, but Holly's legacy lives on ".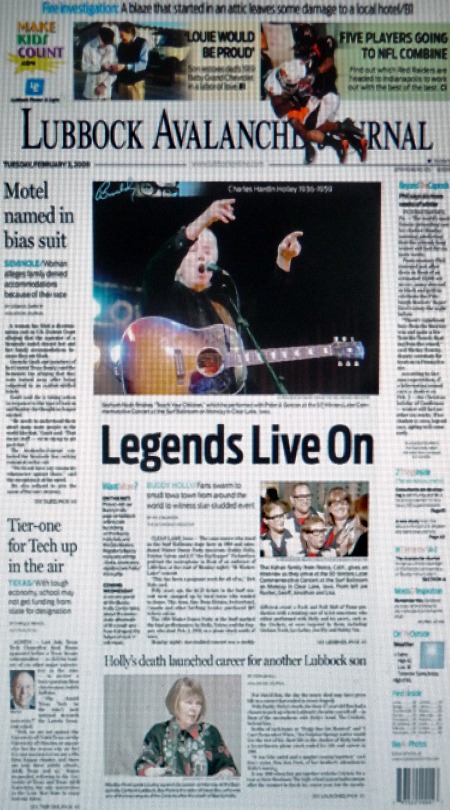 Lubbock Avalanche Journal

Feb 3 Lubbock Avalanche Journal, Tx.

" Charles Hardin Holley 1936 -1959 " over photo of Graham Nash onstage at

The Surf with headline " Legends Live On… Buddy Holly/fans swarm to small

Iowa town from around the world to witness star-studded talent. " – syndicated

by Kyle Munson of The Des Moines Register.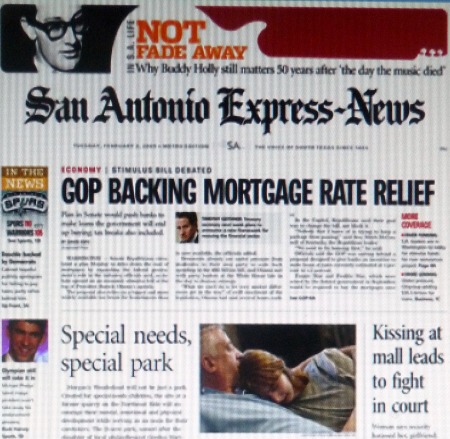 San Antonio Express News

Feb 3 San Antonio Express News, Tx.

" In S.A. Life Not Fade Away Why Buddy Holly still matters 50 years after

'the day the music died'. "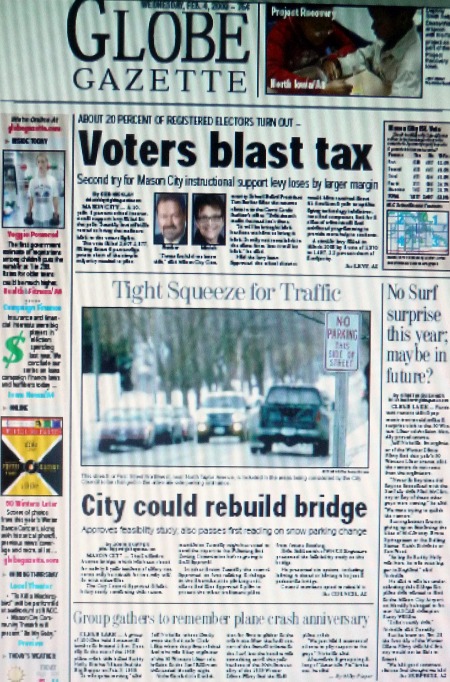 Globe Gazette

Feb 4 Mason City Globe Gazette, Io.

" Online, 50 Winters Later… Scores of photos from this year's Winter Dance

Concert, along with historical photos, previous news coverage and more,

all ...globegazette.com.".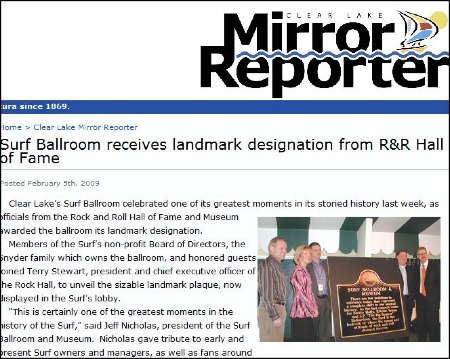 Mirror Reporter

Feb 6 Clear Lake Mirror Reporter, Io.

" Surf Ballroom receives landmark designation from R&R Hall of Fame 50 Winters

Later …Fans, families and performers make pilgrimage to the Surf for historical

anniversary event..." " This is certainly one of the greatest moments in the

history of the Surf " said Jeff Nicholas, president of the Surf Ballroom and

Museum. Nicholas gave ribute to early and present Surf owners and managers,

as well as fans around the world and the talented musicians who have played

at the Surf. " But mostly this is about Buddy Holly, Ritchie Valens and The Big

Bopper – their music and the men they were. " Nicholas fought back tears as he

referenced 'American Pie' Don McLean's 1971 tribute song to the fallen young

singers, and spoke of 'the day the music died'. Just then Buddy Holly's widow,

Maria Elena, rose from her front row seat to hand Nicholas a tissue and give him

a hug. A few moments later, she and Valens' sister Connie Lemos joined Nicholas

and others to unveil the landmark plaque. " Fifty years to the night Buddy Holly,

Ritchie Valens and J.P. 'The Big Bopper' Richardson rocked the Surf Ballroom at

The Winter Dance Party. " With quotes from Connie who had first visited The Surf

in 1988 when a memorial was placed outside the ballroom, " Iowa is a home away

from home - especially this place, I came in and expected Ritchie to come out and

say 'where ya' been ?' It's as if time has stood still here." And from Maria Elena

Holly-Diaz, " Fifty years is a long time, I think he's pretty happy, and I know he's

looking down and smiling on all of this."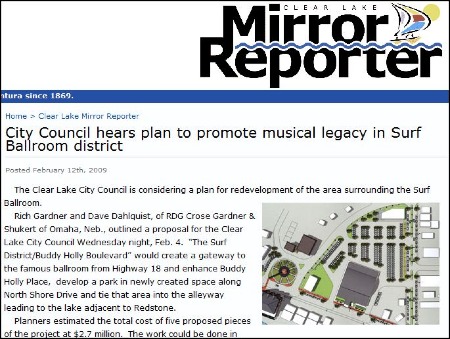 Mirror Reporter

Feb 13 Clear Lake Mirror Reporter, Io.

" City Council hears plan to promote musical legacy in Surf Ballroom district… The

'Surf District/Buddy Holly Boulevard' would create a gateway to the famous ballroom

from Highway 18 and enhance Buddy Holly Place...."