8 April 2005



Dear Hans Werner.


Great job on your website !


After I figured out I could read it in English as well as

German, I really enjoyed it.


Thanks for keeping our old music alive and the memories

of the good times we had !


Especially enjoyed the photos of Buddy and others.



Best Regards


Jimmy Torres (The String - A - Longs)

| | |
| --- | --- |
| | Jimmy (Wheels) Torres |
| | |

28 May 2005

Congratulations on a Great website to the memory of Buddy Holly. I have been to Lubbock on five occasions and met most of the people that were connected to Buddy and I can honestly say they are all without exception wonderful, friendly people who are only too happy to chat with you about Buddy Holly.

I will be going to Clovis for the Clovis Music Festival in September and I urge all Buddy Holly fans to make the effort to attend. This is going to be one huge event for all us Buddy fans.

| | |
| --- | --- |
| | |
| | BRIAN WILSON |
The visit to Norman Petty's Studio is worth the trip alone... I stayed for over three hours when I visited the N.P Studio... I just wanted to soak up the atmosphere and energy that is still there and sit in the chair Buddy sat in, touch the coke machine that he got coke from.....

Hey Buddy fans you have to go to Clovis this year. Lubbock is only 100 miles away.... visit the Buddy Holly Center, walk the streets of Lubbock.

I am originally from England and now living in Canada but could quite easily live in Lubbock. (Lubbock needs some help in promoting Buddy!)

Hi Sherry, Hi John M,
Rave On!

Brian Wilson Toronto Canada

President. Buddy Holly Appreciation Society Ontario


4 June 2005

Hello Hans;


I just stumbled upon your Buddy Holly page while doing research for my Illustrator wife. I don't usually comment on things I see, but this time I have to.

I was almost 5 years old the day the music died. As I grew into my teens, my uncle, who was an avid Buddy Holly fan, played in a local band called The Graduates. His all-time influence was Buddy Holly. This uncle was my best friend, my mentor, and he also introduced me to the influence of Buddy Holly. One of the last Buddy songs we (my uncle and I) performed together was True Love Ways.

I still cannot sing it even now without tears streaming down my face. Both of my "Holly Legends" are gone now...but their influence lives on in me.

I thank you for such a wonderful tribute to a most influential person, and thank you also for touching memories I have just relived by browsing here. I plan to check back often, even if just to selfishly reminisce a little on my own.


Thanks again Hans;


Sonny Countryman


11 July 2005

Hallo Hans,


Ich bin noch einer, der die Buddy-Zeit miterlebt hat.

Ich habe noch genau in Erinnerung wie ich an dem Morgen die " Bild "

kaufte und die Schlagzeile las " Drei Rock & Roll Stars abgestürzt "

Ich habe an diesem Tag in der Lehre nicht viel gelernt.

PS. Habe noch einige Coral-Platten von damals mit Buddy.


Good Rocking von Rainer Jührs



27 August 2005

Hans, what a wonderful website you have built and continue to expand. You have beautiful pictures and many lovely expressions of admiration and respect for the man we hold most dear in musical hearts.

I was born in 1944 -- your contemporary! -- and I have enjoyed Buddy's music since I first heard "That'll Be The Day" in 1957.

I own many Buddy records on vinyl, cassette, and CD. I have played guitar since 1959 and most of what I play is Buddy's music and some of his friends like the Fireballs, the Crickets, Everly Brothers, Jerry Lee Lewis, Ritchie Valens, etc.

I have owned 3 Stratocasters in my lifetime -- I obtained my first in 1962. I sold it (stupid me!) in 1967. I bought it used, so think it was probably a 1959 or perhaps older model. I just love the way Buddy played guitar, plus I also admire Tommy Allsup's guitar work he did on several of Buddy's records.

I only recently became acquainted with Buddy's early music (preceding the release of "TBTD") and it is great. It's wonderful how he and Norman Petty adapted some of the other creative geniuses' of their time to Buddy's music. Like Sam Phillips Sun Records reverb sound and like Scotty Moore's really cool guitar leads.

But best of all is the prolific song writing talent that Buddy had. If he had lived longer, there's no doubt his catalog would have number in the hundreds.

Best wishes with your work and thanks for helping keep Buddy alive for future generations.

My favorite songs to play on my guitar are "Words of Love; Crying,Waiting, Hoping; It's So Easy; Ting-a-Ling; Rock Me My Baby; Not Fade Away; Listen To Me; You're So Square; and That'll Be The Day." Also, Elvis's "You're a Heartbreaker; I Forgot to Remember to Forget; Blue Moon of Kentucky." I play many of the Fireballs stuff, too. I am not, however, crazy about how Norman Petty used the Fireballs on the overdubs.

Signing off, now, your new friend,

David May in Brentwood, Tennessee.



23 August 2005

Wie gehts, Hans?

Great site you have, amigo. Estoy muy contento de todo.

Buddy would be very proud of your display honoring him.

He truly was one of the principal pioneers of rock and roll.

I was in my late teens when he hit the airwaves, which

resulted in me becoming one of his ardent fans.

Tu Compadre para siempre,

Dick Stewart


Editor - "The Lance Monthly"


20 August 2005

Lieber Hans Werner,

einfach grossartig! Idee und Umsetzung perfekt. Mit "rockigem" Herzblut.

Seit über 36 Jahren mache ich jetzt schon meine Oldie-Sendung "ORIGINAL

MEMORY HITS SHOW" im DEUTSCHLANDFUNK und bin immer begeistert, wenn

ich noch was dazulernen kann! Würde mich freuen, auch alle Buddy Holly-Fans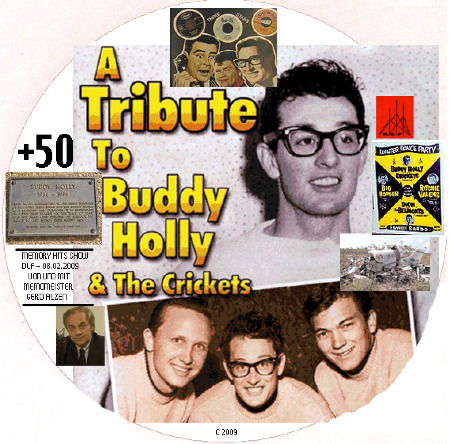 zu meiner Memo-Show begrüssen zu können - Buddy ist immer auch ein

zeitloses Thema der Sendung. DLF-jeden 4. Sonntagmorgen 05.05 h - 06.00 h .

In diesem Sinne: "Oldies & Buddy forever! Rock on, Baby"!


MemoMeister GERD ALZEN (DEUTSCHLANDFUNK, Köln)-Europaweit!


29 September 2005

I first heard Buddy at Ayr Ice Rinkin 1956 when I was 15 and I was hooked.

I still play his tunes on my guitar to this day.

He lives on.

Arthur Dey


10 October 2005

I have been a Buddy Holly fan since the first time I heard him, (1957) and

my elder brother and cousin saw him live at Newcastle (England) in March

1958.

Your web-site is brilliant, full of information and interest, and of course

anything to do with Buddy Holly is of great interest to me.

Best wishes and many thanks.

Dr Brian Newman



14 December 2005

Das Größte was ich bisher über Buddy Holly gelesen und genossen habe -

deine Homepage ist einmalig.

Erinnerungen wurden wieder wach, was damals die Rundfunknachricht von

Buddy Hollys Tod in mir auslöste.

Es war unfassbar, man konnte es nicht glauben, man wollte es einfach nicht

wahrhaben. In den Folgejahren versuchte ich alle möglichen Platten die ich

noch nicht hatte von Buddy Holly zu bekommen.

Deine Seiten zeigen mir, dass ich wohl inzwischen sämtliche Titel von Buddy

Holly besitze. Ich wünsche dir weiterhin gutes Gelingen mit der

Aufrechterhaltung des Andenkens an diesen wunderbaren Sänger aus unserer

Jugendzeit.



Liebe Grüße aus Wien, Gerry.



10 December 2005

Hi Hans, Voda Jones here from Wichita Falls, Texas.

Mike Bell told me about this really cool site. I don't know how many gigs Mike

played with me off and on from 1978 until 1996, but we did a whole bunch of

them.

I always enjoyed Buddy Holly tunes that we did. I remember that I always sang

"Raining in my heart" & "That'll be the day", and Mike always did "Maybe Baby"

and "Peggy Sue".

I will never forget one night after I finished singing "Raining in my Heart", I said

on the mic, "Now here is Mike with another Buddy Holly song for you". Then

someone in the audience yelled out "I don't like Buddy Holly"!, and Mike said back

to him over the PA, " That's a shame, because Buddy Holly would have liked you,

because he liked everybody!", then we went into "Maybe Baby".

I remember being nervous after that loud mouth said he didn't like Buddy Holly,

because I wasn't sure how Mike was going to react. Thank God he handled it the

way he did. Knowing Mike anything could have happened.


I have always been a Buddy Holly fan. I had a school girl's crush on Buddy,

and I was sweet 16 when Buddy died. I was devestated.



8 January 2006

Dear Hans,


What a pleasure to visit your Buddy Holly Web Site, "Buddy Holly Lives!"

It's great! A wonderful tribute to a very special legendary Texas talent.

| | |
| --- | --- |
| | |
| | Jerry |
How honored and humbled I am to have been the lead singer of the Crickets during the "Liberty Years" and to have the opportunity forty-six years later to pay special tribute to Buddy and all of the other Rockabilly Legends. Six years in production, I pray this legacy project is received with the love and passion in which it was created and produced. We look forward to your personal comments and review of the overall project, "The Rockabilly Legends: A Tribute to My Friends"; including, the Three-Hour television broadcast DVD, the four newly recorded soundtrack CDs (51 tracks) on which Stan Perkins and I performed special tributes to the legends, plus the eight compilation CDs featuring a hand picked collection of 113 restored and refurbished orinal masters from the Rockabilly Legends (including Buddy Holly), and The Rockabilly Legends: Live on the Louisiana Hayride" CD (a collector's dream), as is the 14th CD in this collection, "The Rockabilly Legends: Redd Robinson Conversations With The Legends" (Elvis, Carl Perkins, Jerry Lee Lewis, Johnny Cash, Charlie Rich and Sam Phillips). This set is on its way to you and awaits your viewing and listening ... and your much anticipated personal commentary reveiw.

Thank you for your interest in my career and continued support of The Crickets, and a very special thank you for helping to keep Buddy Holly's classic legacy's thriving throughout the world with your exciting "Buddy Holly Lives" Site.



With Warmest Regards,



Jerry Naylor


Former Lead Singer
of The Crickets