50 years ago Buddy and the Boys rocked the Rothschild Pavilion

Am 12. Juli 1958 traten Buddy Holly und die Crickets im Rahmen der "Summer

Dance Party Tour" im Rothschild Pavillon in Rothschild (Wausau), Wisconsin auf.

Ein historisches Gebäude, 1911 erbaut, das von der Konstruktion einzigartig ist.

Der Tanzboden ruht auf Bahnschwellen, die ihm eine einzigartige Vibration

verleihen.

Tommy and Johnny

Genau 50 Jahre später gedachten die Fans von Buddy Holly und den Crickets

diesem Ereignis genau an dem Ort, wo Buddy auf der Bühne stand und ein

tolles Konzert ablieferte. Tommy Allsup und Johnny Rogers waren die Stars

des Gedenkkonzerts.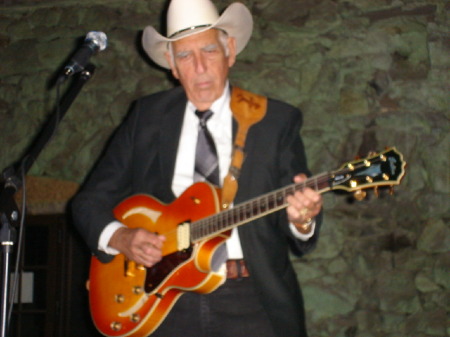 Tommy Allsup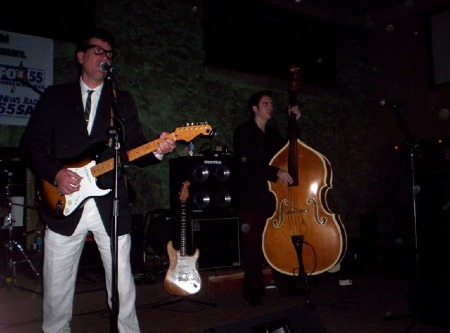 All photos by kind courtesy of Johnny Rogers with written permission.

Buddy Holly tribute artist lives the dream

By Amy Ryan


© Everest Herald aryan2@everestherald.com

ROTHSCHILD

— Chicago-native Johnny Rogers said he looks forward to performing

at the Rothschild Pavilion. But Rogers won't perform as himself.

Instead, he'll portray Buddy Holly in his Buddy and Beyond tribute show.


"Ever since I was a kid I've been a Buddy Holly fan. I'm living the dream

now," he said.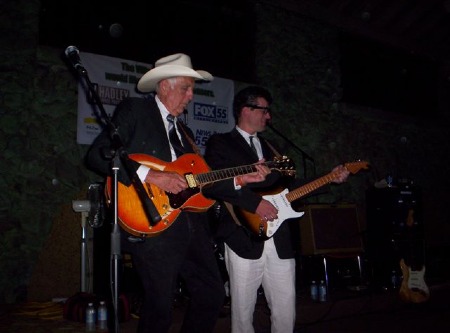 Rogers said the July 12 Buddy Holly 50th Anniversary Summer Dance Party

will be an extra special performance.


"It's 50 years to the exact day that Buddy and the Crickets played there on

their summer dance tour," Rogers said.

| | |
| --- | --- |
| | |
| | Rothschild Pavilion, Rothschild WI |
Rogers said playing the Pavilion "rates right up there with the Surf Ballroom"

in Clear Lake, Iowa, where Holly had his final performance before his death in

a plane crash on Feb. 3, 1959.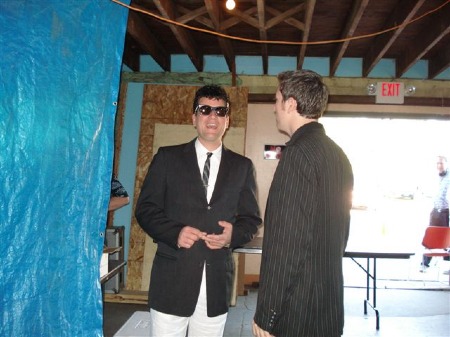 "I've played bigger venues and such, but I think anytime I do anything that's

authentic to Buddy's shows I have the most fun. It means more to me," he said.

Tommy Allsup, Buddy Holly's former guitarist who played with Holly at the Pavilion

in 1958, also will perform with Rogers.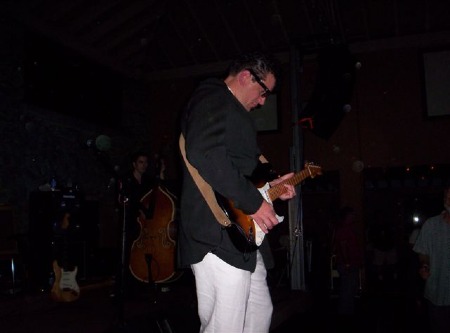 "A lot of people don't realize the legend this man is," Rogers said.

"This is a man that Paul McCartney will call up to do a private party.

He has played backyard barbecues for President Bush."

The performance also is an important step in the continuing restoration

efforts at the Pavilion.

THANX to my friend Mary Kay, who took most of the pictures !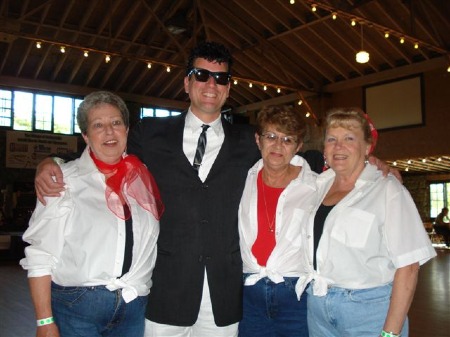 Mary Kay Stein, Johnny Rogers, Helen Kann, Nancy Welzen

"All of the money raised goes right back into the Pavilion," said Rothschild

village president Neal Torney.

The event also will benefit the Rothschild Fire Department, which is

handling concessions for the evening.

TOMMY ALLSUP

Buddy Holly fans recall time with the rising star

By Keith Uhlig • © Wausau Daily Herald • July 10, 2008

ROTHSCHILD -- Buddy Holly performed one gig at the Rothschild Pavilion, and stayed in town one night. But his short time here had a huge impact on people who got to know him 50 years ago, and his influence resonates with them today.




"My whole life changed," said Danny Krueger, 70, of Merrill, who spent most of a night with Holly at a bar, then at a house party. "Jeez, I think back, and there's times I almost cry. He had so much left to give."

Holly's performance a half century ago will be commemorated with a 50th Anniversary Summer Dance Party starting at 6:30 p.m. on Saturday at the Rothschild Pavilion. Johnny Rogers, a Buddy Holly tribute artist, and Tommy Allsup, Holly's former guitarist who played the original gig, will take the stage.

Buddy Holly and the Crickets were supposed to perform twice in the Wausau area on July 12, 1958. Inclement weather canceled the first performance at Athletic Park.

The second show was at the Rothschild Pavilion. A local band, The Runabouts, opened for Holly. The Runabouts were joined, as the band often was, by two singing twin sisters, Judy and Joan Bender, who performed under the name Jayettes.

Judy Bender, now Judy Oestreich, knew that she was performing on the same stage as an up-and-coming legend.

"He was very talented. Very, very talented," said Judy Oestreich, 67, of the town of Ringle. "I think it was the way he presented the music. He wrote it, so he felt it."

Terry Oestreich, 69,Judy's husband, was dating Judy at the time, and was a roadie of sorts for the Jayettes and The Runabouts. His brother Bob Oestreich also was a drummer for The Runabouts.

Holly's music "was just different, you know? And we liked it," Terry said.

The talent was obvious, but everyone who came in contact with Holly that night and the following morning say the same thing. He was quiet, down-to-earth, a nice guy.

Krueger recognized Holly instantly when the rock pioneer walked into Joe's Beer Bar in Rothschild after the Pavilion performance.

Krueger and his friends started talking with Holly, and when the bar closed, the party moved to a house. Krueger rounded up his extensive record collection, and he and Holly talked about music, life on the road and the money.

One of the folks at the party was Bob Oestreich, The Runabouts drummer. He gave Buddy Holly his name and number, and was surprised when Holly called him the next morning. Tires on Holly's Lincoln Continental had been slashed, and Holly wondered if Bob knew anybody who could help.

Bob and Terry made arrangements to get the car fixed, Terry said, and Holly and one of the Crickets ended up buying Bob and Terry breakfast.

Holly and the Crickets had another gig on July 13 at the Crystal Rock Ballroom in Rhinelander, and The Runabouts and the Jayettes opened the concert again. The musicians and Terry Oestreich spent part of the afternoon at a picnic with the band.

Krueger and his wife at the time also attended the concert, and Holly spoke with them and posed for photos. Those photos hang prominently on Krueger's wall.

Terry and Judy Oestreich ended up seeing Buddy Holly once again, on Feb. 1, 1959, before a performance in Green Bay. With them were Bob Oestreich, Judy's sister Joan, and Larry Matti, who played sax for The Runabouts and who ended up marrying Joan.

Holly invited them into the performers' dressing room, and they all met the Big Bopper, Ritchie Valens and other performers on the fateful Winter Dance Party Tour in the Midwest. Matti took photos.

Two days later, Holly, the Big Bopper and Valens were killed in a plane crash near Clear Lake, Iowa. As far as Judy and Terry Oestreich know, Matti's photos are the last known pictures taken of Holly and the others.

When they got the news, "we were devastated. Absolutely devastated," Judy Oestreich said. "I think he would have been huge, if he had lived. Bigger than even Elvis."




hallo,ich bin maickel aus hamburg, 28 jahre alt, und möchte dir sagen, dass es

keine andere so umfangreiche seite mit so viel information gibt wie deine.

seit 2 stunden lese ich deine website, die, wie ich finde, spannender als ein krimi

ist. du bist der absolute buddy-holly fan, und ich habe mich sehr über deine site

gefreut!


keep rockin, maickel.