50 years later

50 Jahre danach . .


My good buddy JO

Copyright 2006 Jo Fox, author.

All rights reserved by Hans W. Finking, editor.


MY MEMORABLE NIGHT



by Jo Fox





Ich habe Jo Fox im Discussion Board von buddyholly.com (geschlossen am

4.1.2008 auf Betreiben des Eigentümers) kennengelernt und war sofort

fasziniert von ihrer wunderbaren Schilderung des Auftrittes von Buddy Holly

und den Crickets während der U.K. - Tour 1958. Sie hat ihn live in Liverpool

erlebt und schildert dieses Ereignis mit viel Herzblut. Dazu kommt, dass sie

eine geniale Sammlung von Zeitungsauschnitten hat, das ist superselten

und absolut erste Sahne.

Bei Jo kann ich mich nur bedanken und es als einen glücklichen Zufall

empfinden, dass wir beide im Internet zusammenkamen, um diesen Report

ganz exklusiv auf meiner Webseite zu veröffentlichen.

Die Menge Text macht es mir unmöglich, das alles zu übersetzen.

Normalerweise können Fans von Buddy Englisch.

Danke für das Verständnis und viel Vergnügen beim Lesen und Schauen.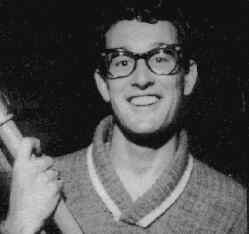 Buddy during

U.K. Tour in 1958.



I was fifteen when I first heard of Buddy on Radio Luxemburg. It was the
only source of this new pop music. On British radio all you could hear was
big bands like Mantovani, Henry Hall and smaller bands like Ronnie Keene.
For singers we had the likes of The Tanner Sisters, Mario Lanza and David
Whitfield. All so very tame.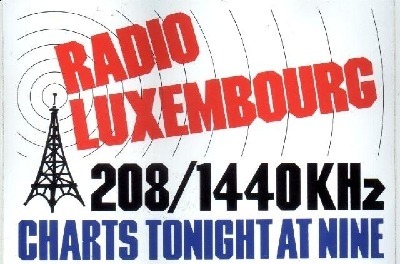 The station

of the stars:

Radio

Luxembourg.

But Radio Luxemburg was the salvation of young teenagers like us. We could hear all the up and coming artists like Little Richard and Gene Vincent and Elvis - heard him when he was still unknown in the UK! It was something that really lit up our eyes.








I was attending art school at the time and we would play "Hound Dog" and other contemporary records in our break times as there was a 'club' in the college complete with its own bar and a worn-out record player!

July 1958


But I left the art college and went to another college to study for a career
in nursing. It was around that time that I heard this strange new sound on
RL. Even the intro made me sit up and take notice, even before the singer
started to sing!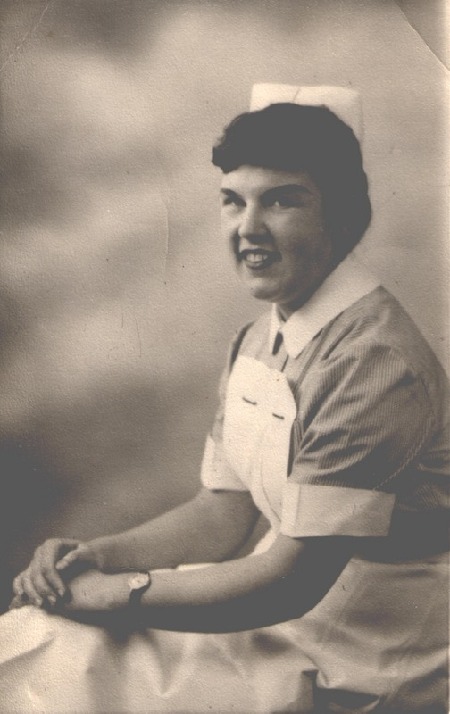 I was instantly hooked big time and was down at the record
shop the very next day to get the record.



But they didn't have it in yet and
I had to wait what seemed like ages before I had one in my hands!

December 1958



It was the same with every other Crickets single that came out. I was always first to the store and not infrequently disappointed! I used to take New Musical Express every week. I can still remember the day I read those magic words "Crickets To Tour UK"!! I didn't stop yelling and jumping up and down for ages! Luckily I was alone in the house at the time!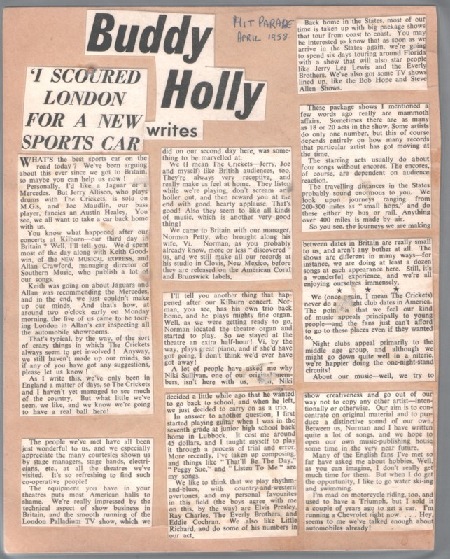 My father and mother ran a small grocery shop where we lived in Chester and would display a poster for the local theatre.

As a remuneration, he would get two free tickets for the Monday night performance so my best friend and I always went.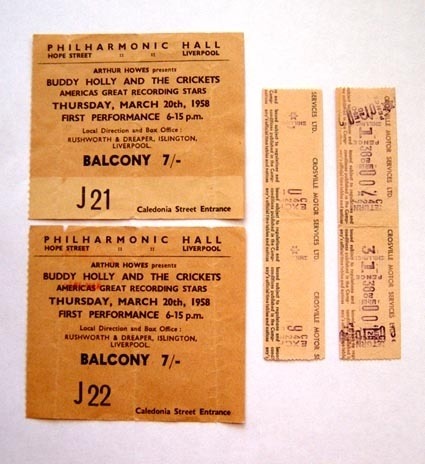 We saw some 'names' with our free seats - Terry Dene, Gene
Vincent and lots of others I've long since forgotten.

But Buddy was appearing in Liverpool. Happily, my friend and I had been to Liverpool before to see Paul Anka though I went to see The John Barry Seven who was on the tour with him.

John Barry is now famous as the composer of the iconic "Dr No" theme that always accompanies James Bond movies. He was also responsible for "Midnight Cowboy", "Out of Africa" and my special favourite, "Dances with Wolves". But I loved his music with the John Barry Seven early in 1957!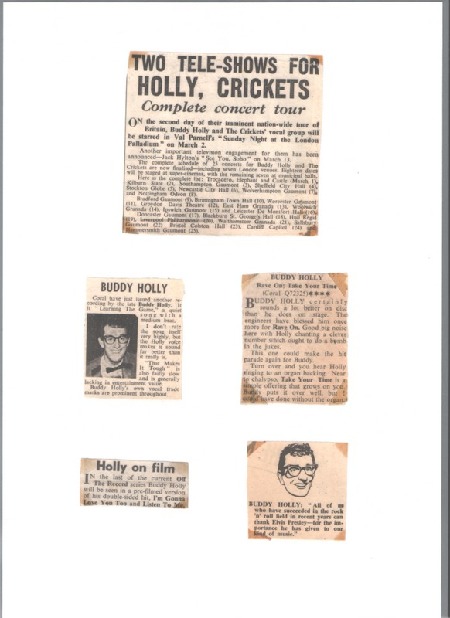 So my dad and my friend's dad were agreeable to let us go to Liverpool to
see Buddy. We went to the ticket agent in Chester to buy two seats in the
front row stalls. He said they were all sold out but he had two seats in the
front row of the balcony. We happily agreed as with our experience in going
to the local theatre, we supposed that the balcony would be really close to
the stage and we'd have an ace good view.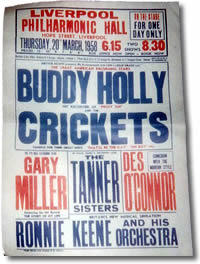 Nothing could have been further from the truth. The venue was the Liverpool Philharmonic Hall which meant it was built for acoustics rather than visualization. In other words, the stage was so far away from us, anyone on it resembled tin soldiers at the far end of a billiard table. I was crushingly disappointed. Still, we were in the front row. (The archivist at the LP tells me that the tickets I have were for the third row back but he's either wrong or we switched seats as my friend lost an item out of her coat pocket -a comb or something- and we leaned over the balcony and watched it falling down onto the seats below. Couldn't have done that from the third row!)

Except that it turned out that the stalls below were ¾ empty, just the front
ten or fifteen rows occupied. Imagine how peeving that was to strain to see
them with all those empty seats in front of us, not to mention the effect it
must have had on Buddy at all ! The circle was jam packed but now knowing how poor his eyesight was, he probably wasn't aware of that! Still, we could
hear him just as well!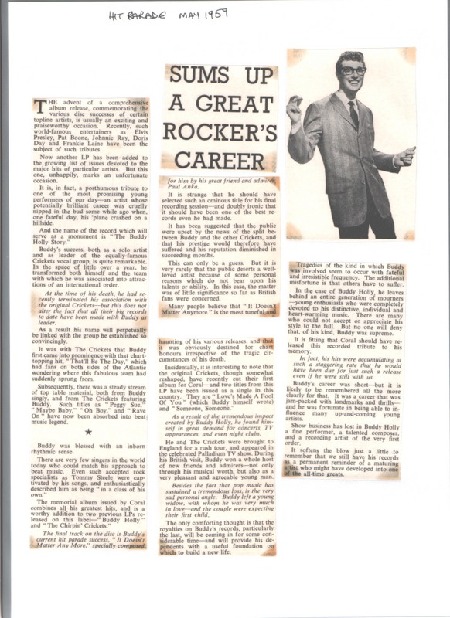 HIT

PARADE

1957

First impressions of the theatre was that the stage was bare - but I mean
BARE! It was also, as I recall, somewhat gloomy. Being a concert hall, there
were no curtains, of course and the stage was more like a big catwalk. Even
Ronnie Keene's band didn't make much of an impression on the space. All the artists ha