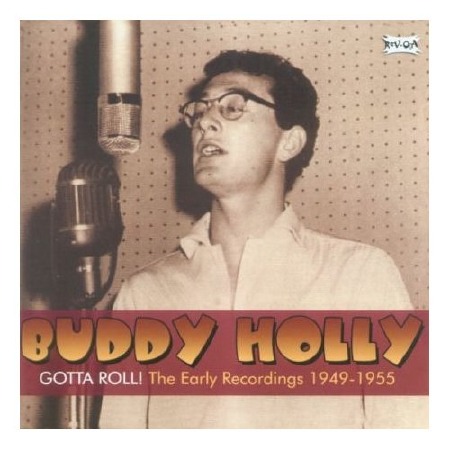 Label: CHERRY RED (rough trade)



01. Buddy & Bob - Down The Line (#1)
02. Buddy Holly - Don't Come Back Knockin'
03. Buddy Holly - I Guess I Was A Fool
04. Buddy Holly - Love Me
05. Buddy Holly - Moonlight Baby (Aka "Baby Won't You Come Out Tonight")
06. Buddy Holly - I Wanna Play House With You ( "Baby, Let's Play House")
07. Buddy & Bob - You And I Are Through (#1)
08. Buddy & Bob - Down The Line (#2)
09. Buddy & Bob - Memories
10. Buddy & Bob - Gotta Get You Near Me Blues
11. Buddy & Bob - You And I Are Through
12. Sonny Curtis - Because You Love Me
13. Sonny Curtis - This Bottle
14. Jack Neal - I Hear The Lord Callin' For Me
15. Jack Neal - I Saw The Moon Cry Last Night
16. Sonny Curtis - I'll Miss My Heart
17. Sonny Curtis - Queen Of The Ballroom
18. Ben Hall - Rose Of Monterey
19. Ben Hall - All From Loving You
20. Sonny Curtis - Dallas Boogie
21. Sonny Curtis - One In A Million
22. Buddy Holly - My Two-Timin' Woman (Edited Version)
23. Buddy & Bob - Let's Pretend (Aka "I'll Just Pretend")
24. Buddy & Bob - Take These Shackles From My Heart
25. Buddy & Bob - Footprints In The Snow
26. Buddy Holly - My Two-Timin' Woman (Unedited Version)

Weitere Informationen - Further information

Complete collection of all the demo recordings that Buddy Holly made from 1949 to 1955, prior to signing his first commercial deal in 1956.

These are demo recordings for collectors and enthusiasts, and such the sound quality isn't up to the standard of his commercially released material.

However, it is very interesting to how Holly sounded in this formative part of his career, before he went on to become one of the most influential recording artists of all time.

The CD booklet includes detailed liner notes and lots of photos.

Dies ist eine komplette Sammlung der Demos, die Buddy von 1949 bis 1955 erstellte, bevor er 1956 einen Vertrag erhielt.

Es sind Demos für Sammler, die auch schlechtere Qualitäten verzeihen.

Dennoch ist es interessant, zu hören, wie Buddy vor seiner Karriere, die ihn zu einem der prägendsten Künstler aller Zeiten machte, gesungen hat.

Als Zugabe ein Begleitheft zur CD mit Text und vielen Fotos.