| | |
| --- | --- |
| | |
| | BUDDY HOLLY NEWS |
Latest news on top of the page - Das Neueste oben auf der Seite


Hi Hans,



Check out this huge and varied list of different artists singing

Buddy's songs that will come out THIS YEAR.

These will serve as 21st Century Buddy Holly Heaven on Earth.



"Rave On Buddy Holly" Concord Records.

Released June 28.





1. "Dearest" – The Black Keys (2:06)

2. "Every Day" – Fiona Apple & Jon Brion (2:19)

3. "It's So Easy" – Paul McCartney (4:35)

4. "Not Fade Away – Florence + The Machine" (4:02)

5. "(You're So Square) Baby, I Don't Care" – Cee Lo Green (1:31)

6. "Crying, Waiting, Hoping" – Karen Elson (Jack White's wife) (2:25)

7. "Rave On" – Julian Casablancas (From The Strokes) (1:55)

8. "I'm Gonna Love You Too" – Jenny O. (2:11)

9. "Maybe Baby" – Justin Townes Earle (2:06)

10. "Oh Boy" – She & Him (2:18)

11. "Changing All Those Changes" – Nick Lowe (1:41)

12. "Words Of Love" – Patti Smith (3:20)

13. "True Love Ways" – My Morning Jacket (3:25)

14. "That'll Be The Day" – Modest Mouse (2:15)

15. "Well…All Right" – Kid Rock (2:09)

16. "Heartbeat" -The Detroit Cobras (2:20)

17. "Peggy Sue" – Lou Reed (3:19)

18. "Peggy Sue Got Married" – John Doe (3:57)

19. "Raining In My Heart" – Graham Nash (3:30)




Coming in late Summer around the the time of

Buddy's Hollywood Star ceremony.



Produced by Peter Asher for the "Listen To Me" ongoing series.



Brian Wilson "Listen To Me

Stevie Nicks -"Not Fade Away"

Jackson Browne- "True Love Ways"

Chris Issaks- Crying Waiting Hoping"

Ringo Star- "Think It Over"

The Fray- "Take Your Time"

Jeff Lynne- "Words Of Love"

Lyle Lovett- "Well All Right"

Patrick Monoah (fromTrain)- "Maybe Baby"

Natalie Merchant- "Learning The Game"

Cobra Starship "Peggy Sue"

Looking For Someone To Love" – Emelda May

Patrick Stump (singer from Fall Out Boy)- "Everyday"

and possibly more.



WELL… ALLRIGHT …RAVE ON BUDDY!



Buddy Holly will receive his Hollywood Star on the

Hollywood Walk of Fame on his 75th birthday

September 7th, 2011





THAT'LL BE THE DAY …

to RAVE ON





Best regards,



Kevin H. Magowan



A-J ENTERTAINMENT EDITOR



Maria Elena Holly never requested that her name be included on the Buddy and Maria Elena Holly Plaza, to be officially dedicated at 4 p.m. Monday 9th May 2011.

Located directly west of the Buddy Holly Center, at the intersection of 19th Street and Crickets Avenue, the plaza also serves as the permanent home for the life-size bronze statue of Buddy Holly, sculpted approximately 30 years ago by artist Grant Speed, and the 56 plaques (so far) installed on a new wall for the West Texas Walk of Fame.

Maria Holly, 78, has been asked to unveil the refurbished statue Monday and said she wants to attend to honor her late husband.

"I know Buddy will be looking down, and he will feel so very proud that his hometown wants to do this," she said. "And of course I am honored to be included with my husband. But (Lubbock City Councilman) Paul Beane told me, 'Maria, you have worked for more than 50 years to keep Buddy's name alive.

'So you and Buddy need to be honored together.' "

At the same time, a spotlight will figuratively shine on the newly renovated Fine Arts Gallery inside the Buddy Holly Center, which visitors will be allowed to tour.

The city's original Lubbock Fine Arts Center at 26th Street and Avenue P closed more than a decade ago. The plan then was for a gallery to be maintained at the Buddy Holly Center.

Beane personally handled the renegotiation of a new contract between the city and Maria Holly, signing off just before the 50th anniversary of the late singer-songwriter's death.

Beane plans to keep a low profile Monday. "I will not be playing a role in the ribbon cutting," he said, "Nor will I be speaking."

Instead, he said Mayor Tom Martin will emcee the event, and speakers include Brooke Allison, director of the Buddy Holly Center; Randy Truesdell, director of the Lubbock Parks & Recreation Department; and Kim McPherson, owner of McPherson Cellars and representing the Depot Entertainment District.

Maria Holly also will be asked if she wants to speak, added Beane.

If completed in time, Beane also said a new plaque will include the names of "members of the city councils and Centennial Committee" who helped defray some plaza costs.

It will not be mounted on the memorial wall with Walk of Fame inductees.

Beane had other reasons for naming the plaza after Buddy and his wife. He told The Avalanche-Journal in March 2009, "The healing process between the city and Mrs. Holly has to start somewhere. And in my view, it starts at 19th and Crickets Avenue. Mrs. Holly has been the victim of a smear campaign in Lubbock for many years by people who sought to use Buddy's name for their own enrichment."

Beane did not identify those responsible for a smear campaign.

He views the plaza name as an olive branch that will one day result in ongoing partnerships between Maria and the city.

Maria laughed and said, "Paul sure never said that to me.

"But it's a good idea. Mr. (Gary) Boren has approached me many times, saying he wants to start a Buddy Holly Festival. So OK, let's start. Whenever you think you're ready, come back and let's talk.

"In fact, Gary has called and said, 'I know I'm going to do it.' That's fine, but it requires money and the right planning. If it's just going to be something that loses money, I don't want to do it. But I'd like to see it happen."

She continued. "I've always said it would be good for Lubbock. But it must be planned far enough in advance that people can make plans to travel from overseas. The bulk of Buddy's fans come from England and Germany."

The Holly statue and Walk of Fame were uprooted from their longtime home just west of the Lubbock Memorial Civic Center on Aug. 27. They were taken to Steve Teeters' Texas Bronze, 2202 E. Broadway, for cleaning and refurbishing.

Every plaque was sandblasted, and necessary repairs were made to the statue, an example being the replacement of tuning keys on Buddy's guitar, which, said Teeters, "adoring fans had broken off."

The statue was moved to the plaza location on Jan. 26, where it was installed and then wrapped tightly with tarps to keep out dirt.

"Buddy's statue will face the Buddy Holly Center," declared Teeters.

Truesdell said the semicircular wall holding Walk of Fame inductees' plaques is behind the statue. If straightened, said Truesdell, the wall would measure 80 feet long and 8 feet high.

The plaques already given out fill only 30 percent of the available space on the wall.

Truesdell added Friday that only "general cleanup" was left on his agenda before Monday's dedication.

"The landscaping has been planted, and the benches installed," he said. "I am very pleased with the plaza. This is a wonderful tribute to the artistic talent from the Lubbock area."

The statue and memorial wall, and benches lining the area, are on the north side of the plaza.

Allison previously stated, "Once the plaza is completed, the parks department will maintain it, and the Buddy Holly Center will operate it."

That means the plaza can be rented out for functions.



Sent in by Tony Warran

-----------------------------------------------------

Hi Hans,



Yesterday May 9th, the city of Lubbock, Texas dedicated

the opening of The Buddy & Maria Elena Holly Plaza.

Here is another great new reason to tell your fans to come and

experience Buddy's hometown. Maria Elena was part of the ceremony.



Here is a link with a video of the ceremony



http://lubbockonline.com/entertainment/2011-05-09/buddy-and-maria-holly-plaza-dedication-attracts-large-turnoutn





September 7th 2011 Buddy Holly will receive his Hollywood Star

on the Hollywood Walk of Fame.





THAT'LL BE THE DAY…

To RAVE ON





Sincerely your Buddy, Buddy



Kevin H. Magowan

April 29, 2011, 6:09 pm

From : © The New York Times

By SAM ROBERTS and TINA FINEBERG

| | |
| --- | --- |
| | |
| | Maria Elena Holly |
Photo © Tina Fineberg for The New York Times

Maria Elena Holly, the widow of Buddy Holly, sat at P.J. Clarke's, their wedding

photo behind her on the wall. Buddy Holly proposed there on June 5, 1958. *

* The story says incorrectly that the dater was June 5th,

when it was really June 20th. (Editor's note.)

Legend has it that Johnny Mercer wrote "One for My Baby" there. Frank Sinatra was so impressed with the oversize urinals that he proclaimed, referring to the diminutive mayor, "you could stand Abe Beame in one of them and still have room to spare." And Nat King Cole dubbed the historic watering hole's bacon-cheese as the "Cadillac of burgers."

But not many people know that P.J. Clarke's, the landmark restaurant at 915 Third Avenue on Manhattan's East Side, also claims a close association with rock 'n' roll.

Turns out, in 1958 Buddy Holly and the Crickets visited a music-publishing office in Manhattan where Holly was smitten with a receptionist, Maria Elena Santiago. He invited her to Clarke's that night and proposed that night. They married less than two months later. That October, he recorded "True Love Ways" about their relationship. Holly was killed in a small plane crash the following February.

On Friday afternoon, a photograph of their wedding was installed over the table where they dined. There was a sing along, and a Holly replica acoustic guitar from the Buddy Holly Guitar Foundation, which raises money for children's music education programs. The event is co-sponsored by Songmasters, which is launching its "Listen to Me" series this summer of newly recorded interpretations of legendary music.

Maria Elena Holly was there for the unveiling. Her date with Holly was her first date with anyone, she said. When he proposed, she recalled, "I said to myself 'Is he insane or what?' I said, 'Do you want to marry me now or after dinner?' "

Ms. Holly told the crowd at Clarke's, "It's a bittersweet situation here," and added, "I know Buddy's not here in person, but I know he's here in spirit."

Hi Hans,

I just got back from New York. The event was fabulous.

There are two plaques that I composed and built that are attached to the photo.

The one on top says

"TRUE LOVE WAYS" August 15th, 1958.

The one on the bottom says

Here at PJ Clarke's June 20th, 1958 Buddy Holly proposed

to Maria Elena on their very first date.

Below is a link from a story with the New York Times with Maria Elena sitting in front of the "True Love Ways" photo after it was unveiled.

Peter Asher from Peter & Gordon was presented the "True Love Ways" guitar from the Buddy Holly Guitar Foundation and he then sang the song "True Love Ways" along with a video performance by Gordon Waller. It was very moving.

After that the "True Love Ways" Photo was unveiled by Maria Elena & Peter Asher.

http://cityroom.blogs.nytimes.com/2011/04/29/buddy-holly-whirled-in-and-left-with-a-bride/?partner=rss&emc=rss



Maria Elena Holly & Peter Asher

by kind courtesy of Kevin Magovan
Here's a good shot of Maria Elena with Peter Asher from Peter and Gordon with the
"True Love Ways" photos in the background. Peter was presented with the "True Love Ways" Guitar from The Buddy Holly Guitar Foundation. The guitar is a replica of Buddy's original Gibson J-45.

It contains an original fret from Buddy's original guitar that is placed inside the sound hole. There is an inscription around the fret that says "This fret from Buddy's hands…. to your Soul"

Peter then sang "True Love Ways" on his new "True Love Ways" guitar.

Then the unreleased "True Love Ways" Photo was unveiled.



Thank you for your support.

Best regards,

Kevin H. Magowan

William Frederick "Bill" Griggs, without a doubt the foremost authority on Lubbock legends Buddy Holly and the Crickets, died Tuesday.

He was 69.

Already suffering from cancer at the time, Griggs was inducted into the West Texas Walk of Fame on July 30.

Holly was the first person inducted in 1979.

Griggs said prior to his induction, "Wow, I have spent 42 years researching and publishing items pertaining to West Texas music and Buddy Holly and the Crickets. To be recognized now for that input by the city of Lubbock with a plaque that will be around long after I am gone, is an honor I cannot really describe."

He compared the plaque to gold records received from Holly's record company.

Griggs was born in Hartford, Conn.

He founded the International Buddy Holly Memorial Society in 1975, operating under a license from the Holly estate, and moved his family to Lubbock in 1981 to pursue his research on Holly and the Crickets.

He produced the first of 11 annual Buddy Holly Conventions in Lubbock in 1978, and that year reunited the Crickets for the first time since Holly's death in 1959.

By 1990, the Holly Memorial Society had members in all 50 states and 34 countries. Total membership exceeded 5,500 people.

His widow, Sharon Griggs, said, "As far as final words, the only thing he has repeated over and over is that he had a great life. He is so proud because of all the fans that he has brought together, and all the friends that he made all over the world because of Buddy Holly, the music and (his) Rockin' '50s Magazine."

"I liked Bill a lot," said Travis Holley, one of Buddy's older brothers, Tuesday night.

"He was a good guy and a great historian. If you needed to know any little thing about Buddy, or about any of those singers from back in the '50s, Bill always was the best guy to call."



Bill Griggs and Maria Elena Holly in 2010.


Photo by kind courtesy of Sharon Griggs.
Charles Pike, another music historian, said Tuesday, "With his loss, we are left with a giant archive of historical treasures, rediscovered music from artists who history had passed by, recordings, interviews and videotapes of the musicians and songwriters in a small section of America, whose work and sound went on to influence, and even change, popular culture.

Ryan Vandergriff, writer of a book about Holly's final tour, said, "Bill's legacy is that of rescuing Buddy Holly and the Crickets from the mists of time.

"He completed a job that had been set into motion by the likes of John Beecher and Don McLean. In short, he became a living, breathing repository of information about a particular era and series of events from the 1950s that had long since left center stage."

Beecher, who began fan clubs in England as early as 1960 for Holly and the Crickets, emailed that Griggs' legacy will be "his meticulous assembly of facts concerning Holly and those who worked with him."

A career highlight was his publication of a five-booklet set, "Buddy Holly Day-By-Day," in which Griggs documented where Holly was, and what he was doing, on all but a dozen dates during the artist's career.

Funeral plans have not been completed, but Griggs said he always hoped to be buried in City of Lubbock cemetery, "near Buddy's grave."

Source: http://lubbockonline.com/entertainment/2011-03-30/buddy-holly-expert-bill-griggs-dies

An article by William Kerns

| | |
| --- | --- |
| | |
| | New 3 Stars Book by Dakota Stevens |

| | |
| --- | --- |
| | |
| | TOMMY ALLSUP - "The Flip Of A Coin" |

| | |
| --- | --- |
| | |
| | "Hey Buddy" by Gary W. Moore |
LUBBOCK, TX (KCBD) – An upcoming book raises questions about the cause of the plane crash that killed Lubbock native Buddy Holly.

Holly's music is said to have inspired music legends like the Beatles, Elton John, The Who, and many more. Holly, the Big Bopper, and Richie Valens died in the 1959 plane crash near Clear Lake, Iowa.

The author of this new book comes to the same ultimate conclusion as investigators more than 50 years ago, but sheds new light on the last moments of the flight; and he stumbled upon a startling statement by the family that owns the wrecked plane. "My book 'Hey Buddy' is a look at the enduring impact of Buddy Holly," said Gary Moore, author.

Moore had no idea who Buddy Holly was until she saw a re-enactment of Holly's performance in Iowa. Fascinated by Holly's impact on the music world, Moore began taking a deeper look into what happened February 3rd, 1959; the day Holly's plane crashed into an Iowa field, killing three musicians and a young pilot, "The day the music died."

During his research, Moore stumbled upon Jerry and Barb Dwyer, the owners of the plane Holly died in. "A defiant way she told me the CAB, civil aeronautics board, report was wrong. The truth has never been told about the flight, that they know the truth and at some point her husband's going to write a book and tell the truth."

Before Barb abruptly hung up the phone, she told Moore "Buddy Holly ruined our lives." While the Dwyers haven't given any clues as to what their truth is, Moore, along with other flight experts, came to their own conclusions about the crash and the pilot, Roger Peterson. Peterson was the young pilot who had failed his instrument test before the flight.

"[The plane] became unstable. It turned into a death spiral and it impacted the ground at 190 angle with the wings pointed straight up and down and once the wing touched the ground it started cart wheeling and ended up basically in a ball of aluminum."

Also, unlike previous reports speculating the men aboard had no idea they were going to crash, Moore disagrees. "I would love to say otherwise, but I think, clearly that there were probably the last 30 to 45 seconds in that airplane was probably quite frightening."

Really, Moore's main focus was to explore Buddy Holly's enduring impact, even to this day. The plane crash only occupies a couple of chapters in the book, which comes out in January. As part of his book tour, he will be in Lubbock at the Buddy Holly Center on February 3rd, 2011.

©2010 KCBD NewsChannel 11. All rights reserved.


November 5, 2010 at 4:30 pm

Subject: My Winter Dance Party history on the way this month!

Hi everyone,

Hope you all will excuse my extended leave of Facebook, but I've been prepping the very first volume of my history on the 1959 Winter Dance Party, "Dancing As If There's No Tomorrow: The Final Tour of Buddy Holly, Ritchie Valens and J.P. "The Big Bopper" Richardson".

Yes, the book will be out before the month is over. I'll be sending it out to the printer within the next few days and will have price (not expected to be over thirty dollars) and ordering specifics ASAP.

As mentioned, this is volume one of a projected three volume trilogy. Book One weighs in at just over two hundred pages and covers the tour from January 23 - January 28, 1959. Sharp eyed fans out there might notice that I've altered the original format slightly. Originally Book One was going to represent the 23rd through February 01. However I've turned up more information on January 29th and February 01 very recently so I made the call of rather than postponing the book yet again to instead go with the two hundred pages I have and fit in the other four tour dates in Book Two of the series. This will not delay the release of the next book, never fear (February 2011)!

Thanks to everyone for their patience and interest in the book!

Bestest,
Ryan Vandergriff


Bob Hale, Buddy Holly's last emcee on the 2nd of February 1959 in the Surf

Ballroom in Clear Lake Iowa was inducted into the Iowa Rock and Roll Music

Association in September. It was a honor, and certainly a lot of fun.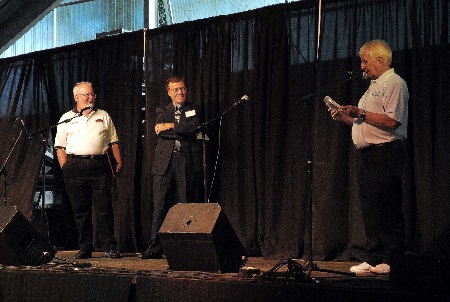 Is this heaven - - no, it's Iowa !


In 2000, UK's ITV produced a 60 minutes TV documentation about the untimely death of the 3 stars, Buddy Holly, Ritchie Valens and J.P. Richardson, The Big Bopper.

In August, 2010 this British TV documentary was broadcast on Polish television. The TV station iTVN split the movie into 2 parts of 30 minutes.

| | |
| --- | --- |
| | |
| | Buddy Holly - The Final Day - On Polish TV - 2010 |
| | |
| --- | --- |
| | |
| | Bill Griggs |

Ryan Vandergriff's Report July 31, 2010 at 5:20am

(Ryan will soon publish a book about The Last Tour)



Subject: Bill Griggs' Buddy Holly West Texas Walk of Fame Induction



Hi everyone,

As promised, here is my report on Bill Griggs' big day, his long overdue induction into the Buddy Holly West Texas Walk of Fame!

The day dawned early as I ran out to check the Lubbock Avalanche Journal. I had all hopes that the local newspaper would run something on this special day, and I was not let down. There on the front page was a nice article on Bill entitled "A Wonderful Life For Holly Expert Griggs". This excellently written piece came from the pen of another Bill, Bill Kerns, the Lubbock Avalanche's entertainment editor. A nice color photo of Bill introduced the article.

A few words about Mr. Kerns: This is a man who has been a tireless supporter of Randy Steele's and Sharon Griggs' efforts to get Bill up onto the Walk of Fame. His writings on this subject have been nothing but a pro in making a dream into a reality. Can we all agree that a big "thank you" is in order for this fine gent?

After buying up a stack of the A-J, I decided to take a drive out to Avenue Q and 8th to see for myself what, if anything was being set up at that moment in preparations for tonight's big event. Swinging slowly by, it was clear that the fold out audience chairs were already set up as well as the stage where good friend Randy Steele would be helping to induct Bill. Across from all of this was an area already a "go" for the concert from Jack Neal (Buddy's first singing partner) and George Tomsco of Fireballs fame which was to follow Bill's speech. Looking at my car clock, I noted the time: A little after noon. The city of Lubbock seemed to be on the ball with things, which made this fan happy.

My wife and I both began getting ready at three, keeping an eye all the while on the Weather Channel. Looking at the day's high as being predicted to go up into the high 90's, my better-half began to question my desire to wear a heavy sports coat. Being the stubborn "guy", I assured her that it would be a little cooler by the induction time of 6:30 PM. Now I've been mistaken before in my life, but this was an error in judgment that was of monumental proportions. Having lived in Pittsburgh, PA for two years had clearly wiped my mind clean of just how HOT West Texas can get in the dog days of July! Never fear, constant readers, somehow I trudged through, hot weather and all...

We made the five o'clock reception at the Lubbock Memorial Center.
What can I say about this experience? The gathering of fans and various people in some way associated with the Buddy Holly story was quite amazing to this star-struck fan. Off the top of my head, here are some of the guests who showed up to pay their respects to Bill Griggs:
Kenneth Broad, John Goldrosen, Larry Byers, Larry Holley, Travis Holley, Randy Holley, Echo McGuire Griffith, Ron Griffith, Steve Bonner, Peggy Sue Gerron, Randy Steele, Kevin Terry, Alice Terry, Tinker Carlen, Jack Neal, Gary Tollet, Ramona Tollet, Richard Porter, Ted Glasscock and his lovely wife (so sorry Ted, I didn't catch her name over all of the music!). There were more there of course, but by this particular point I think my brain just became numb being around so many of these fine people. Please, anyone reading this that was at the induction (I'm looking at you, Randy Steele!), feel free to add to my list.

The reception was well put together with a live band playing Buddy's music, and an open buffet/bar. I confess that after meeting one of my heroes, John Goldrosen, I was so frazzled and overcome that I made a bee-line for the open bar and had a beer (just one!).

Sitting at the table of honor was none other than Bill, his lovely Girl Friday, Sharon, and Larry and Travis Holley. I'm happy to report that Bill looked well. He was positively beaming and it was such a pleasure to finally walk up to my friend, shake his hand and say "congratulations!"

About Bill Griggs: I've really held off on this book site talking a lot about Bill because I want to respect his privacy in this difficult time and also because...This shouldn't be so hard for me to write about, but damnit, it is. You see, I've known Bill since I was a young teen (fourteen) growing up in Alabama. Bill for me represents my youth, my childhood, a simpler, more innocent time. This man made me feel, at an age where nothing seems to fit, useful, smart and important. I'm thirty-seven now, and he still makes me feel those things. The crucial difference between fourteen and thirty-seven is that Bill is no longer someone that I occasionally trade a letter with or order memorabilia from. He's just my friend, y'know? And he's hurting real bad right now, and I hate that. A lot. Something that is so tough for me to come to terms with just doesn't seem like it should be a standard editorial. I'm making the exception this evening because of this huge honor in Bill's life. He's my friend and I love him very much. And to quote from someone brilliant, "That's all I have to say about that..."

One neat aside about the reception is that my wife and I got to spend quite a good bit of time with Kevin Terry and his lovely wife, Alice. For those not in the know, Kevin is THE leading expert on the crash that took the lives of Buddy Holly, Ritchie Valens, J.P. Richardson and Roger Peterson. Kevin and I can literally talk all night about our shared and mutual love for all things Buddy. It's been my pleasure to spend a couple of fine days with a fine man this July.

The time finally came for the induction itself, so we all filed out of the Civic Center and walked the short distance over to the Buddy Holly statue. Remember what I said about regretting my decision to wear that darn heavy blazer? With that West Texas sun beating down on my poor back, all I could do was look enviously on at others who had dressed quite a bit cooler than yours truly.

Several of us did have some concerns with Bill being inducted outside in that hot weather, but when I had talked with him the week before, he was quite adamant about doing this outside next to the statue. And who am I to argue with the irrefutable Bill Griggs? FYI: Bill, and everyone else, handled the hot conditions like a champ!

After a couple of proclamations from city officials, Randy Steele took to the podium to address the crowd. Randy was in fine form this evening, and we all listened intently to his moving words about Bill and the inspiration he's given to so many. Randy really drove home just how instrumental Bill has been to reviving interest in Holly and his music. A salesman by trade, Randy had me sold from the start. Preaching to the quire, if you will.

It is worth noting that Maria Elena, Buddy's widow, showed up for the induction. This was the first time I had ever seen her, and was surprised by how SMALL she is! Can I say this: Whatever politics and bad blood follows Maria, I am impressed that she showed up for Bill's induction. The romantic in me would like to see this as her little tip of the hat to all of the many things Bill has done to keep her husband's name alive and out in front of the public. The realist in me argues with this notion, but I think that tonight I will let the romantic win...

Bill finally made his way up to the podium, looking good in his trademark checkered shirt with a blazer on over that (my wife jokes that we could have passed for father and son, as I had a checkered type of shirt on under my jacket, too!). After a few little remarks, he began to speak about his parents. I choked up during this, because his love for these two fine individuals came through so loud and clear. It also called to mind the very first interview I ever did for my Dance Party book, which was with Bill. During our extended talk he spoke reverentially for his mother and father. This was such a "bookend" for me that I couldn't help but get a little teary eyed.

It was ultimately a stirring speech. He put a nice word in for the induction of Bobby Fuller. "I think this man should be inducted", Bill said. He remarked about how fortunate he has been to do his work with Buddy Holly and other West Texas artists for forty two years. He gave a nice shout out to my hero John Goldrosen. And then he called Sharon up to the podium and introduced her as his better-half, telling the audience that none of this would have been possible without her love and support.

And then it was over. I had a nice little chat with Richard Porter (I'll hopefully be talking to you next week, Richard!) and Larry Byers, all the while the wonderful music of Jack Neal and George Tomsco filling the early evening air. After a while we decided it was time to go.

Walking past Bill surrounded by a crowd of well wishers, our eyes met for a moment and he smiled at me. I smiled back and wished him congratulations on his day. Ladies and gentleman, it was a long overdue event, but thanks to Randy Steele, Sharon Griggs and all of you who have supported Bill over the years, we finally did it!

(As seen on Facebook)


Der Mann, der am 1. Februar 1959 tolle Farbaufnahmen von Buddy Holly, dem Big

Bopper, Ritchie Valens und Frankie Sardo machte, ist verstorben. Hier ein Nachruf

eines Freundes, der mich gerade erreichte.

| | |
| --- | --- |
| | |
| | Riverside Ballroom - Green Bay WI |
Dear Holly Buddies,



It is with a sad heart that I tell you all of the passing of our friend, Larry Matti.

His wife Joan called to tell me that he passed on Sunday, June 13th, in Green

Valley, Arizona, just outside of Tucson. The Matti's have lived the retirement

life in Arizona these past six years, after previously residing in Wausau, Wisconsin.


One of Larry Matti's famous photos taken
backstage in the Riverside Ballroom in Green
Bay WI on the 1st of February, 1959.
The internationally famous "Green Bay Photos" of the 1959 Winter Dance Party,

which featured Buddy Holly, Ritchie Valens, the Big Bopper, Dion & the Belmonts,

Frankie Sardo, Tommy Allsup, Waylon Jennings, and Carl Bunch, were taken by a

twenty-year old amateur photographer, Larry Matti, at the historic Riverside

Ballroom on February 1, 1959. Holly Buddies worldwide are familiar with these

fabulous color slide pictures that have been featured in many books, magazines,

and documentaries.



Larry Matti was a friend and a confidante to many of us over the years, whether

we were visiting with him and Joan in Green Bay, Wausau, Lubbock, Clear Lake,

or other locales around this great nation. Joan and Larry's gracious welcome to

my wife Martha and myself in 1988 to their Wausau kitchen cemented our

friendship and my love of Buddy Holly and his music forever. Other Holly Buddies

like Dan Heikkinen of Duluth, Tony Szikil of Kenosha, and Don Larson of Eau Claire

have become life-long friends, as well.

| | |
| --- | --- |
| | |
| | Green Bay WI - Riverside Ballroom |
Green Bay has a motto, "The Day the Music Lived"….which we perpetuate at

WDP re-enactment shows each year at the Riverside Ballroom. Without Larry

and Joan Matti, much of what we have accomplished in Green Bay would have

been improbable. We cannot thank you two enough.



I will miss the way Larry Matti "reinvented" the English language, with such

pronunciations as Tuck-soon for Tucson, and Tomahatchet for Tomahawk,

Wisconsin. Thank you, Larry, on behalf of one your Holly Buddies. You will

be truly missed.





Mark Steuer

Green Bay, WI

June 20, 2010


Bill Griggs, Buddy Holly Historiker, wird am 30. Juli 2010 eine Ehrenplakette am

Fuß der Buddy Holly Statue in Lubbock Texas im Rahmen einer Feierstunde

erhalten. Damit ist sein Name Bestandteil des West Texas Walk of Fame.

2010 West Texas Walk of Fame Inductee Announced


The Civic Lubbock, Inc. Board announces that Bill Griggs will be honored as the

2010 inductee into the West Texas Walk of Fame. The induction ceremony will

take place on Friday, July 30, 2010, at 6:30 P.M. at the base of the Buddy Holly

Statue, just east of Ave. Q on 7th Street.

| | |
| --- | --- |
| | |
| | Bill Griggs |


Bill Griggs, Music Historian



Bill Griggs was born into a musical family; both of his parents were professional

musicians. His father, William B. Griggs, played trumpet in some name bands,

and then formed his own band in Connecticut before retiring. His mother, Emma

Giel, played keyboards and was well-known throughout New England. Bill feels

this furnished the initial impetus for his interest in music as there was always

music in the house.



Bill was married in 1966 and has two children from that union, William F. Griggs II

and Holly Maria Griggs, both of whom live in Connecticut. Bill divorced in 1990 and

remarried in 2004 to Sharon Reaume. Sharon helps him with his work and is always

with Bill when he is attending a music event.



Bill is recognized around the world as an expert on 1950's rock 'n' roll music and

an authority on Buddy Holly and the Crickets. His name is found in many books

and other publications for assisting with research information. He has published

many booklets pertaining to the era. His tour-de-force is the five booklet set

Buddy Holly Day-By-Day chronicling just about every day of Buddy's career. In

2004, Bill and Sharon began producing CD-ROM Flipbooks of Bill's works so the

print versions will slowly fade into the sunset while Bill's years of research will

always be accessible and not fade away. This also includes many appearances

on ABC, CBS, NBC, CNN News; the E!, MTV AND VH1 entertainment channels;

Entertainment Tonight, Entertainment This Week, Inside Edition, and 20/20, etc.,

along with numerous appearances on Lubbock television. Bill also helped produce

several Buddy Holly specials for BBC and MPL (Paul McCartney) Television in

England.

(Posted on Friday, June 18, 2010)


http://www.ci.lubbock.tx.us/newsPage.aspx?ID=2976


Neue 25 cm LP erscheint im Juli 2010 bei Rollercoaster Records

Beinhaltet u.a. ein Duett mit Jerry Lee Lewis von 1958

Another Great 10" Vinyl LP from Rollercoaster.....


Off The Record with Buddy Holly & The Crickets- ROLL 2025



This album collects all the known TV appearances by Buddy Holly and The Crickets, together with other rarities, on record for the first time anywhere. Included are The Crickets live appearance on BBC-TV's Off The Record in March 1958, their four TV spots from the US Ed Sullivan shows and the Arthur Murray Dance Party, together with their interviews and lip-synch recordings from the Alan Freed and Dick Clark TV shows. Buddy's duet with Jerry Lee Lewis from a US radio show is also released here for the first time.

Remastered by Chris Hopkins and John Beecher from original or improved sources, most of these historic recordings sound better than ever before. Packaging is the usual high standard you would expect from Rollercoaster.

A CD release of this and other rare material will follow, hopefully in September, but for now this 10" LP album will make a fine addition to your collection.

Side One

That'll Be The Day (from the Ed Sullivan Show, 1957)

Peggy Sue (from the Ed Sullivan Show, 1957)

Oh Boy (from the Ed Sullivan Show, 1958)

Maybe Baby (from Off The Record, 1958)

Peggy Sue (from the Arthur Murray Dance Party, 1958)

Everyday (jingle from KLLL, Lubbock)

Peggy Sue (jingle from KLLL, Lubbock)

Drown In My Own Tears/(part)

Hallelujah I Love Her So (with Jerry Lee Lewis, 1958)

Side Two

That'll Be The Day (from Sunday Night At The London Palladium, 1958)

Peggy Sue (from Sunday Night At The London Palladium, 1958)

Oh Boy (from Sunday Night At The London Palladium, 1958)

It's So Easy and Interview (with Alan Freed, WNEW-TV, 1958)

Heartbeat; It's So Easy and Interview (with Dick Clark, WFIL-TV, 1958)

Buddy Holly & The Crickets – Off The Record - ROLL 2025 -


Due for delivery in early July.

Source: John Beecher's board



| | |
| --- | --- |
| | |
| | Gymnasiasten aus Hückelhoven sangen u.a. RAVE ON von Buddy Holly |

Mir wurde von Heinz aus Salzgitter eine Info zugeschickt, die ich hier gerne

allen Fans von Buddy Holly zur Kenntnis bringen möchte. Auch die Jugend.

kennt und liebt Buddy Holly, wie ich hier in einem Artikel der Aachener

Zeitung mit Freude lese. Musicals gibt es wie Sand am Meer. Die Schüler

des Gymnasiums in Hückelhoven haben sich die Besten ausgesucht und

darunter auch das Musical "BUDDY, die Buddy Holly Story". Toll !

Musical – Gala: Kunst durchaus deftig und provokativ



AZ – Web.de 30.5.2010

Hückelhoven.

Die Musical AG des Gymnasiums hatte zur großen Gala in die Aula eingeladen. Auf dem Programm standen bekannte Lieder aus großen Musicals, darunter auch aus «Tanz der Vampire», das die AG schon auf die Bühne der Aula geholt hatte. Und so stand auch ein Medley aus dem Vampir-Musical, bei dem das ganze Ensemble zum Einsatz kam, am Anfang des Abends.

Es folgten bekannte und berühmte Lieder aus Musicals wie «König der Löwen», «Cats», «Elisabeth» oder «Der Glöckner von Notre Dame». Die Stücke hatten die Mitwirkenden selber zusammengestellt und inszeniert.

In der zweiten Hälfte des Abends gab es auch einen musikalischen Ausblick auf das nächste Projekt der AG. Denn im Frühling wollen die Schüler und Ex-Schüler des Gymnasiums das Musical «Frühlings Erwachen» nach dem gleichnamigen Stück von Frank Wedekind aufführen.

Was vor rund 100 Jahren schon als literarische Provokation galt, hat bis heute nicht an Deftigkeit verloren. So hieß eines der drei Stücke «So'n verficktes Leben», ein anderes «Mach nicht auf traurig».

Zum Abschluss des Programms stand das gesamte Ensemble

mit « Rave On » aus dem Buddy Holly-Musical auf der Bühne.

| | |
| --- | --- |
| | |
| | DANKE! |


Das neue Buddy Holly Buch von Alan Clark, Teil 2, ist jetzt erhältlich. Ich habe

das Buch mit Teil 1 und bin begeistert, aus welchen Quellen Alan so viele Infos

gesammelt und respektabel präsentiert hat. Ein Juwel für Buddy Fans !

The Life & Times of Buddy Holly & the Crickets Volume Two is now available.

164 page book with 10 pages in full color.

The price and postage is the same as Volume One. $29.95 plus $6.00 postage

in the U.S. $8.00 postage in Canada and $16.50 postage overseas. Checks or

money orders payable to: Alan C. Lungstrum, P.O. Box 1062, West Covina, Calif.

91793. Paypal accepted. Send payment to my email address at

For more ordering information, please go to my website at www.aclarkarchives.com.


Thank you,


Alan Lungstrum



Volume One is still available and my Eddie Cochran-Never To Be Forgotten 160 page

book is also still available



| | |
| --- | --- |
| | |
| | Aus Deutschland - From Germany |
More Info: BUDDY HOLLY RELOADED



| | |
| --- | --- |
| | |
| | Roddy Jordan's new book |
Good Morning Happy Campers

Just wanted to let you know that my book on the releases of Buddy and the Crickets for New Zealand is now available. It is 50 pages of a full discography and pictorial discography in beautiful colour. This is the expanded version from the articles I did for our friend Trevor Laileys wonderful English magazine 'Down The Line' The cost: $A24.95 Postage is: Australia: $7.00 (including a hard post package) Overseas $14.00 (as above) This email is just to let you know it is now available. There is no compulsion to purchase. Take care and God bless Roddy

FOR THOSE INTERESTED MY PAYPAL ADDRESS IS

© cnjonline, 2010

The annual Clovis and Curry County Chamber of Commerce banquet was intended to celebrate the Clovis sound.

And the sold-out event did just that with officials from every part of Clovis talking about the sounds of the city, county, schools and Norman Petty Recording Studios paired with a Buddy Holly impersonator.

Johnny Rodgers sang Buddy Holly songs every chance organizers would let him, from serenading award winners to closing out the evening with "Brown Eyed Girl" for outgoing chamber president Kathy Wright.

The chamber recognized businesses and community members for their service to Clovis.

Among those was Kenneth Broad as Citizen of the Year. Broad, the curator of the Norman Petty Recording Studios, said the award humbled and surprised him.

"I'm really accepting this on behalf of Vi Petty," Broad said as he was handed the working Fender Stratocaster that served as the award. "The trustees of Norman's estate asked me to be Vi's business manager. I said I would for one year and now it's been so long I can barely remember."

Broad said he's done everything on behalf of the Pettys.

"It was Vi's dream to continue the Norman Petty sound as he made it here in Clovis," he said. "It's been a delight to be a part of the music story."

Wright said Broad always has something to give.

"He always responds to the community and its people," she said. "He may actually be the citizen of the decade, and quarter century, serving quietly but fervently to better our communities, serving as a Pastor, a model family man, a community leader, and a wonderful friend."

Ernie Kos, executive director of the chamber, said the event was a success.

"It was an awesome celebration of the Clovis sound, not just rock 'n' roll but all the other sounds in the community," Kos said. "I think we picked the most outstanding award recipients this year."

She said the event is unique in that it brings various organizations in the city together to celebrate.

Attendees were given a chance to donate money for United Way to be sent to help quake survivors in Haiti on their way out. The event raised $1,243 for Haiti relief.

John Mueller ist bekanntermaßen der einzig "sanktionierte" Tribute - Sänger, der

mit der Winter Dance Party Band, Big Bopper jr. und Ray Anthony als Ritchie die

Zustimmung aller 3 beteiligten Parteien genießt, ein hohes Privileg heutzutage.

| | |
| --- | --- |
| | |
| | JOHN MUELLER |
Hello Hans,


Our new newsletter and schedule is at


http://www.winterdanceparty.com



We just finished last night a historic concert with an entire symphony

and presented "Moondreams" for the first time ever live and Buddy's

apartment recordings with full orchestra as well, quite thrilling. More

symphony shows to come and other exciting news. We have our busiest

season ever this year, the music lives on.


Cheers, John




| | |
| --- | --- |
| | |
| | Gary Clevenger's Book WORDS OF LOVE 1959 - 2009 |
Gary Clavenger will ein Buch, das er zu Ehren von Buddy erstellt hat, gerne

verlegen lassen. Die einzige Problematik: Er findet bis dato keinen Verleger.

Hans



I still am looking for a publisher for my tribute book


Words Of Love 1959-2009




It's almost 2010, if that gives you any idea of

the tough time Im having getting this book published.



I havent given up and Im still trying.




Yes, once published youre @ the top of the list to receive a copy.




Take Care and

Merry Christmas



Gary Clevenger




I'll keep my fingers crossed for you, Gary !!

Gary, ich drücke Dir alle verfügbaren Daumen, damit Dein Buch gedruckt wird !!

| | |
| --- | --- |
| | |
| | Simply zoom the page to see more - Einfach zoomen, dann lesen ! |
Mail Hans, if you can make Gary's day !


Click HERE for more details !

Klicke HIER für mehr Informationen !

| | |
| --- | --- |
| | |
| | WAYLON JENNINGS |
Six Waylon Jennings albums will soon be re-released in full digital CD quality.

Jennings was native to Littlefield and was also a radio personality in Lubbock

before going to create country music's outlaw movement.

A company called Collector's Choice chose albums from 1966 through 1970

and will release them as three CD sets.

They go on sale November 24th.


Diese Meldung der Online - Ausgabe des Avalanche Journal verbreitete sich rasch in der Buddy Holly Community weltweit und löste kontroverse Diskussionen aus. Maria Elena Holley, Buddy's Witwe, kündigte eine Wiedereinführung des Buddy Holly Festivals in Lubbock an, Buddy's Geburtsstadt. Der ganze Artikel kann durch Anklicken des Links eingesehen werden. Kommentare gibt es reichlich.

http://lubbockonline.com/stories/082609/loc_486138741.shtml


Release Date: August 11, 2009

Label: HHO Licensing

Copyright: 2009 HHO Licensing

ASIN: B002E5B4OU

| | |
| --- | --- |
| | |
| | As seen on AMAZON and ROLLING STONE MAG online |
Nice artwork !

Track List: 1.) PEGGY SUE

2.) OH BOY

3.) THAT'LL BE THE DAY

4.) ROCK ME MY BABY

5.) WORDS OF LOVE

6.) PEGGY SUE GOT MARRIED

plays on iPod® and all MP3 players

Not available on CD.

Gibt es nicht als CD.


Hi Buddies, Rockin' Henri (Netherlands) again went into the studio (Studio D,

Luxembourg) to record some fine rockin' foottappin' and fingersnappin' tunes

and one of them is in TRUE BUDDY HOLLY STYLE, COMPLETE WITH JERRY

ALLISON's WAY OF DRUMMING!

On this song, Who Has The Key To Open The Door, we played with two rhythm guitars (me (Gretsch G6120) and Sergej Gamza (my Fender Jazzmaster), Germany), no lead! On double bass Alex Skull (Germany) and on drums Yves Ditsch (Luxembourg).

ROCKIN HENRI

If you always wondered what's goin' on in a recording studio, then have a look at the making of Who Has The Key To Open The Door (The 2nd song I ever wrote, 2002): http://www.youtube.com/watch?v=XIAf-DGbA3s

Complete list of titles we recorded at our latest session.

If A Rose Is Knocking On Your Door

Who Has The Key To Open The Door?

Süsse Rockin' Girls (German)

Rockin' Festival Song

I'm A Hook

Walking Along The Street Of Loneliness

Have A Little Bit Respect

Bonus: Blue Moon (Elvis)


Just have a listen and a look (several videoclips from recording session) at my ReverbNation player at my MySpace site: http://myspace.rockinhenri.com and in the right column the videoclips are put seperately.

If you like to give me your opinion, just feel free to do so. It's highly appreciated. Feel free to spread the word....... Enjoy it as we had recording it.

Your rock & roll buddy, Rockin' Henri http://www.reverbnation.com/bodyhully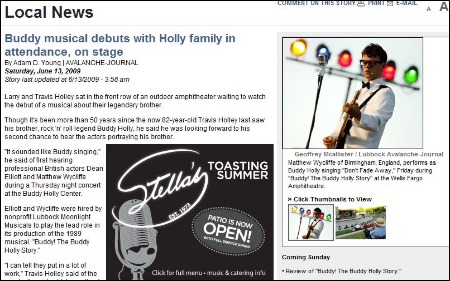 From Lubbockonline. Quite funny to read about a song called DON'T FADE AWAY. Are you aware of such a song?

Here's the complete story:

http://lubbockonline.com/stories/061309/loc_450493786.shtml


abc NEWS about Buddy Holly on the day the music died - 50 years after.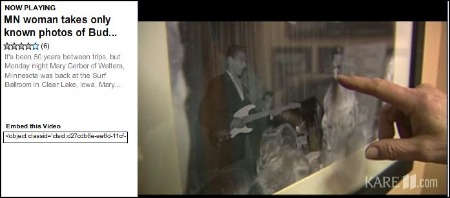 Mary Gerber is responsible for a real sensation: 50 years after Buddy Holly's death she presented for the first time anywhere 8 photos from Clear Lake IA 2-2-1959

MORE ABOUT MARY GERBER'S PHOTOS



9. Mai 2009

Peggy Sue Gerron plant ein Restaurant im Stil der '50er Jahre zur Erinnerung an ihren Freund Buddy Holly in Scarborough, GB, zu eröffnen. Name: PEGGY SUE'S DINER. Dies soll der Beginn einer ganzen Kette von Restaurants sein, in denen viele Fotos ausgestellt werden sollen, die an Buddy erinnern und zum Teil bis heute noch nicht in der Öffentlichkeit bekannt sind.

Immer für eine Überraschung gut: Peggy Sue Gerron

| | |
| --- | --- |
| | |
| | Peggy Sue Gerron |
A woman immortalised in one of Buddy Holly's most famous songs is planning to commemorate the star with a restaurant in Scarborough – the first of its kind in the world.Peggy Sue Gerron, wants to open a chain of 50s style diners in memory of the Texan musical legend – and she's chosen Scarborough as the location for the first in the world.

The restaurant, called Peggy Sue's Diner, will feature never seen before photos and memorabilia of Buddy Holly who sang about Peggy Sue in two of his hits.

As a close friend of Buddy – who was killed in a plane crash in 1959 aged just 22 – and former wife of his band's drummer Jerry Allison, Peggy Sue has been commemorating the 50th anniversary of Buddy's death.

After writing her memoirs in a book called Whatever Happened to Peggy Sue? the 68-year-old decided to create a diner where she could display her personal pictures and memories of the tragic star.

And after falling in love with Scarborough, Peggy Sue could think of nowhere else to open her first diner.

Peggy Sue said: "A personal friend of mine suggested we open in England, and I started out looking in York. We came for a day trip to Scarborough and I loved it, I think it is such a great place and I love being able to see the sea.

"When I get out of the car in Scarborough I feel good vibrations and that is what rock 'n' roll music is all about. The place is just a whole lot of fun, and that seems to be a natural thing to me.

"I am really excited about opening the diner. I have a lot of pictures of us in the 50s that I wanted to do something with, and I will be putting them all up on the walls. A lot of them have never been seen before.

"Also, all of the food will be right out of Texas, including a lot of Buddy's favourites such a fried okra, and all the furniture will all be shipped over from America."

Peggy Sue is currently looking at locations along the seafront and in the town centre and hopes to have the first diner open in time for September 7 – Buddy's birthday.

Her business partner Mario Agius, whose firm runs the merchandising for Australia's Buddy show, said: "We were always going to open the first diner in England because it has one of the largest Buddy fan bases in the world. When Peggy came to Scarborough she just fell in love with it.

"We are really hoping to get involved with the local community and get as many people on board as we can, running competitions and offering prizes.

"We will probably open a few more in England, and also in Lubbock in Texas, where Buddy and Peggy grew up."


We are trying to create a little bit of history."

Since moving back to Lubbock Peggy Sue's tireless efforts to keep Buddy's music and memory alive helped lead to the development of the Buddy Holly Centre which draws thousands of fans from around the world.

Peggy Sue and Mr Agius are hoping the diner will have the same impact, attracting Buddy Holly fans from around the world to Scarborough.

© Scarborough Evening News, May 9th, 2009


Ian Morley will perform many of Buddy's Classic Songs in the Regent Hotel,

Doncaster, on Friday 28th. August. The EP covers in the poster background

are from the Ian Higham Buddy Holly Collection.

Ein Gedenkkonzert 50 Jahre danach findet in Doncaster im Regent Hotel am

28. August 2009 statt. Den Hintergrund des Posters (viel EP-Hüllen) stellte

Ian Higham aus seiner Buddy Holly Sammlung zur Verfügung.

| | |
| --- | --- |
| | |
| | |

EVERYDAY: GETTING CLOSER TO BUDDY HOLLY



Spencer Leigh's new book can be ordered now !


Spencer Leigh's neues Buch über Buddy Holly kann ab sofort

bestellt werden !



Stand: 1. Mai 2009



Buddy Holly lost his life on February 3, 1959, and to commemorate the fiftieth anniversary of that plane crash, Spencer Leigh assesses the importance of the legendary figure, looking at his music, his life, his image, and his legacy. Leigh has interviewed Holly's widow, Maria Elena; all the key Crickets; the compere of his 1958 UK tour, Des O'Connor; as well as Ritchie Valens' manager and the Big Bopper's son, the other two singers who died in the crash. There are scores of people talking about Buddy Holly's legacy (Bobby Vee, Tim Rice, Mike Batt), and Leigh has spoken to hundreds of Holly's acquaintances and musicians.

The book shows how Buddy Holly's UK tour was crucial to the British beat explosion of the 1960s spawning the Beatles, and that without Buddy Holly, today's popular music would be radically different.

Spencer Leigh also reveals how impulsive Buddy Holly was and how that impulsiveness cost him his life.


BUDDY HOLLY & THE CRICKETS

Musical History in Australia

50th Anniversary Edition

A Definitive Study

RODERICK JORDAN




--------------------------------------------------------



Good Morning Everybody

I hope this email finds you well and the Lord is looking after you.

I am pleased to advise the third edition Soft Cover of my book:

'Buddy Holly & The Crickets-Musical History in Australia' is now available.

One thing before I progress further if I may. I humbly request those who have shown interest and advised me of a firm order, but due to circumstances, may have changed their mind, would you please show the courtesy of advising me of this decision by return email.

I am pleased with the end result and hope you will be too!

The book is just over 1kg (2.3 lbs) and with the solid box I will be posting the book in, it attracts the following postage rates for First Class Air Mail in A U S S I E DOLLARS :

ENGLAND/EUROPE: $42.50

AMERICA: $34.45

ASIA: $31.75

Australia: $11.00

New Zealand: $14.25

Thus, with the book at $A99.00 you just add on the applicable postage.

Payment can be made by Paypal at hollysbuddy1@bigpond.com in AUSSIE DOLLARS.

Other arrangements can be made for those who do not have paypal so please just email me back.

To those in England, Holland, Ireland, Belgium and France who have ordered two copies the postage is $74.20.

I am sorry about the postage but there is nothing I can do as the book is once again heavy and the postage rates just keep climbing.

Thank you once again for purchasing my book.



Roddy/Rod/Mr J/Jordo/Handsome will even do!

Roddy Jordan
1630 Snow Road Milawa 3678 Victoria Australia
03 57273554 Mobile 0413 383274 Private Collector
Buddy Holly and The Crickets
Records, Autographs, Photos and Sheet Music.
Also, any other music recorded at the Norman
Petty Studios in Clovis, New Mexico.

I am also after the following Australian pressed record: R66-623 LP Calendar Reminiscing MONO Buddy Holly Also the New Zealand EP DEL SHANNON 'HITS' Stateside Label MES 6003



| | |
| --- | --- |
| | |
| | |
Today (Mar 19) I see this ad in my local paper.

The musical "BUDDY" will be back in

The Colosseum Theater in Essen - Germany,

starting in October, 2009.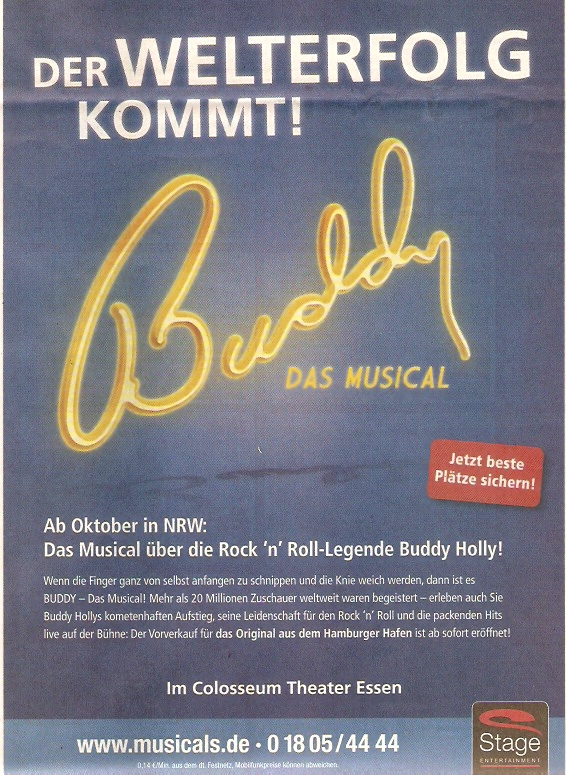 " Wenn die Finger ganz von selbst anfangen zu schnippen und die Knie weich

werden, dann ist es BUDDY - Das Musical ! "

The Picks were honored in the Texas State Senate on Monday 2-23-09 with a resolution.

The web site is: http://www.senate.state.tx.us/avarchive/

Copy and paste in case the link doesn't work, then continue . . .

Click on "Feb 23 Senate Session". Then advance to 26.09 minutes. This is the reading in the Senate Monday where John Pickering, Bob Lapham and the late Bill Pickering were honored with a resolution for their musical and artistic contributions to the State of Texas in the past 52 years.

Additional sites can be found on the Internet including:

http://www.myfoxaustin.com/dpp/news/022309_the_crickets_finally_recognized

Fox News 26 Houston had a story on Wednesday night's newscast.

Vicky Pickering

Houston, TX


Sad news from Holly International - Feb 14, 2009

Traurige Neuigkeiten über Holly International

'I have just had a call from Jim Carr, editor of HI and I am sad to inform all subscribers that due to his current health he feels unable to continue with the production of the magazine. He is in the process of working out what refunds are due to each subscriber and he assures me that everyone will get a refund of any subscriptions owed.


All he asks is to be given the time to complete this task. He also respectfully requests that no one try to contact him either concerning the magazine or his health situation.


I am sure that we all wish Jim the very best for the future and thank him for his dedication in producing such an excellent magazine over the past 14 years since June 1994. He never ceased to amaze us with the amount of new details he was able to come up with regarding Buddy.

Vermutlich ist die Nr. 37 die letzte Ausgabe von H I.

Seems to be the last issue.

Jim Carr muss aus gesundheitlichen Gründen die Herausgabe des Magazins HOLLY INTERNATIONAL einstellen. Zuviel gezahlte Beiträge werden zurückerstattet. Jim bittet, ihn nicht zu kontaktieren, sei es in Bezug auf das Magazin oder seinen Gesundheitszustand.

Ein der Sache gewachsener Nachfolger wird gesucht, um die seit 1994 bestehende Fanpostille weiterzuführen.


If anyone out there seriously feels able to rise to the challenge of taking over the production of this magazine, please contact me via Hans' board.



Our thoughts go out to Jim in his time of trouble and wish him better health very soon, kind regards,

Peter F Dunnet.'


THE MUSIC OF BUDDY HOLLY AND THE CRICKETS - THE DEFINITE STORY


(Thanks to Robert Kinsler for posting)

Feb 2, 2009

Here is a story published in the Orange County Register newspaper today:

http://www.ocregister.com/articles/holly-dinizio-anniversary-2297705-buddy-album

| | |
| --- | --- |
| | |
| | © Orange County Register 2009 |
Falls der Link nicht klappt, bitte kopieren und einfügen in die Adressleiste.

If the link doesn't work copy and paste it.


Insgesamt 12 Musiker machen in Toronto / Kanada am 6.2. ein Tribute - Konzert

zu Ehren von Buddy Holly in der Oscar Peterson Konzerthalle.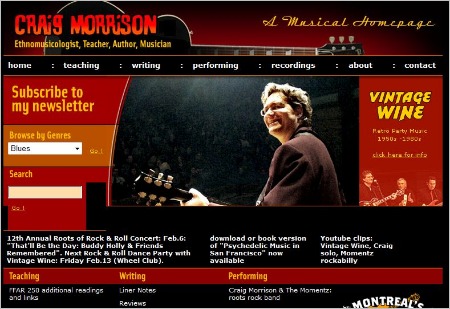 A screenshot of Craig Morrison's website.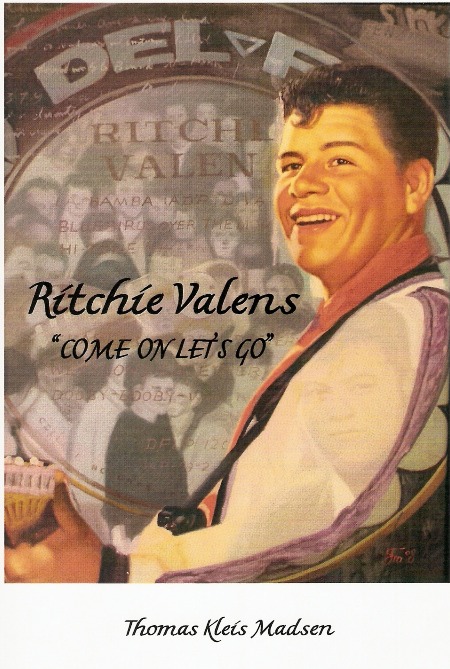 New book by Thomas Kleis Madsen: RITCHIE VALENS - COME ON LET'S GO. Language: Danish

Das neue Ritchie Valens Buch von Thomas Kleis Madsen mit dem Titel RITCHIE

VALENS - COME ON LET'S GO ist jetzt in dänischer Sprache erschienen incl.

einem Interview mit Hans, Editor von www.buddyhollylives.info

Mange tak og hilsner til Danmark, Thomas !

Interview with Hans.

| | |
| --- | --- |
| | Keeping the flame alive and burning bright. |