Im Jahr 2001 fiel im Hamburger Freihafen der letzte Vorhang für "Buddy -

Das Musical". 4 Original-Darsteller der Erfolgsproduktion haben sich wieder

zusammengefunden, um ihrem Idol erneut die Ehre zu erweisen.

Das Hamburger Imperial Theater wird seit über zwei Jahren jeden Monat zum

"Rock´n' Roll Ballroom".
CD " BUDDY HOLLY RELOADED "
In 2007 several original members of the BUDDY Hamburg Cast started

a new project called "Buddy Holly Reloaded". Once a month they rock

the joint in a theatre in Hamburg with Buddy's music.

Their first CD is out now.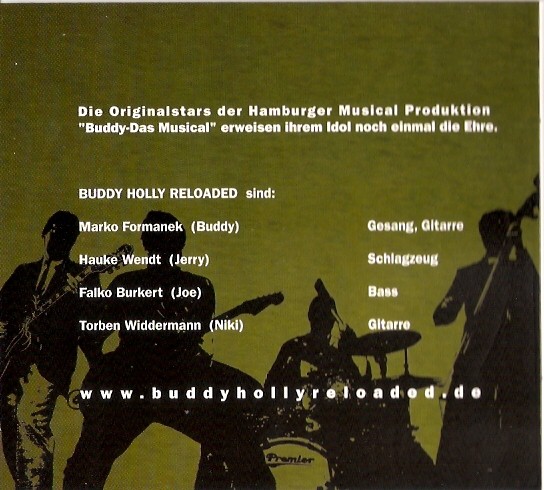 Liste der mitwirkenden Künstler
Coming soon: The complete Buddy Holly Reloaded Story

| | |
| --- | --- |
| | |
| | &nbsp |