On March 20th 1958, Buddy Holly & The Crickets played the Liverpool

Philharmonic Hall.

Fifty years later to the exact day a superb Liverpool tribute was played here

to remember this historic occasion.

The concert was masterminded by David Crosby, undoubtedly a great Buddy fan.

As far back as 2002 Dave had visions of this concert. Eighteen months ago he has

the foresight to put up a substantial sum of his own money to book the Philharmonic

Hall with the view of seeing his dream being realised.

Not only that, the proceeds would be donated in aid of the Cancer Research UK

charity. It was his idea and his show. Should he book The Crickets? Should he book

Mike Berry? These were two obvious candidates to take part.

After much deliberation he decided this should be Liverpool's own tribute to Buddy.

With the exception of Americans Tommy Allsup, Johnny Rogers and Kevin

Montgomery, this was to be an 'all Liverpool' affair. In the year of Liverpool's

European Capital of Culture celebrations this was an appropriate decision.

Dave then spent the last three months persuading artists to give up their time and

perform for free.

At precisely 7.30 pm Dave Crosby came out and introduced the show making sure

everyone was well aware that at this time 50 years ago Buddy & The Crickets were

taking to the stage!

Johnny Rogers and Tommy Allsup came on and did a dynamic version of 'Oh Boy',

I've never heard it better. In fact, if you remember the 'Oh Boy' television

show, this show was reminiscent of that. The show had so many acts, so many

songs, it had to drive along at an urgent pace. As one song finished left of stage,

another started on the right. It seemed they had two independent sound systems

set up.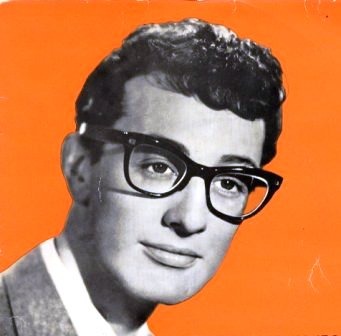 Buddy Holly

Above the stage hung a giant video screen

Buddy Holly

constantly displaying one of Buddy's

Buddy Holly

best images with interchanging colours.

Buddy Holly

Between this, all the Ed Sullivan clips were shown.

It all looked spectacular.

The Philharmonic Hall is envied for its acoustics and has been copied by others, the

sound was superb.There were so many acts and songs, it is impossible to review

them all, but here is a list of the artists and the songs they performed so well.

The show concluded at around 10.30pm so apart from the intermission, almost three

hours of great nostalgic entertainment. I particularly liked the West Kirby Operatic

Society's and the Liverpool Police Band's interpretations, it showed how Buddy's

songs have the substance and melodies to be played by anyone. Even boy band

Eton Road bought screaming hysteria to the Philharmonic with their version of

'Everyday'. As the 'Not Fade Away' finale got underway, Buddy's widow Maria

Elena Holly who had flown in from Dallas took the stage and gave a

short announcement to convey her admiration for the show.

My only disappointment was no photography was allowed. Sadly, this means that

images which could have been preserved for posterity now won't be.

Hopefully a DVD of the concert will materialise shortly so we can all enjoy the

moment again and give those unable to attend an opportunity to see it too.

For my wife Denise and it was a 500 mile round trip from the south coast.

My sincere thanks to Dave & June Williams who kindly put us up for two nights and

chauffeured us around the sights of Liverpool.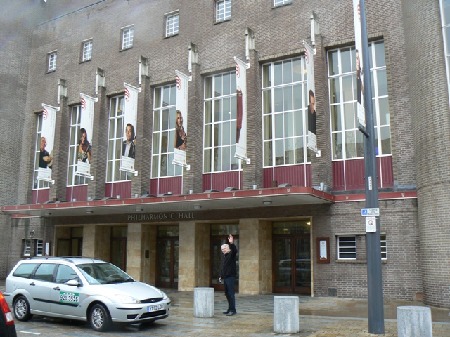 Dave Williams

Well done to David Crosby for having the courage to put on such an

ambitious show.

Seeing the end result made me realise just how much work it must have been to pull

it all together.

Here's to the next 50 years .....?!

Ian Higham

Am 20. März 2008 wurde im Gedächtnis an den Auftritt von

Buddy Holly & The Crickets in Liverpool vor 50 Jahren ein Gedenkkonzert

an eben der gleichen Stelle, der Royal Philharmonic Hall Liverpool, veranstaltet.

Alles, was es zusammenzutragen gab, habe ich zusammengetragen.

Fotos innerhalb der Halle waren leider nicht erlaubt, that's life.

| | |
| --- | --- |
| | |
| | Honoring Buddy Holly and the Crickets |
Buddy homeland UK celebrated the 50th anniversary of the 1958 tour

of Buddy Holly & The Crickets in March, 2008.

One of the absolute highlights was the concert in the

Philharmonic Hall in Liverpool on the 20th of March, 2008.

50 years after, time to commemorate.

Inside the hall photos were not allowed, so we present all we found about the gig.

Many thanks to Ian Higham for his help sending in a lot of items

and a very fine report about the event.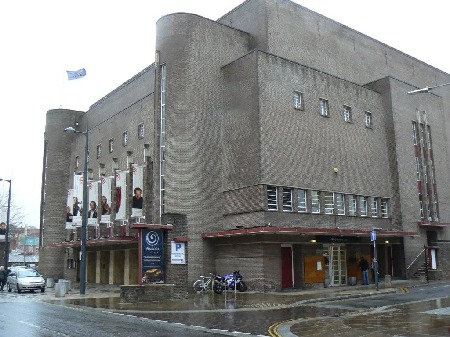 Liverpool Philharmonic Hall 20th March 2008, Buddy played here 20th March 1958(No photography was allowed at the 50th Anniversary Concert)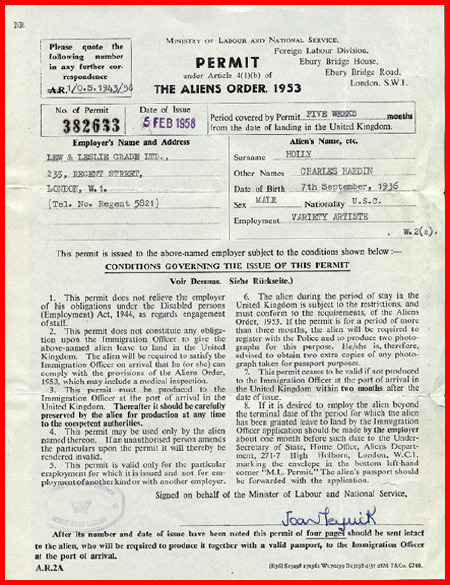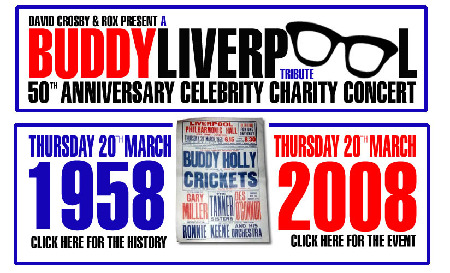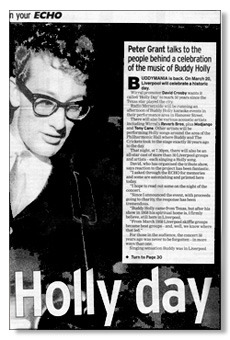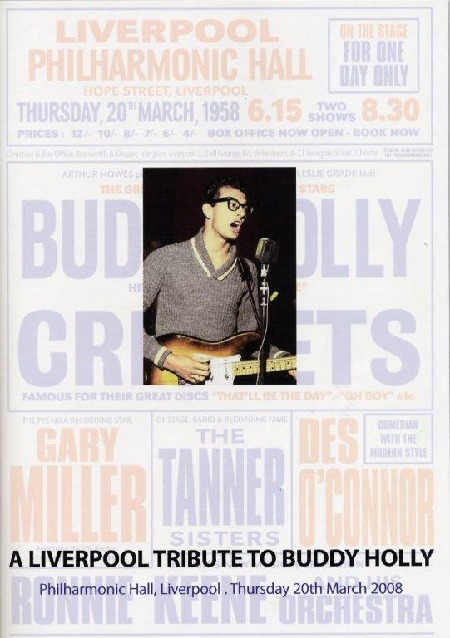 Front of the main programme from the concert at the Liverpool Philharmonic Hall on 20th March 2008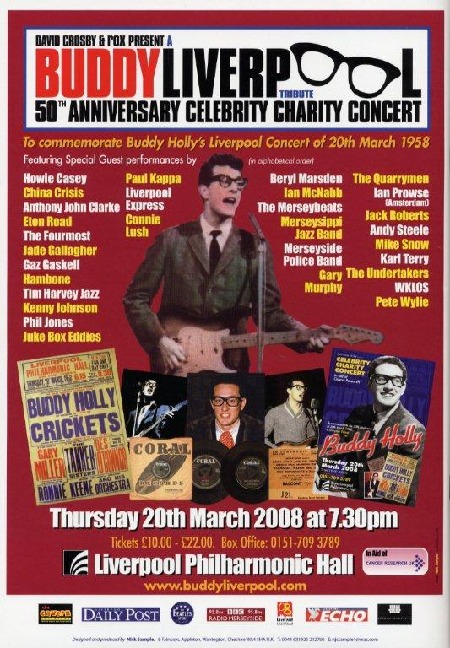 Rear of the main programme from the concert at the Liverpool Philharmonic Hall on 20th March 2008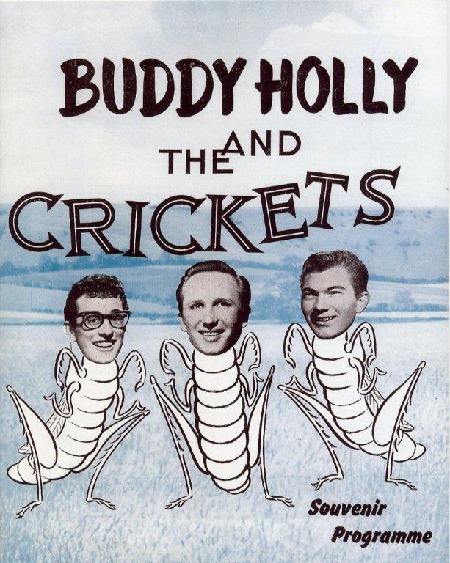 A second programme was also available, a near exact copy of the original 1958 programme.These were so good they could be easily be mistaken for an original, Ebayers beware!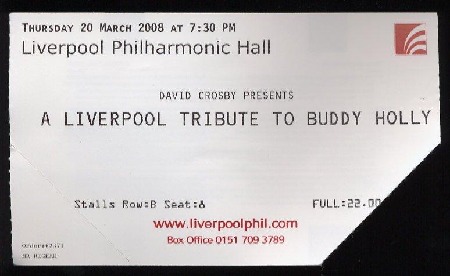 Ticket from the Liverpool Philharmonic show



Well done Hans.


This is a very good site.


I have been a Buddy fan since 1958,


my son and I recently visited Lubbock & Clovis


to fulfil a once in a lifetime pilgrimage.



Donald Robinson


Newcastle upon Tyne England