| | |
| --- | --- |
| | |
| | BUDDY HOLLY LIVES |

| | |
| --- | --- |
| | |
| | |
How it began:

By the end of 2009 I saw a photo
of Buddy Holly from 1940. Buddy was
3 years old and one of the guests of
a birthday party for Marla Kay Forten-
berry.

This photo was published for the
very first time ever in the Lance
Monthly by my friend Dick Stewart.

Marla Kay Fortenberry is the mother
of Tim Otto, who owns the copyright.

Chas Pike, staff writer of TLM, told
me that it would be great to write a
story about Tim Otto, musician and
composer.

A great idea. Now I know why.

Great stuff for my Buddy Holly
fanpages.


Wie alles anfing:

Ende 2009 sah ich ein Foto von Buddy
Holly aus dem Jahr 1940. Buddy war
3 Jahre alt und einer der Gäste einer
Geburtstagsparty für Marla Kay
Fortenberry.

Dieses Foto wurde erstmalig öffentlich
gezeigt im Lance Monthly Magazin von
meinem Freund Dick Stewart.

Marla Kay Fortenberry ist die Mutter
von Tim Otto, der die Fotorechte hat.

Chas Pike, Mitarbeiter beim TLM,
schrieb mir, dass eine Geschichte über
den Musiker und Komponisten Tim Otto
eine tolle Sache sei.

Eine super Idee. Jetzt weiß ich warum.

Klasse Material für meine Buddy Holly
Fanseiten.















Marla Kay Fortenberry with Buddy Holly in an unpublished


photograph taken in Lubbock, Texas on April 19, 1940.


© 1997 Tim Otto


This is the complete photo !

Mrs. J. K. Fortenberry, 1512 Eighteenth street, entertained with a party Friday

afternoon to honor her daughter, Marla Kay, on her fourth birthday. Patsy Patillo

gave a tap number und a reading. The honored gave a reading. Neil and Aubrey

Vaughn sang a duet. Buddy Holly sang a song.

Cake and punch were served to Patsy Patillo, Ardith Campbell, Jo Ann Turnbough,

Shirley Ann De-Shazo, Buddy and Patsy Holly, Aubrey and Neil Vaughn, Barbara

Jean Fuller. Those who sent gifts werde Mavis Fluke, Mary Lou Sanders, Paula

Bookman and Barbara Conley.



The first ever mention of Buddy Holly in print.

April 19, 1940.

Courtesy Tim Otto archives 2009.





The first ever mention of Buddy Holly in print. Buddy sings a song (!)

and his last name is misspelt. Instead of "Holley" they write "Holly".

Zum ersten Mal wird Buddy Holly in den Printmedien erwähnt - und schon hier, im

Jahre 1940, wird sein Familienname Holley falsch geschrieben, nämlich Holly.




Buddy Holly celebrates Marla Kay Fortenberry's fourth


birthday party on April 19, 1940 in Lubbock, Texas.


© 1997 Tim Otto




Dies ist das zweite Foto von der Geburtstagsparty, das allerdings

schon vorab den Weg in die Öffentlichkeit gefunden hatte.

Dennoch kann ich es hier in seiner Ganzheit zeigen, nicht als Ausschnitt.

Somit ist dies eine Premiere des kompletten Fotos im Internet.


Travis Holley with Tim Otto backstage at The "Buddy" play in Lubbock, TX 1991.

(Tim Otto archives)



Tim Otto was the last recording artist to be produced


by Norman Petty in Clovis, New Mexico 1983.


Ein sehr schönes Foto, das bisher nie außerhalb der Wände von Tim Otto's Familie zu sehen war, das ist kein Scherz. Exklusiv ist hier zu sehen, wie Tim Otto Buddy Holly's Bruder Travis Holley die beiden Geburtstagsfotos und den Zeitungsausschnitt aus dem Jahr 1940, der auf dieser Seite zu sehen ist, zur Erinnerung an dessen so früh verstorbenen Bruder überreicht hat.

So geschehen hinter der Bühne in Lubbock Texas bei der Aufführung des Musicals "Buddy" im Jahr 1991. Lubbock nahm Notiz von Buddy Holly.

Ein Foto aus dem Jahr 1983, als Tim von Norman Petty produziert wurde.



Tim Otto at 24 years old during

the Norman Petty era circa 1983.


© 1983 Tim Otto archives.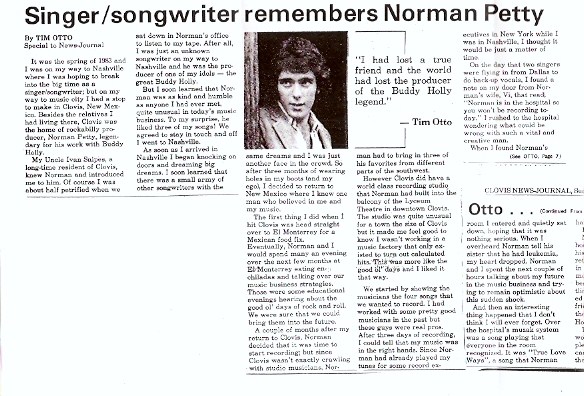 Ein Artikel aus dem Clovis News-Journal vom 30. August 1987, in dem Tim Otto

über sein Idol Buddy Holly und seine Arbeit mit Buddy's Produzent Norman Petty

in dessen Studio in Clovis New Mexico im Jahr 1983 berichtet. Vor Norman Petty's

Tod war Tim Otto der letzte Künstler, der von ihm produziert wurde.

By TIM OTTO

Special to News-Journal

" I had lost a true friend and the world had lost

the producer of the Buddy Holly legend. "

| | |
| --- | --- |
| | |
| | © Clovis News-Journal, 1987 |
It was the spring of 1983 and I was on my way to Nashville where I was hoping to break into the big time as a singer/songwriter; but on my way to music city I had a stop to make in Clovis, New Mexico. Besides the relatives I had living there, Clovis was the home of rockabilly producer, Norman Petty, legendary for his work with Buddy Holly.

My Uncle Ivan Snipes, a long-time resident of Clovis, knew Norman and introduced me to him. Of course I was about half petrified when we sat down in Norman's office to listen to my tape. After all, I was just an unknown songwriter on my way to Nashville and he was the producer of one of my idols - the great Buddy Holly.

But I soon learned that Norman was as kind and humble as anyone I had ever met, quite unusual in today's music business. To my surprise, he liked three of my songs! We agreed to stay in touch and I went to Nashville.

As soon as I arrived in Nashville I began knocking on doors and dreaming big dreams. I soon learned that there was a small army of other songwriters with the



| | |
| --- | --- |
| | |
| | |
same dreams and I was just another face in the crowd. So after three months of wearing holes in my boots (and my ego) I decided to return to New Mexico where I knew one man who believed in me and my music.

The first thing I did when I hit Clovis was head straight over to El Monterrey for a Mexican food fix. Eventually, Norman and I would spend many an evening over the next few months at El Monterrey eating enchiladas and talking over our music business strategies.

Those were some educational evenings hearing about the good ol' days of rock and roll. We were sure that we could bring them into the future.

A couple of months after my return to Clovis, Norman decided that it was time to start recording; but since Clovis wasn't exactly crawling with studio musicians, Norman had to bring in three of his favorites from different parts of the southwest.

However Clovis did have a world class recording studio that Norman had built into the balcony of the Lyceum Theatre in downtown Clovis. The studio was quite unusual for a town the size of Clovis but it made me feel good to know I wasn't working in a music factory that only existed to turn out calculated hits. This was more like the good ol' days and I liked it that way.

We started by showing the musicians the four songs that we wanted to record. I had worked with some pretty good musicians in the past but these guys were real pros. After three days of recording, I could tell that my music was in the right hands. Since Norman had already played my tunes for some record ex-
| | |
| --- | --- |
| | |
| | |
ecutives in New York, while I was in Nashville, I thought it would be just a matter of time.

On the day that two singers were flying in from Dallas to do back-up vocals, I found a note on my door from Norman's wife, Vi, that read, "Norman is in the hospital so you won't be recording today." I rushed to the hospital wondering what could be wrong with such a vital and creative man.

When I found Norman's room I entered and quietly sat down, hoping that it was nothing serious. When I overheard Norman tell his sister that he had leukemia, my heart dropped. Norman and I spent the next couple of hours talking about my future in the music business and trying to remain optimistic about this sudden shock.

And then an interesting thing happened that I don't think I will ever forget. Over the hospital's music system was a song playing that everyone in the room recognized. It was "True Love Ways", a song that Norman had written with Buddy Holly. I never saw Norman again. Norman was moved to a hospital in Lubbock to start his chemotherapy and I returned to my current home in Portland, Ore. I wrote Norman weekly and hoped for the best, but after one year of battling his illness, Norman passed away. I had lost a true friend and the world had lost the producer of the Buddy Holly legend.

The recordings that we were working on were later completed by Norman while his cancer was in remission but they were never released.
| | |
| --- | --- |
| | |
| | Norman Petty in his studio `65 |


My Mentor


Tim Otto poem for Norman Petty


© Tim Otto 2009
| | |
| --- | --- |
| | |
| | Tim Otto |
Tim Otto about his music :

"There are two Peacemakers Band albums and one Surf Cowboy album. The solo stuff is a little more rare but you can download Tim M. Otto music from I-tunes in Europe. Or go to cdbaby.com if you'd rather.

There are only two solo albums: "Truth Warrior" and "The Storyteller."

I have been a songwriter for 30 years and have composed over 250 songs. But they have not all been released as you might guess. The Norman Petty sessions now belong to me but they have never been released. Sadly there are only four songs in that session. But, they do sound good!"


Hier fand ich einige Infos mehr über Tim Otto und die Bands, in denen er spielt(e).

http://twangmusic.net/timotto.html

Here I found some more infos about Tim Otto and the bands he worked with.

© 2007 Twang

3 Alben von Tim Otto habe ich bei CD Baby bestellt, weil mir seine Musik

so gut gefällt, dass ich davon noch mehr hören möchte.

Von der Auftragsbestätigung können viele lernen, wie man es machen kann.

I ordered 3 Tim Otto Albums from CD Baby, as I already own the Surf Cowboys

and the 2 Peacemakers Band CD's thanks to Tim.

This music is so good, that I needed more from this artist.

I like purchase confirmations like this one :


Hans Werner-
Thanks for your order with CD Baby!
USPS

(1) Tim Otto & Chris Charles: Heroes Of The West
(1) Tim M. Otto: The Storyteller
(1) Tim M. Otto: Truth Warrior

Your CDs have been gently taken from our CD Baby shelves with sterilized contamination-free gloves and placed onto a satin pillow. A team of 50 employees inspected your CDs and polished them to make sure they were in the best possible condition before mailing. Our packing specialist from Japan lit a candle and a hush fell over the crowd as he put your CDs into the finest gold-lined box that money can buy. We all had a wonderful celebration afterwards and the whole party marched down the street to the post office where the entire town of Portland waved "Bon Voyage!" to your package, on its way to you, in our private CD Baby jet on this day, January 8, 2010. We hope you had a wonderful time shopping at CD Baby. In commemoration, we have placed your picture on our wall as "Customer of the Year." We're all exhausted but can't wait for you to come back to CDBABY.COM!!

Thank you, thank you, thank you!
Sigh...
We miss you already.

Tim M. Otto has spent 25 years traveling many miles on America's highways, from Seattle to Nashville, Portland to Albuquerque, Austin to Clovis, New Mexico. Tim wrote and performed songs in Nashville on three different journeys. In 1983, he was one of the first singer- songwriters to perform at the famed Bluebird Cafe's "Writer's Nights." That same year, Tim was signed to BMI as a songwriter after having ten songs published by Dundee Music (BMI). This was the catalog owned by legendary Rockabilly producer Norman Petty. Petty produced four of these songs featuring Tim as the recording artists. But before the session could be completed, Norman was diagnosed with leukemia, which took his life and talents in 1984. Tim returned to Nashville again in 1986 and 1990. He was also a member of Nashville Songwriters Association International (NSAI).

In 1990, Otto started his own music publishing company, Almost Paradise Music (BMI) in Seattle. The catalog now holds over 250 songs. From 1995 to 2005, his catalog was sub-published in London, England by Music Sales Ltd.

In some circles, Otto is most known for fronting the mid-80's "Surfabilly" band, "The Surf Cowboys" in Portland, Oregon. Tim also fronted Seattle's "alt-country" band, "The Vaqueros", in the 1990s. In 2004, three of The Surf Cowboys members, along with Tony Floreno, formed "The Peacemakers Band", also fronted by Otto.


Ich kann nur sagen, dass die Musik auf den folgenden 3 CD's ganz mein

Geschmack ist und die Peacemakers Band Songs mich sehr stark an Tom

Petty erinnern, der in meinen eigenen TOP TEN weit oben steht. SUPER !

Auf HELLO FREE WORLD ist der erste Titel BUDDY ROCKS, ein Song über

mein Idol Buddy Holly. Echt gut gemacht, sehr rockig ! Natürlich wurde

dieser Titel von Ende 2009 unverzüglich in meine Buddy Tribute Song List

mit aufgenommen. Ein Abstecher dorthin lohnt ob der Fülles des Materials!


THE SURF COWBOYS COLL.

1984 - 1986


| | |
| --- | --- |
| | |
| | The Surf Cowboys on stage, 1986 |

GOODBYE FREE LOVE

The Peacemakers Band

2004


| | |
| --- | --- |
| | Here are the titles : |
| | |




Tim Otto about GOODBYE FREE LOVE :


I think "Goodbye Free Love" is like no other album in existence. I am very proud of it. It took us a year to make it and boy was it fun! You can feel it in the music I think. It was recorded "live" in the studio with as few overdubs as possible.







| | |
| --- | --- |
| | |
| | The Peacemakers Band, 2004 |

Hans,

To be released this June 2010, "Next Stop Is Vietnam" featuring: The Peacemakers Band song: "Vietnam Foriegn Correspondent" on cd #11.

The box set features 13 cd's on Bear Family Records including a booklet.

Many of the names on this album are well known national acts such as: Bob Dylan, John Lennon, Donovan, John Prine, The Doors, The Kingston Trio, Peter Paul & Mary, Phil Ochs and a multitude of others.

Look for it at: www. Bear-Family.de . The roster speaks for itself.

The Peacemakers are thrilled to be included on this grand set and expect all good things from it's release.


Peace On Earth,

Tim Otto

Almost Paradise Music(BMI)

HELLO FREE WORLD

The Peacemakers Band

2009




Tim Otto about "BUDDY ROCKS":


"Buddy Rocks" was just an inspiration I had to try and

write the true story of Buddy in a song but keep it rockin'

as well. I feel that Buddy felt some real pain in his life

even though he was just 22 years old.


Plus I just wanted anyone who would listen to know

that I think Buddy was the greatest of Rockabillys!

Kleiner Tipp: Auf der Seite von CDBABY kann man die Songs anspielen !

Buddy Rocks Tim Otto (c)2009



Scarred for life from the abstract insults
Running so fast that he lost all his guts
From a woman that was fake and so untrue
That it left Buddy Holly hangin' his head and blue

Chorus:
BUDDY ROCKS
BUDDY ROCKS
FROM THE TOP OF THE POPS
BUDDY ROCKS

Now he's on the run from a girl that broke his heart
Yes he knows the end but he wishes for that start
From a woman that was fake and so untrue
That it left Buddy Holly hangin' his head and blue

Chorus:

He was playin' for his life at that Surf Ballroom
He never knew that night would bring an end to his tune
For a woman that was fake and so untrue
That it left Buddy Holly hangin' his head and blue

Chorus:



Words & Music by Timothy M. Otto (c)2009
all rights reserved worldwide
(p)Almost Paradise Music(BMI)
Thanks a lot, Tim, for the photos, the music and the story!

Vielen Dank an Tim für die Fotos, die Musik und die Geschichten drumrum !