26.9.2008: Gestern erhielt ich die neue CD von Rollercoaster per Post. Unversehrt, da sicher verpackt. Schnell ausgepackt, CD entnommen, ab in den Player und los ging's mit den insgesamt 25 Musiktiteln und einem Interview.

Eine gelungene Mischung von Klassikern (überwiegend in den Norman Petty Studios aufgenommen) bis hin zu dem "frischen" Titel "Hey Buddy" von John Mueller. Das Video dazu habe ich auf YouTube gesehen.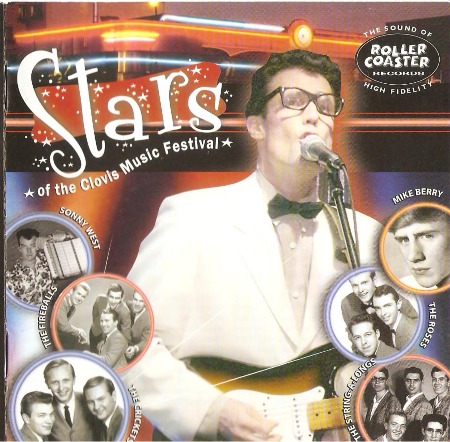 Die neue Clovis CD mit den Stars des Clovis Music Festivals.

September 26, 2008: Yesterday I received my long awaited copy of the new Rollercoaster CD "Stars of the Clovis Music Festival". Well packed, as usual. The first thing I did was listening to the complete compilation of 25 songs and 1 interview.

No doubt, I do like it. And I like design, layout and John Ingman's annotation plus photos.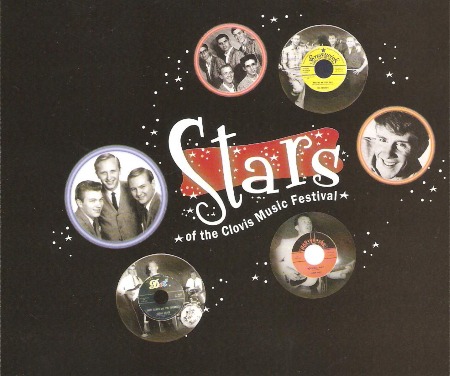 A fine compilation in good sound quality with a lot of classics (most of them recorded at the Norman Petty Studios) combined with some new material incl. John Mueller's "Hey Buddy".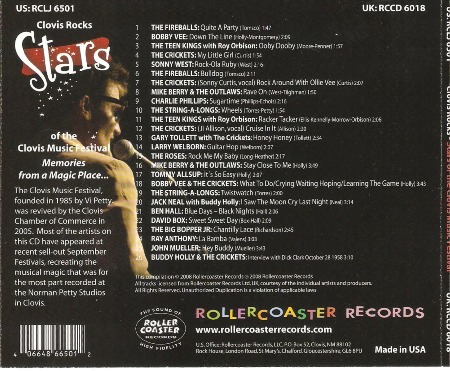 Ich mag die Präsentation von Liz Eisenbraun (Design und Layout), die Musik sowieso (einige Freunde sind vertreten: Tommy Allsup, John Mueller, Sonny West, Jimmy Torres, Mike Berry, Larry Welborn and Gary Tollett), und als besonderes Sahnehäubchen das Beiheft. 28 Seiten, Text von John Ingman, garniert mit diversen Fotos. Gefreut habe ich mich, dass auf Seite 27 meine Webseite genannt wird.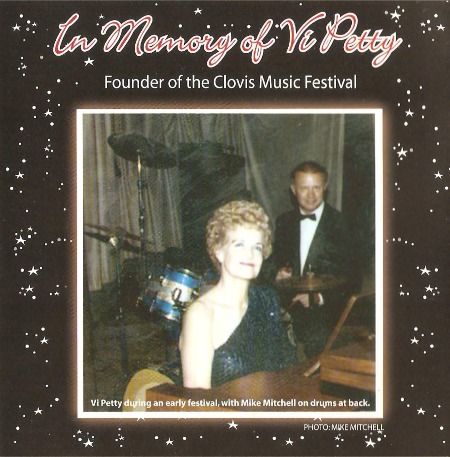 This is the last page of the great 28 pages booklet, real labor of love.

Bei Produkten dieser Art ist es gewöhnlich üblich, Titel zusammenzustellen, ein simples Cover zu drucken und auf der Rückseite die Songs aufzulisten.

Diese Produktion ist mit viel Liebe zur Sache genau das Gegenteil und hebt sich wohtuend aus der Masse ab.

John Ingman ist ein ausgezeichneter Autor, der sein Fachwissen und seine schriftstellerische Begabung hier wieder einmal ausleben kann.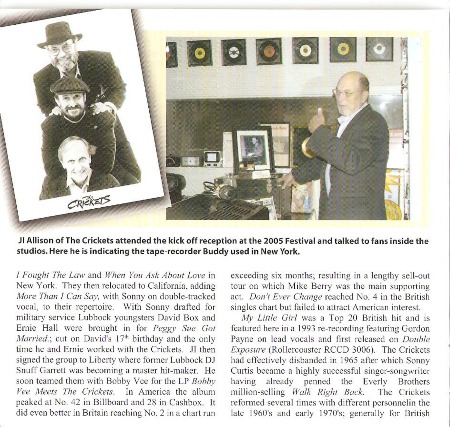 I've never seen this old Clovis Fest poster before. Better late than never.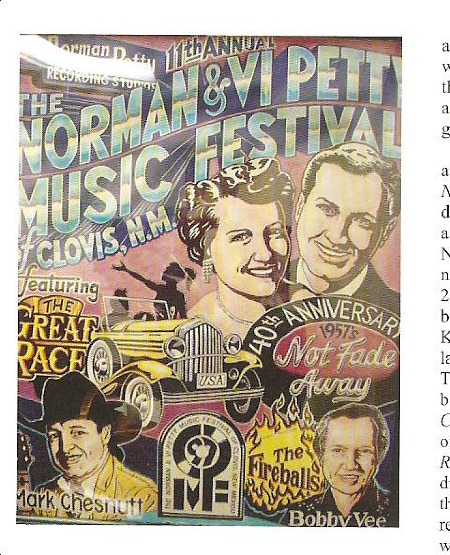 Dave Tobin aus England lebte seinen Traum. Die letzten Jahre seines Lebens verbrachte er in Lubbock, Buddy's Geburtsstadt, wo er unter anderem gute Dienste im Buddy Holly Center leistete. Der Tribute-Song "BUDDY MY FRIEND" stammt aus seiner Feder.