| | |
| --- | --- |
| | |
| | Buddy Holly |


| | |
| --- | --- |
| | |
| | Letter of invitation for Bill Griggs |



Am 30. Juli 2010 wurde Bill Griggs, nicht gebürtig in Texas, eine ganz

besondere Ehrung zuteil: Bill Griggs wurde hinzugefügt zu den Besten,

die Musik in West Texas berühmt gemacht haben.

Er ist der Erste, der kein Künstler ist.

Bill hat sich um Buddy Holly und seine Musik verdient gemacht.

Beschleunigt wurde diese Zeremonie dadurch, dass Bill im

Endstadium einer Krebserkrankung ist.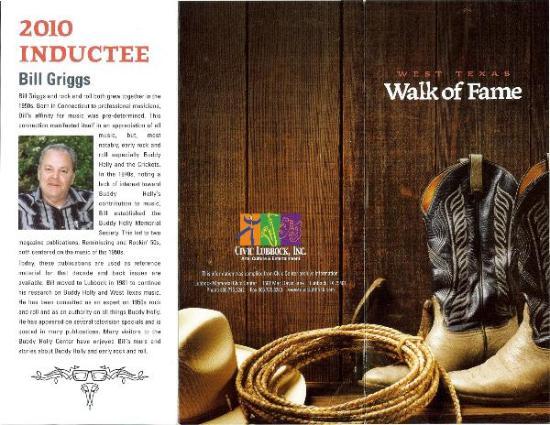 Bill Griggs Induction Program 7-30-2010 - Page 1
By kind courtesy of Bill Griggs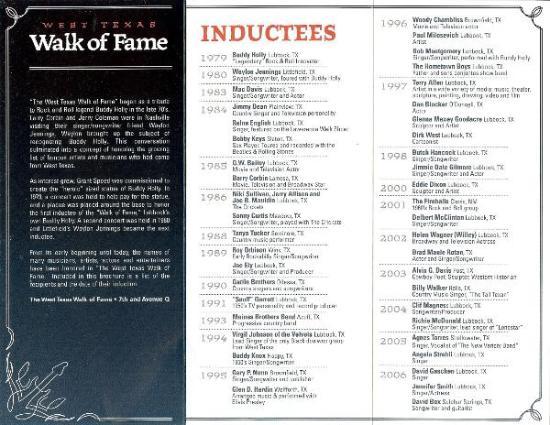 Bill Griggs Induction Program 7-30-2010 - Page 2
Bill Griggs joins walk of fame!

(updated after induction ceremony)

Submitted by William Kerns on Fri, 2010-07-30 15:16

© William Kerns



In 1979, when plans for a Buddy Holly Walk of Fame -- the name since changed to West Texas Walk of Fame -- were being bandied about, an original thought was to honor only working musicians.

I was thrilled when those who could see, think and dream to a far greater extent realized that a West Texas Walk of Fame could be the perfect place to honor not only those who have made a mark in the music industry, but also those who bring honor to Lubbock via their success as writers and producers in the music industry, and via success as actors, dancers, writers, historians, playwrights, television producers, and through any genre of the visual arts.

So many -- even many who live in Lubbock -- have been astonished to learn of the number of working people in the arts who made their home at some point either in Lubbock, or for four years or more at Texas Tech, or within about a 150-mile radius of Lubbock.

They would be just as surprised to know how many have yet to be honored. I could cite names who already are famous -- and I do not use that word lightly -- in categories mentioned, and also, say, in the comic artistry industry, or, as a creator of popular television series.

| | |
| --- | --- |
| | |
| | WALK OF FAME - BILL GRIGGS CEREMONY 2010 |
One need only take the time to read Bill Griggs' research to know of hundreds still deserving of consideration.

For years, Lubbock honored artists in two ways: The walk of fame was for those known on a national or international level. The West Texas Terrace could have been put to even better use as a way to honor those whose success is better known on a local level.

The walk of fame and the terrace are equally important in my eyes, and names on both will merge onto one West Texas Walk of Fame when the statue and plaques re-emerge in October at a Buddy & Maria Elena Holly Plaza. There is no telling who will be the next ones inducted (OK, I know of some possibilities...) -- although the many overdue include Floydada-born country singer Don Williams, and still-active-after-all-these-years Jack Neal, the first to work in Lubbock as Buddy Holly's singing partner.

But I put Bill Griggs' name in the subject line of this journal for a reason.

I bet, if you ask Griggs to look inside his heart, he would tell you that he really did not expect to be inducted.

Never mind his 30 years' devotion (40 if you count the years before he moved here) to luring visitors to Lubbock, or that he is THE internationally respected historian sought whenever anyone has a question about the music or life of Buddy Holly.

There were some who just could not get past his Connecticut roots. An equal number of years may pass before another non-native-Texan is inducted. That does not change the fact that Griggs accomplished more for West Texas music and Lubbock exposure in his 30 years in Lubbock than many Texas-born artists accomplish in a lifetime.

I, personally, also did NOT jump on the Griggs band wagon right away.

It was not until I realized that MCA Records in Los Angeles had recruited Griggs to listen to every second of tape ever recorded by Holly to help them authenticate a posthumous box set. ... Not until it hit me that rock music historians, and city libraries, around the world could use a five-book set by Griggs that documents Holly's entire career on a day-by-day basis. ... Not until I learned of uncounted times when fans from far-away lands flew to Lubbock and never bothered to check in with the city, but always contacted Griggs, who sang Lubbock's praises. ... And not until I only recently learned that -- without ever publicizing the facts -- Griggs never turned down requests from city officials to give speeches at Lubbock schools and let today's young people know why, and how, a boy from Lubbock, who was only 22 when he died, earned everlasting fame.



BILL GRIGGS and Maria Elena Holley

© 2010 Spotted Lubbock
When I moved to Lubbock, first in 1970 to attend Texas Tech, then returning in 1976 to work for The Lubbock Avalanche-Journal, I was often told by citizens and even by some of my respected employers that Holly was "just another kid from Lubbock." So what if the Beatles took their name from the Crickets? So what if the Rolling Stones' first American hit was a Buddy song? What made Buddy so important?

Decades later, I find it interesting that a man from Connecticut, who adopted Lubbock as a home he still loves, was making sure that this city's youth would understand, even better than their parents, why Lubbock's most famous native son deserved to be famous.

I hope you will consider leaving a comment. Did you know about Bill Griggs accomplishments? Feel free to coment about Griggs and Lubbock's Walk of Fame as a whole. Have you visited the Walk of Fame or the Buddy Holly statue? And are there other names you would love to see honored, either for national accomplishments or because you view them as unsung heroes in the arts on a local or regional basis.

I have asked before --- and I do it again because I believe a lot of Griggs' accomplishments also have gone unsung for years.

(rewritten after induction ceremony:) I find it interesting: Instead of Bill Griggs' referring to personal accomplishments, this historian, researcher and writer who continues to battle against stage-4 cancer with a smile in public, stated that his biggest accomplishment was his ability to form friendships with people in 50 states and 34 countries. He spent most of his speech identifying those who helped, and those he was proud to meet. Several supporters traveled long distances, including one fan who drove here from Sacramento, Calif. (asking me for directions to our Visitors' Center) -- and respected Buddy Holly biographer John Goldrosen, who made the trek from Massachusetts. (Also interesting: Goldrosen telling me that Lubbock had changed in so many ways since his first visit here in 1971. I'll bet it has!)

It says something that those who were there to pay their respects to Griggs also included Buddy Holly's brothers, Larry and Travis; Buddy's widow, Maria Elena Holly; and Peggy Sue Gerron. And one person whom Griggs said he missed the most is the late Ella Holley, Buddy's mother; they became dear friends before her passing. Congratulatory e-mails were sent by The Crickets, and by Kevin Magowan, who worked to get Buddy's name oin the Hollywood Walk of fame.

Visit www.rockin50s.com to read a portion of congratulations on message boards that were sent worldwide to Griggs. Griggs also expressed his hopes, more than once, that Lubbock's Don Caldwell would recover from heart attacks he suffered in July. Griggs cited Caldwell and Mike Pritchard as two of many who make sure that an emphasis on live music in Lubbock never fades away. Griggs saved the introduction of his wife, Sharon, for the end, mentioning that she always is by his side.

Sometimes, circumstances dictate that introductions be made by politicians, whose assistants hand them a bio to read. But living inductees get to choose who they wish to introduce them. Griggs asked Holly fan Randy Steele to introduce him. Steele first offered a prayer. His was an entertaining introduction. Perhaps the introduction already is on Griggs' Web site; it should be. Steele almost made it through to the end before he began to tear up, and I was impressed when he talked about how his own two sons learned a lesson from the efforts to get enough facts to Civic Lubbock, Inc., to ensure that Bill Griggs could and would be inducted onto the West Texas Walk of Fame.

Finally, looking back, when Charles Hardin "Buddy" Holly was born in Lubbock in 1936, the birth announcement in The Lubbock Avalanche-Journal included a number of mistakes. The biggest: stating that Mrs. Holley had given birth to a daughter! Griggs has razzed me about this birth announcement for 30 years, and he tells me he still is waiting for the Lubbock newspaper to run a correction or a retraction... Yep, Bill Griggs also mentioned this again at his walk of fame induction. It's still good for a laugh.

© William Kerns, 2010

Some more info here: BUDDY HOLLY NEWS ( 2 )