| | |
| --- | --- |
| | |
| | Holland - Netherlands |


Es ist an der Zeit, über einen bemerkenswerten niederländischen Fan

von Buddy Holly zu berichten, der leider seit dem Jahr 2002 nicht mehr

unter uns weilt, Boudewijn Büch.

Den meisten von uns wird dieser Name nichts sagen, vielleicht kennt

der eine oder andere ein Buch von ihm, dessen Titel den Namen Buddy

Holly enthält: DE BRIL VAN BUDDY HOLLY

| | |
| --- | --- |
| | |
| | Boudewijn Büch: De Bril Van Buddy Holly |
It's about time to talk about a remarkable Buddy Holly fan from the Netherlands,

who died in 2002, Boudewijn Büch. Unknown to most of the visitors of these

fanpages, maybe some of the collectors own his book DE BRIL VAN BUDDY

HOLLY (Buddy Holly's Glasses).

1988 startete im Niederländischen Fernsehen eine Sendereihe mit dem Namen

" De wereld van Boudewijn Büch "

(Die Welt von Boudewijn Büch)

Bereits in der zweiten Folge im August 1988 berichtete Boudewijn Büch

45 Minuten über Buddy Holly. Ein faszinierender Bericht, den ich erst im

Juli 2008, 20 Jahre nach der Ausstrahlung, sehen konnte.

Er ist es wert, auf dieser Seite besonders gewürdigt zu werden.

Unglücklicherweise ist die mir vorliegende VHS-Kopie von schlechter Qualität,

es ist eine 20 Jahre alte Direktaufnahme der Sendung vom NL - TV.*

* In der Zwischenzeit hat mir ein Fan aus Holland geholfen, eine Kopie auf

DVD zu erwerben, was ich hier lobend erwähnen möchte.

Die bisher beste Dokumentation über Buddy, die ich gesehen habe. Hierbei zählt

für mich nicht die Menge der Informationen, da bieten andere Produktionen zum

Teil mehr. Es geht mir vorrangig um die Art der Präsentation, die sich wohltuend

von den meisten "Industrieproduktionen" abhebt. So viel menschliche Wärme

und Einfühlvermögen kann nur ein Fan rüberbringen.

In 1988 the TV series " De wereld van Boudewijn Büch " started on Netherland TV.

(The world of Boudewijn Büch)

The second episode from August 1988 was a 45 minutes report about Buddy Holly.

I saw this report in July 2008 for the very first time, 20 years afterwards.

A fascinating report worth to be mentioned on this page.

This is a caring and warm-hearted report by a true Buddy Holly fan.

That's what makes this documentation sui generis and emersed.

Unfortunately my copy has a poor quality, recorded directly on VHS in 1988.*

* I was lucky to get a DVD copy afterwards with the help of a Dutch fan.

I think I've never seen a better report, for the love of Buddy.

To me it's not important how many informations I get, I don't want to view an

"antiseptic" industrial product, as there are many available.

This is an emotive film, the way I like it.

DE WERELD VAN BOUDEWIJN BÜCH - BUDDY HOLLY,

Co-produktie ID-TV Amsterdam en Nieuwe Revu

in opdracht van de VARA, 1988 Copyright VARA

Presentatie Boudewijn Büch

Producer Manu Hartsuyker

Producent Harry de Winter

Regie Pieter van Huystee


7 augustus 1988 - Buddy Holly



Deze aflevering staat in het teken van de overleden zanger Buddy Holly.





INTERVIEWS met: moeder, broers en nicht van Buddy Holly, over diens jeugd,

glorietijd en dood de voorzitter van de Buddy Holly Memorial Society, over de

optredens van Holly, de muziek van toen en nu en over niet eerder uitgebrachte

songs de drummer van de groep "the Crickets", over diverse optredens.



SHOTS van Boudewijn Büch bij monument, standbeeld en graf van Buddy Holly in

Lubbock (Texas), zijn geboorteplaats.





DUPES: optreden Buddy Holly met "Peggy Sue" en "Oh Boy" fragment

familieopname Buddy Holly - Jerry Allison.

http://www.dwvbb.nl/seizoen.htm#SEIZOEN_1988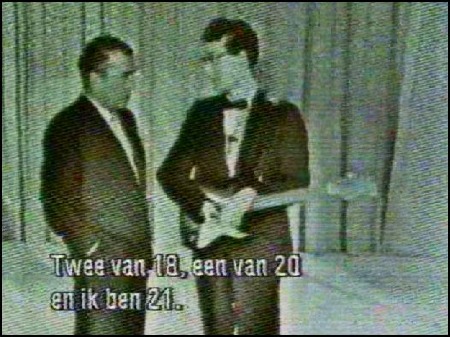 Eröffnet wird der Film mit einem Interview aus der Ed Sullivan Show, die damals in den USA ein Straßenfeger war.

An der Buddy Holly Statue in Lubbock, die zu Ehren des größten Sohnes der Stadt aufgestellt wurde.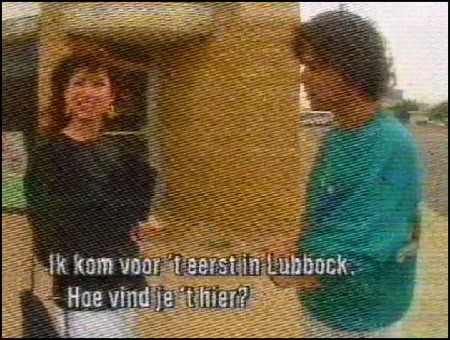 Boudewijn Büch trifft Sherry Holley, die Tochter von Buddy's ältestem Bruder Larry, die ihn zu ihrem Vater begleitet.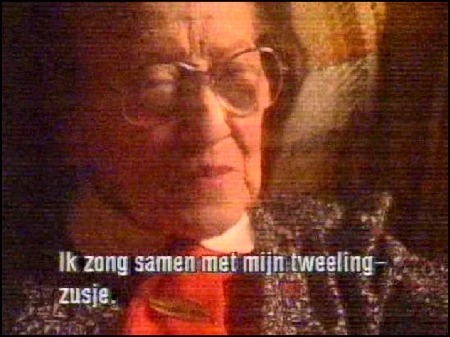 Ergreifende Interviews mit Buddy Holly's Mutter Ella, die während ihrer Erzählungen die Tränen in Erinnerung an ihren verstorbenen Sohn nicht zurückhalten konnte.

Larry Holley, der älteste Bruder.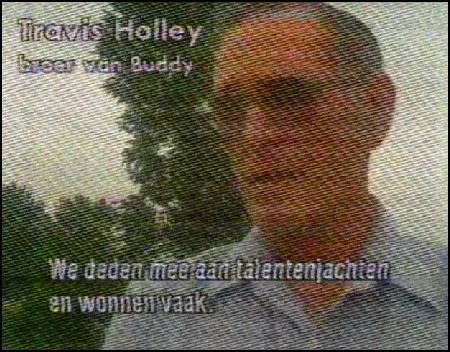 Travis Holley, der zweite Bruder.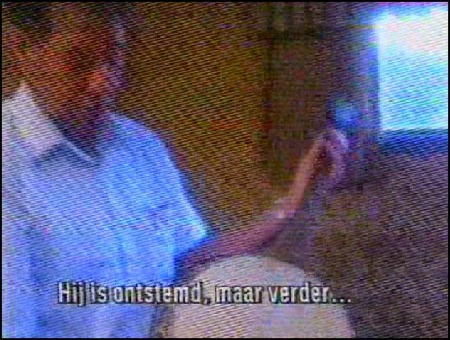 Buddy's Banjo.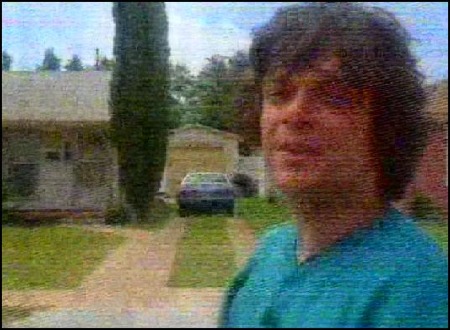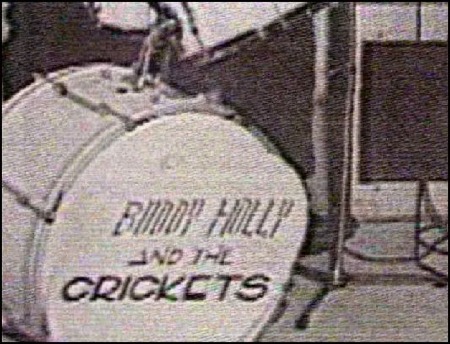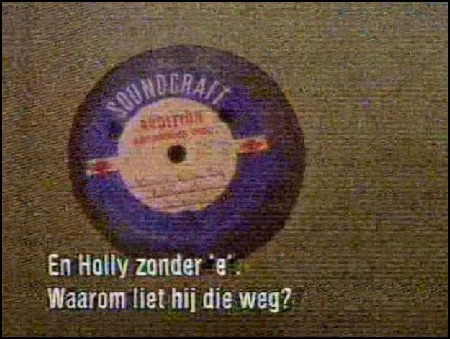 Ein im Besitz von Larry Holley befindliches Acetat von "That'll be the day", mit der Handschrift von Buddy, der hier das "e" in seinem Namen wegliess. Laut Larry Holley eine Idee von Norman Petty.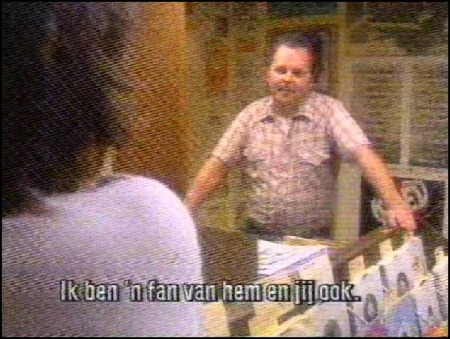 Ein langes Interview mit Bill Griggs, bei dem dieser meint, dass (im Jahre 1988) noch Material für 4 LP's vorhanden sei, die nicht veröffentlicht sind.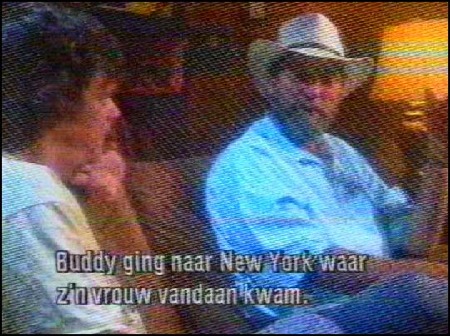 Interview mit dem Schlagzeuger der Crickets, Jerry Ivan Allison.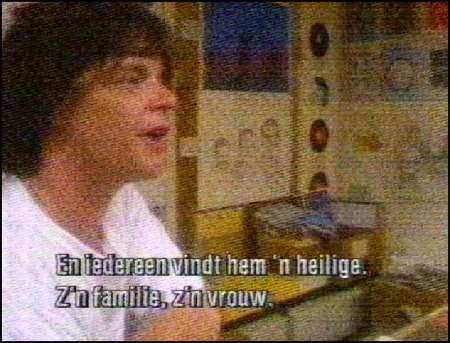 Buddy war kein Heiliger.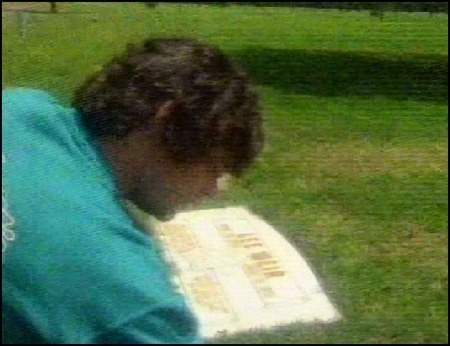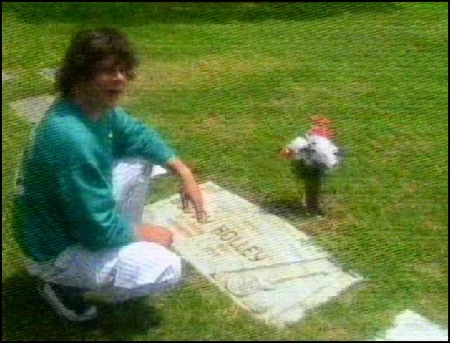 An Buddy Holly's Grab auf dem Friedhof in Lubbock.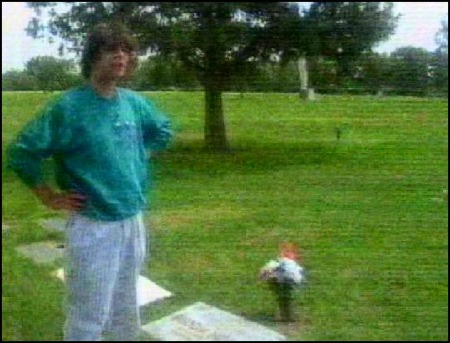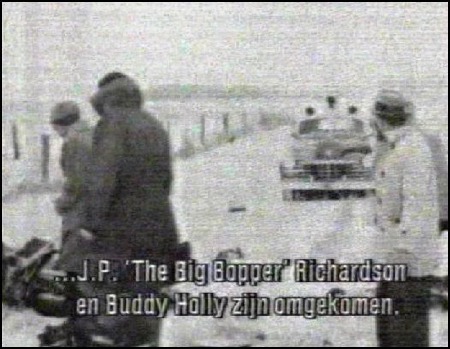 Der Absturzort.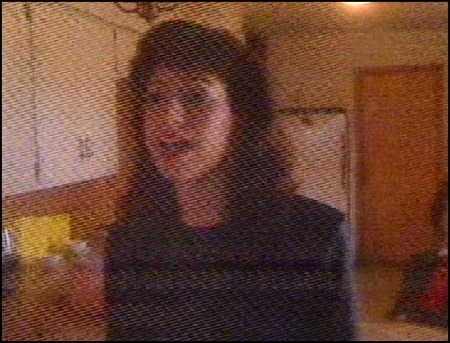 Sherry Holley singt im Beisein der Familie "Well Allright" mit Gitarren - Begleitung.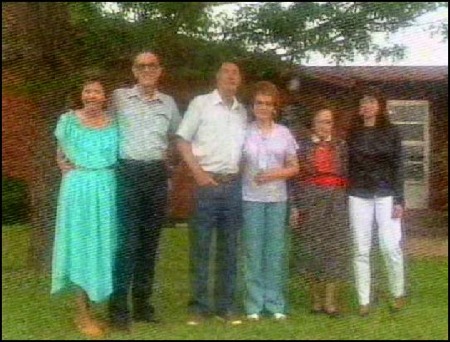 Schluss - Szene im Garten. Travis und Larry Holley mit ihren Frauen, Ella Holley und Sherry Holley.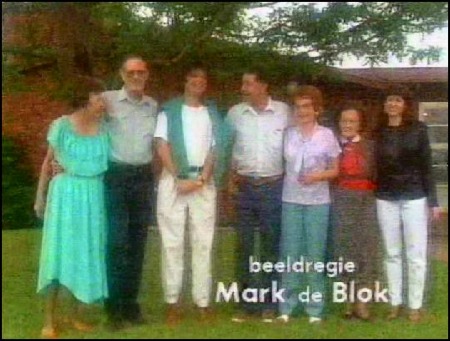 Hier alle zusammen mit Boudewijn Buch.

Es gibt noch eine zweite Folge über Buddy Holly, deren holländische Beschreibung

ich hier beifüge.


23 juni 2000 - Buddy Holly "Peggy Sue"



Deze aflevering staat het lied "Peggy Sue" van Buddy Holly centraal.





Büch gaat op zoek naar de achtergronden van het liedje "Peggy Sue" van Buddy Holly en bezoekt daartoe Lubbock (Texas), waar hij zich laat informeren over de collectie van Buddy Holly-items (zoals Holly's gitaar) die in een speciaal Buddy Hollymuseum zullen worden tentoongesteld, en Clovis (New Mexico), waar hij een bezoek brengt aan de geluidsstudio van Norman Petty waar Holly zijn hit opnam.





INTERVIEWS met: Connie Gibbons, directeur Buddy Holly Center, over (de opening van) het Buddy Holly Center, de late komst van een ode aan Holly en waarom het juist nu geopend wordt en zijn bril die gevonden is op de plaats van waar het vliegtuig was neergestort en die wordt tentoongesteldKenneth Broad, mede-eigenaar van de Norman Petty-studio, over de totstandkoming van het Norman Petty-museum en de Norman Petty-soundPeggy Sue, onder andere over de vele interviews die zij heeft gegeven om het verhaal achter de ware Peggy Sue uit Holly's lied te vertellen, de eerste keer dat zij het lied hoorde, hoe ze het vond om te horen hoe haar naam bezongen werd, hoe ze aan haar naam kwam en het feit dat ze ondanks alle media-aandacht toch vereerd is met Holly's ode aan haar.



SHOTS: 21:12:26 buitenwijk Lubbock vanuit rijdende auto (wegen) kaart van het gebied rond Lubbock diverse straatshots Lubbockdiverse straatshots Clovis 21:28:19 diverse Buddy Holly gedenktekens, onder andere Buddy Holly Plaza en standbeeld.

http://www.dwvbb.nl/seizoen.htm#SEIZOEN_1988

| | |
| --- | --- |
| | |
| | RIP BOUDEWIJN |
The complete works of Boudewijn Büch are available on DVD in Holland. A fan from Amsterdam was so kind to buy the 2 DVD's about Buddy Holly for me. Thanks a lot, Bjorn !

Die kompletten TV-Folgen gibt es in Holland auf DVD. Ein Buddy-Fan aus Amsterdam hat freundlicherweise die 2 DVD's über Buddy Holly für mich gekauft. Danke, Bjorn !

De wereld van Boudewijn Buch, alle afleveringen op DVD.

De complete werken.



Seizoen 1988

31 juli DVD 1 Hollywood



7 augustus DVD 1 Buddy Holly


14 augustus DVD 1 New York, Washington
21 augustus DVD 2 Philadelphia, New York, French Tonawanda, Nashville
18 december DVD 2 Jaren '60, musici en popmuziek
25 december DVD 2 van Malta naar Filfla

Seizoen 1989

8 januari DVD 3 Redmond O'Hanlon
22 oktober DVD 3 Aflevering 1: Tahiti
29 oktober DVD 4 Aflevering 2: Rarotonga
5 november DVD 4 Aflevering 3: West-Samoa
12 november DVD 4 Aflevering 4: Fiji
3 december DVD 5 Aflevering 5: Australië
10 december DVD 5 Aflevering 6: Televisie in Australië
17 december DVD 5 Aflevering 7: Turkije

Seizoen 1990

17 juni DVD 6 Aflevering 8: Tasmanië
24 juni Aflevering 5: Australië Herhaling van 3 december 1989
1 juli Aflevering 6: Televisie in Australië Herhaling van 10 december 1989
8 juli Aflevering 7: Turkije Herhaling van 17 december 1989
15 juli Aflevering 1: Tahiti Herhaling van 22 oktober 1989
22 juli Aflevering 2: Rarotonga Herhaling van 29 oktober 1989
29 juli Aflevering 3: West-Samoa Herhaling van 5 november 1989
5 augustus Aflevering 4: Fiji Herhaling van 12 november 1989
24 november DVD 7 Columbus achterna (1)
1 december DVD 7 Columbus achterna (2)
8 december DVD 7 Columbus achterna (3)
22 december DVD 8 Columbus achterna (4)
29 december DVD 8 Columbus achterna (5)

Seizoen 1991

5 januari DVD 9 Columbus achterna (6)
12 januari DVD 9 Columbus achterna (7)
19 januari DVD 9 Columbus achterna (8)
26 januari DVD 9 Columbus achterna (9)
2 februari DVD 10 Curaçao
9 februari DVD 11 Argentinië (1)
16 februari DVD 11 Argentinië (2)
23 februari DVD 11 Argentinië (3)
2 maart DVD 11 Argentinië (4)
25 mei DVD 12 Paaseiland
1 juni DVD 12 Kanaaleilanden

Seizoen 1992

25 januari DVD 13 Aflevering 1 : Christmas Island
1 februari DVD 13 Aflevering 2 : Cocos Islands
8 februari DVD 13 Aflevering 3 : West-Australië (1)
15 februari DVD 14 Aflevering 4 : West-Australië (2)
22 februari DVD 14 Aflevering 5 : Seychellen
29 februari DVD 14 Aflevering 6 : Dodo (1)
7 maart DVD 15 Aflevering 7 : Dodo (2)
14 maart DVD 15 Aflevering 8 : Dodo (3)
21 maart DVD 15 Aflevering 9 : Dodo (4)
28 maart DVD 15 Aflevering 10 : Dodo (5)
13 juni DVD 16 Canada (1)
20 juni DVD 16 Canada (2)
27 juni DVD 16 Canada (3)
4 juli DVD 16 Canada (4)

Seizoen 1993

6 maart DVD 17 Aflevering 1 : Canada (5)
13 maart DVD 18 Aflevering 2 : Zuidpool (1)
20 maart DVD 18 Aflevering 3 : Zuidpool (2)
27 maart DVD 18 Aflevering 4 : Zuidpool (3)
3 april DVD 18 Aflevering 5 : Zuidpool (4)
10 april DVD 19 Aflevering 6 : Chili
17 april DVD 19 Aflevering 7 : Isla Robinson Crusoe
24 april DVD 19 Aflevering 8 : Galápagos
1 mei DVD 20 Aflevering 9 : Nieuw-Zeeland (1)
8 mei DVD 20 Aflevering 10 : Nieuw-Zeeland (2)
22 mei DVD 20 Aflevering 11 : Nieuw-Zeeland (3)
29 mei DVD 21 Aflevering 12 : Oceacië - Niue (1)
5 juni DVD 21 Aflevering 13 : Oceanië - Niue (2)
12 juni DVD 21 Aflevering 14 : Oceanië - Tonga
19 juni DVD 22 Aflevering 15 : Suriname (1)
26 juni DVD 22 Aflevering 16 : Suriname (2)

Seizoen 1994

5 februari DVD 23 Aflevering 1 : Big Island (1)
12 februari DVD 23 Aflevering 2 : Big Island (2)
19 februari DVD 23 Aflevering 3 : USA (1)
26 februari DVD 23 Aflevering 4 : USA (2)
5 maart DVD 23 Aflevering 5 : Norfolk Island (1)
12 maart DVD 24 Aflevering 6 : Norfolk Island (2)
19 maart DVD 24 Aflevering 7 : Lord Howe Island
26 maart DVD 24 Aflevering 8 : Australië - Oostkust
2 april DVD 24 Aflevering 9 : Australië - Darwin
15 oktober DVD 25 Falkland Islands (1)
22 oktober DVD 25 Falkland Islands (2)
29 oktober DVD 25 Paraguay (1)
5 november DVD 25 Paraguay (2)
12 november DVD 25 De US Virgin Islands (1)
19 november DVD 25 De US Virgin Islands (2)
26 november DVD 26 Jekyll Island
3 december DVD 26 South Dakota
10 december DVD 26 Alaska (1)
17 december DVD 26 Alaska (2)

Seizoen 1995

7 januari DVD 26 Alaska (3)
14 januari DVD 26 British Virgin Islands
7 oktober DVD 27 Brazilië : Recife (1)
14 oktober DVD 27 Brazilië : Recife (2)
21 oktober DVD 27 Brazilië : Fernando de Noronha
28 oktober DVD 27 VS: Thomas Alva Edison
11 november DVD 27 Nieuw-Zeeland: Petrus van der Velden
18 november DVD 27 Nieuw-Zeeland: Abel Tasman
25 november DVD 28 Nieuw-Zeeland: James Cook
2 december DVD 28 De Keizer van Brazilië (1)
9 december DVD 28 De Keizer van Brazilië (2)
16 december DVD 28 Namibië (1)
23 december DVD 28 Namibië (2)
30 december DVD 28 Namibië (3)

Seizoen 1996

11 mei DVD 29 Namibië (4)
18 mei DVD 29 Namibië (5)
25 mei DVD 29 Duitsland: Helgoland
1 juni DVD 29 Tuvalu (1)
8 juni DVD 29 Tuvalu (2)
15 juni DVD 30 Kiribati
22 juni DVD 30 Guam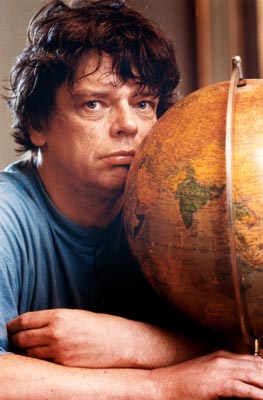 Seizoen 1997

5 maart DVD 31 Australië : Dunk Island
12 maart DVD 31 Turks- en Caicos eilanden
19 maart DVD 31 Panama (1)
26 maart DVD 31 Panama (2)
2 april DVD 31 Costa Rica
9 april DVD 31 Belize
16 april DVD 32 Taiwan
30 april DVD 32 Taiwan - Kinmen (1)
7 mei DVD 32 Taiwan - Kinmen (2)
14 mei DVD 32 Goethe (1)
21 mei DVD 33 Goethe (2)
28 mei DVD 33 Goethe (3)
4 juni DVD 33 Goethe (4)
11 juni DVD 33 Las Vegas
18 juni DVD 34 Las Vegas - Amarillo
25 juni DVD 34 Amarillo - Tulsa
2 juli DVD 34 Tulsa - Wichita - Kansas City
9 juli DVD 35 North Dakota
16 juli DVD 35 Liberty - Jesse James - Panhandle
23 juli DVD 36 Texas - Harlingen
30 juli DVD 36 Grens VS-Mexico
6 augustus Falkland Islands (1) Herhaling van 15 oktober 1994
13 augustus Falkland Islands (2) Herhaling van 22 oktober 1994
20 augustus Paraguay (1) Herhaling van 29 oktober 1994
27 augustus Paraguay (2) Herhaling van 5 november 1994

Seizoen 1998

18 februari DVD 37 Aflevering 1 : Wilhelm II (1)
25 februari DVD 37 Aflevering 2 : Wilhelm II (2)
4 maart DVD 37 Aflevering 3 : Potsdam (1)
11 maart DVD 37 Aflevering 4 : Potsdam (2)
18 maart DVD 38 Aflevering 5 : Opgeslagen schatten
25 maart DVD 38 Aflevering 6 : Waterloo (1)
1 april DVD 38 Aflevering 7 : Waterloo (2)
8 april DVD 38 Aflevering 8 : Vierlandenpunt
15 april DVD 39 Aflevering 9 : Zuid-Afrika (1)
22 april DVD 39 Aflevering 10 : Zuid-Afrika (2)
29 april DVD 39 Aflevering 11 : Zuid-Afrika (3)
13 mei DVD 39 Aflevering 12 : Zuid-Afrika (4)
20 mei DVD 40 Aflevering 13 : Andy Warhol
27 mei DVD 40 Aflevering 14 : Philadelphia
11 september Las Vegas Herhaling van 11 juni 1997
18 september Las Vegas - Amarillo Herhaling van 18 juni 1997
25 september Amarillo - Tulsa Herhaling van 25 juni 1997

Seizoen 1999

14 mei DVD 41 Goethe achterna: Aflevering 1: De verliefde dichter
21 mei DVD 41 Goethe achterna: Aflevering 2: Hoe het begon
28 mei DVD 41 Goethe achterna: Aflevering 3: De dichter in bad
4 juni DVD 41 Goethe achterna: Aflevering 4: De oude snoeper
11 juni DVD 41 Goethe achterna: Aflevering 5: Girls, girls, girls
18 juni DVD 41 Goethe achterna: Aflevering 6: De jonge hond
25 juni DVD 41 Goethe achterna: Aflevering 7: Zusterliefde
2 juli DVD 42 Goethe achterna: Aflevering 8: Leuke snuitjes
9 juli DVD 42 Goethe achterna: Aflevering 9: Bergopwaarts
16 juli DVD 42 Goethe achterna: Aflevering 10: Eindelijk in het paradijs
23 juli DVD 42 Goethe achterna: Aflevering 11: De natuur getemd
30 juli DVD 42 Goethe achterna: Aflevering 12: Kunst en verderf
6 augustus DVD 42 Goethe achterna: Aflevering 13: De dichter blaft
13 augustus DVD 42 Goethe achterna: Aflevering 14: Griekse liefde

Seizoen 2000

16 juni DVD 43 "Yellow Rose of Texas"



23 juni DVD 43 Buddy Holly "Peggy Sue"


30 juni DVD 43 Roy Orbison "Oh, Pretty Woman"
7 juli DVD 43 Carl Perkins "Jackson"
14 juli DVD 44 Elvis Presley "Blue Hawaii"
21 juli DVD 44 The Animals "House of the Rising Sun"
28 juli DVD 44 Jesse Winchester "Biloxi"
4 augustus DVD 44 Jan & Dean: "Tallahassee Lassie"
11 augustus DVD 45 Hank Williams "I'm so lonesome I could cry"
18 augustus DVD 45 Elvis Presley: "Jailhouse Rock"
25 augustus DVD 45 Jim Autry: "Mexicali Rose
1 september DVD 45 Richard Harris "MacArthur Park", The Byrds "Turn! Turn! Turn!", The Doors "L.A. Woman"

Seizoen 2001

22 mei DVD 46 Afl. 1: Lonnie Donegan: "Does your chewing gum lose it's flavour", The Four Peps "26 Miles (Santa Catalina)"
29 mei DVD 46 Afl. 2: Indigo Girls: "Cut it out"
5 juni DVD 46 Afl. 3: Drafi Deutscher: "Wann gehen wir nach San Fransisco", The Rolling Stones "Sympathy for the Devil"
12 juni DVD 46 Afl. 4: Johnny Cash: "San Quentin"; "Folsom Prison Blues"
19 juni DVD 46 Afl. 5: Dr. Hook: "Sylvia's Mother"; The Rolling Stones: "I'm a king bee"
26 juni DVD 47 Afl. 6: Sue Foley: "Queen Bee" Cole Porter: "Wunderbar" The Bee Gees: "Massachusetts"
3 juli DVD 47 Afl. 7: Ray Stevens: "Ahab the Arab"; Moby Grape: "American Dream" Them: "Mystic Eyes"
10 juli DVD 47 Afl. 8: Bruce Cockburn: January in the Halifax airport lounge" Neil Young: "After the goldrush"
17 juli DVD 47 Afl. 9: Mud: "Dyna-Mite" The Band: "Arcadian driftwood" Muddy Waters: "Caledonia"
24 juli DVD 47 Afl.10:Easybeats: "Friday on my mind"
31 juli DVD 48 Afl.11:Rod Stewart: "Tom Traubert's blues" (Waltzing Matilda) Bill Haley: "Rockin' Matilda"
7 augustus DVD 48 Afl.12:Tom Waits: "Tom Traubert's blues" (Walzing Matilda) Jimmy Little: "Waltzing Matilda"
14 augustus DVD 48 Afl.13:The Pogues: "The band played Waltzing Matilda"; Cocktail Trio: "Kangoeroe eiland"
21 augustus DVD 48 Afl.14:AC/DC: "Highway to Hell"; "Damned"

Copyright VARA