| | |
| --- | --- |
| | |
| | 14 years online - for the love of Buddy |


It was a pure coincidence that I came across a new CD while researching music

on the Internet: SONGS FROM A SWAGMAN'S SUITCASE.

The artist comes from Ireland, his name is OWEN MOORE.

He has already released a number of CD's on the label P J O (Bournemouth, UK)


In the tracklist I found number 5: TELL ME HOW.



According to amazon and CD Baby the CD was released July 26, 2019.

On the artist's page I read 2017. Maybe a re-issue ?
| | |
| --- | --- |
| | |
| | OWEN MOORE ON P J O RECORDS, UK - 2019 |
Actually, I was sure that 60 years after Buddy's death this was probably not a

cover, but then I listened in and was pleased to find out that I was absolutely

wrong.


It's a Buddy Holly title!


Now it is part of my huge .mp3 collection.



A very pleasant singing voice combined with an appealing guitar work.

Sung with a lot of heart and soul.


Available from several sources, either on CD or as a .mp3 download !


And if you are a Spotify member, you can listen to the complete CD for free!
I've seen a hologram of 'Buddy' from the forthcoming tour.

This is not our mutual Buddy!

Here are two screenshots, am I right? Or am I wrong?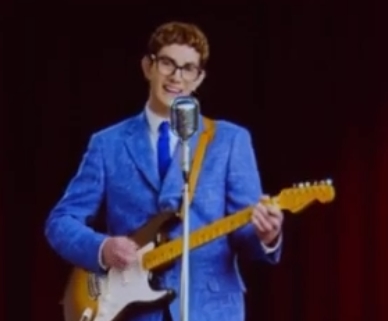 © woodtv8.com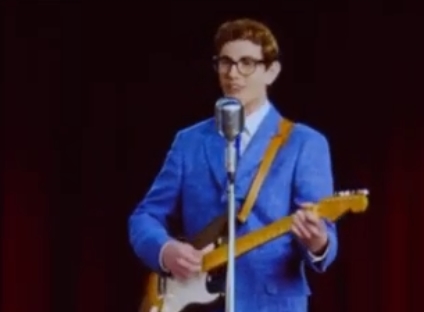 © woodtv8.com

Digital film technology today is so incredibly powerful that what is

presented there as "Buddy Holly" does not meet my high expectations

in any way.


Roddy Jordan, a good friend from Australia, sent this message some days ago.

Due to constant requests over the years I have made arrangements to

have this book 'Buddy Holly & The Crickets - Musical History In Australia' -

50th Anniversary Edition' reprinted for the first time since 2008 but it will

not be the hardback edition.


I am not sure whether all those people who inquired are still with us or if

this notice will reach them but I thought I had better let people know.

It will be the bound (paperback) A4 edition (without the Discography)

edition but still consisting of 320 pages.


It features a full review of all the cities they visited, an extensive review

of the special concert they gave on 5th February 1958 and interviews and

pictures, many of them at that stage unpublished.


Release dates for all 45's. Ep's and Lp's and chart positions.


Interviews with J.I., Joe B, The Roses and Picks.


There is a lot of colour in the book once again on 100 Gsm paper.


It will not be cheap because of the small minimum requirement, the

colour within the book and the quality of the paper.


Something like $Aus158 dollars plus postage which is cheaper than the

original copies.


It is the same printer who compiled the first and second editions so you

know the quality is going to be there.


I have to get at least 10 interested parties before the printer will proceed.


Please let me know if you are interested.


Roddy

| | |
| --- | --- |
| | |
| | |
| | |
| --- | --- |
| | |
| | |
| | |
| --- | --- |
| | |
| | |
| | |
| --- | --- |
| | |
| | |
Thanks to Roddy and Lothar!



| | |
| --- | --- |
| | |
| | |
| | |
| --- | --- |
| | |
| | |

| | |
| --- | --- |
| | |
| | |
Good Morning Everyone


Our new book is now finished and shortly ready for distribution.


Graham and I have made a deal with an American Printer and all books

will be printed in Oklahoma City and then sent out to all parts of the

world.


This email is for people to formally advise me of their interest in acquiring

one.


We need a certain number of copies to be able to get the first run printed.

It is cheaper to have this done in America than locally, especially the

postage as the book is 3 lbs.


421 pages of which approximately 265 in colour.



The book is titled 'Legacies - In Pictures and Words' and covers what

we believe to be the most important legacies Holly left.


His music, Norman and Vi Petty, Maria Elena Santiago Holly Diaz

Hernandez Holly, The Post 1959 Crickets, His image and many more.


11 unpublished photos of Holly, many more of his wife family, fifteen

colour photos of the wedding taken by JI and used with his permission.


Five chapters on Norman and six on the widow!



Please let me know of your interest on this email address.


>>>> hollysbuddy1@bigpond.com <<<<


NO MONEY TO BE SENT YET PLEASE.


Roddy
| | |
| --- | --- |
| | |
| | |
| | |
| --- | --- |
| | |
| | Only 60 pages, but according to my friend Roddy worth reading. |

| | |
| --- | --- |
| | |
| | © Ronnie Wood |

On the 1st of February, 2019, 2 days before the muic died,

2 days before the 60th anniversary of the fatal plane crash,

ED FINK sent a posting to my guestbook. On his website

there are (amongst others) fantastic 360 ° Panoramas.



VISIT MY NEW PAGE AND ENJOY !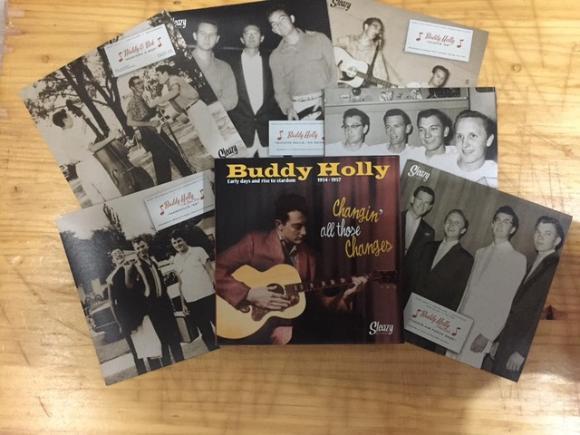 Just to let you know, Sleazy records from Spain has just released a

conmemorative Holly Box set of 6 E.P's. I know 'em well and they asked

me for help, so i helped in its design, provided some pics, wrote the liner

notes..It's a nice tribute item.

First time the '55 Wichita demos or the Oklahoma session are released

on E.P.

Just 500 were made, so wanted to let you know.

(This message was sent to my mate Roddy Jordan by one of his Spanish friends.)




And here's Roddy's comment:


https://sleazyrecords.com/es/sleazy-records/13403-legacy-of-buddy-holly-2738242358907.html


Here are the tracks - nothing new I´d say!


Many thanks to Roddy for letting us know ! And thanks to Lothar as well !

Because of the 60th anniversary of the tragic plane crash on

3.2.1959 Bear Family publishes the following CDs:
" T H E G R E A T T R A G E D Y "
Various Artists: The Great Tragedy - Winter Dance Party 1959 (CD)

1-CD with 24-page booklet, 40 tracks, including six radio broadcasts.

Total playing time 78:32 mins.

• Buddy Holly, Ritchie Valens and The Big Bopper died in a plane crash.

• February 3, 1959 will always be remembered as 'the day the music died.'

• Tribute CD with key titles from these rock 'n' roll stars.

• Plus sides by the surviving artists incl. Dion & The Belmonts, Frankie Sardo, Waylon Jennings, et al.

• Plus tribute songs and radio broadcasts.

• Newly mastered with liner notes from music expert, Bill Dahl.


February 3, 1959 will always be remembered as 'the day the music died.' On that frigid occasion, a small plane carrying Buddy Holly, Ritchie Valens, and The Big Bopper crashed in a frozen Iowa field, killing all touring three rock and roll luminaries and their pilot.

Bear Family's posthumous tribute disc to the tragedy brings together some of their greatest recordings on this one-of-a-kind collection, along with key sides from the surviving participants of the tour—Dion and the Belmonts, Frankie Sardo, Waylon Jennings, even Debbie Stevens, whose cover of If You Can't Rock Me is an unheralded classic.

There are also a series of tribute songs to the fallen triumvirate by Eddie Cochran, Ray Campi, Benny Barnes, and Hershel Almond, as well as excerpts from period radio broadcasts relaying the devastating news.

Rock and roll would never be the same—it had forever lost its innocence—but the seminal music that Buddy, Ritchie, and the Bopper gave us will never grow old.

© Bear Family
" R I T C H I E V A L E N S R O C K S "



Ritchie Valens Rocks (CD)

1-CD Digipak (6-plated) with 40-page booklet, 36 tracks.

Playing time approx. 73 mns.

• February 3 commemorates the anniversary of the death of Ritchie Valens.

• In retrospect, the young rocker had only eight months to record his entire work.

• We pay tribute to this great musician by including him in our 'Rocks!' CD-series.

• Included are his three hit records as well as a plethora of other great gems.

• Newly mastered; extensive liner notes by expert writer, Bill Dahl.

Eight months is a tremendously slim timespan to build a legacy. Yet that's all the time Ritchie Valens had to create his classic recordings, which remain revered around the world. Valens made his first sides for Del-Fi label producer Bob Keane in May of 1958, and on February 3, 1959, he was killed in the tragic plane crash that also took the lives of Buddy Holly and The Big Bopper.

In that all-too-brief period, Ritchie scored three indelible hits—his debut single Come On, Let's Go and a blockbuster double-sided single pairing Donna and La Bamba.

The teenager certainly knew how to rock, and his Bear Family disc does precisely that as Valens storms through his aforementioned hits and a plethora of other spicy gems:

Hurry Up,
Ooh! My Head,
Rockin' All Night,
Dooby Dooby Wah,

various alternate takes, and plenty more.

As a special bonus, we've included both sides of Donna Ludwig's
rare tribute single to her departed boyfriend, touchingly closing the CD.

© Bear Family
Many thanks to Gerd Muesfeldt for the information.


A mail from Australia arrived on the 19th of December, 2018

Roddy Jordan had just acquired a "MUST" for Buddy Holly fans worldwide.



This is what he wrote :


New magazine just out.

Available online to buy.

Published by Vintage Rock.