| | |
| --- | --- |
| | |
| | Buddy Holly 1958 |

If you know my Cover Song List, I'm sure you do, then you


read the name J.P. McDermott very often.


A good reason for me to ask J.P. for his Buddy related story.
Wer meine Cover Song Liste kennt, liest immer wieder den

Namen J.P. McDermott. Ein starker Grund für mich, diesen

absoluten Fan von Buddy Holly und Sänger um seine

Geschichte zu bitten, die er mir gerne geschickt hat.

Here's some general biographical info :




J.P. McDermott is a native of Washington DC. An award winning


singer, he has been playing rockabilly music around the region for


several years, in venues from beer joints to the Smithsonian


Institution.



His first record, "Last Fool Here" received airplay on radio stations


around the world, and was named Country Recording of Year by the


Washington Area Music Association.



His latest recording "It's Not Too Late" features covers of twelve


lesser-known, but beautiful songs recorded by Buddy Holly.
J.P. and the wall. He's a real Buddy nut.

J.P. McDermott - Photo by C. Zona

Here's J.P. McDermott's Story :

I came to be interested in Buddy Holly through a very

fortunate misunderstanding. Growing up in the ashington,

DC area in the 1970's I was exposed to a lot of fifties music.


There was a bit of a revival going on. One of my favorite

songs was "Run Around Sue". Browsing through some

45's in a local store, I happened on "Peggy Sue", confusing

it with the other record.


When I took it bought it and listened to it, I was surprised,

but I was hooked.


I've been a devoted fan ever since.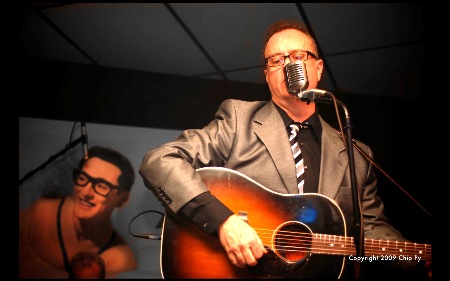 Buddy and his buddy J.P.

J.P. McDermott in 2009 - Photo by Chip Py

In college I played in a new wave band, but always managed

to get in a few Buddy Holly songs. I was playing a show at a

little dive bar in Washington DC one night in early February

1982 when it occurred to me that it was the anniversary of the

plane crash. I stopped the set, and we played the only 3 Buddy

songs we (barely) knew -- "Oh Boy", "Maybe Baby", and

"Slippin' and Slidin'". That planted an idea that would grow over

time.



Soon after I stopped playing in bands for a while -- marriage,

job, kids, etc. But I kept playing guitar in the living room, and

kept listening to Buddy's music. Around the turn of the century

I really got the itch to play live again, and started up a band.



What to call it? Western Bop, of course, after Buddy's early

business card advertising both kinds of music --


"Western and Bop".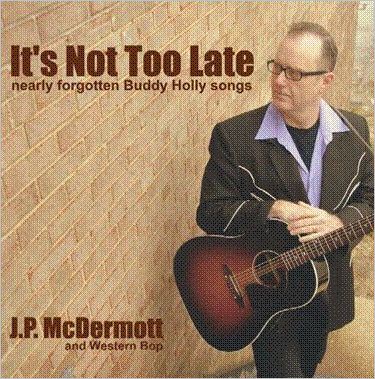 "IT'S NOT TOO LATE - NEARLY FORGOTTEN BUDDY HOLLY SONGS."

This is the superb CD with Buddy Holly cover songs by

J.P. McDermott and his band, Western Bop, from where

I took the titles for my BUDDY COVER SONG LIST.

http://www.cdbaby.com/cd/jpmcdermott2

Once I got established with the new band, I decided to do

a proper celebration of Buddy's remarkable life and music.

I gathered about 9 local bands and singers that first year

(2002) and played all Buddy all night (with the exception

of a couple of Big Bopper and Ritchie Valens numbers).



Each year the show got bigger and bigger. The 50th

anniversary was remarkable -- a huge turnout at a big

club, followed by one of the peak experiences of my life

-- giving a lecture/concert about Buddy, his life, and

musical legacy at the Smithsonian Institution!



Over the years I have gotten so much joy out of playing

this great music. We play pretty much everything Buddy

ever recorded, from "I Guess I Was Just A Fool" all the

way through to the Apartment Tapes.


There is just so much music, of such high quality, recorded

so well, and with such variety that it never grows old.


I'm sure I'll be playing it as long as I live, and hopefully

keeping it alive and fresh so that people hear it, and get

interested, and learn more for themselves.
J.P. McDermott and his band "Western Bop".

Shown here, left to right,

Bob Newscaster, Tom Bowes, J.P. McDermott, Louie Newmyer.

Thanks again for your interest, and keep up the great work!

J.P. McDermott

A big THANK YOU to J.P. from Hans, editor of BUDDY HOLLY LIVES !