| | |
| --- | --- |
| | |
| | Winter Dance Party Logo |

| | |
| --- | --- |
| | |
| | SURF BALLROOM - Clear Lake IA |
The crash of '59 claimed the lives of Buddy Holly, Ritchie Valens, J.P. "Big Bopper" Richardson and the pilot, Roger Peterson. The year was 1959 and the "The Winter Dance Party Tour" was under way. They had just finished performing at the Surf Ballroom on a cold winter's night in Clear Lake, Iowa. They were bound for Moorhead, MN. They never made it.

The tour bus developed heating problems and broke down while in route to Clear Lake Iowa. Other means of transportation had to be arranged. Carl Bunch, the drummer for Buddy Holly, developed frostbite and had to be taken off the bus and hospitalized. That would be the last time he saw Buddy. The tour bus finally arrived at the Surf Ballroom in Clear Lake at 7:30 pm. They were met at the door by the manager, Carroll Anderson. They were all cold, tired and disgusted. There were 1200 teenagers waiting outside in sub zero temperatures eager to pay $1.25 to see their idols. The majority of them were chaperoned by their parents.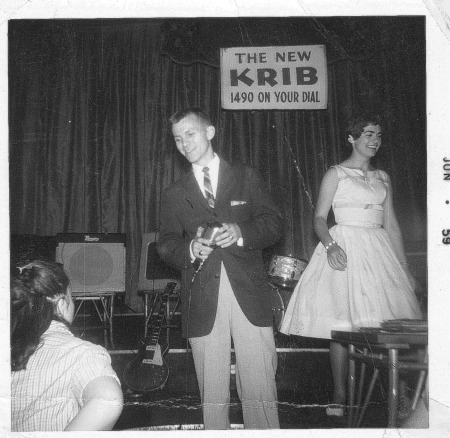 Bob Hale pic from the Surf, 1959, not from that final day.

The show started on time at 8 pm. Bob Hale would MC the event. Buddy didn't have enough money to replace Carl Bunch on the drums so he swapped guitar for drums and back again during his performance. He closed the first half of the show at 9:30 pm. Buddy had had enough of the unheated bus and needed some much need sleep and clean laundry. With the help of Carroll Anderson he chartered a plane for himself and his guys. The flight cost $108.00 total. Only three people could be accommodated.

Jerry Dwyer, from Mason City Iowa lived in Clear Lake Iowa. He was the owner of the flight service. At the time of the call he didn't know who the passengers were going to be. A young 21 year old pilot named Roger Peterson, who worked for Jerry Dwyer's Flying Service, agreed to fly them. He had been a pilot for four years. It was later discovered that his records noted a hearing disability and a tendency to panic during night flights when forced to rely solely on his instruments. That night the weather was bad, with flying advisories out. Only instrument trained pilots could handle, but the Dwyer planes weren't licensed for instrument flying, plus Peterson had recently failed his instrument test.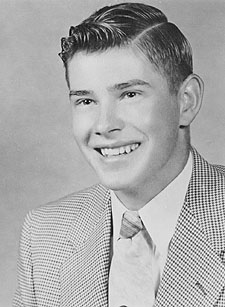 &nb