7. September 2007.

Ein besonderer Tag für
alle Buddy Holly Fans:

An Buddy's Geburtstag kam eine bemerkenswerte neue CD heraus.

Mein Freund John Beecher hat das Project mit Rollercoaster Records realisiert.



This is what my friend John Beecher told me about

a very important new Buddy CD on

Rollercoaster Records from England.


Rolapak 2 CD






This package covers Buddy Holly's pivotal recordings of 1956 and includes
studio masters not only previously unissued but whose very existence will
be unknown to even the most committed of fans. There's also more session
talk than has previously been made public, together with superior sound
quality versions of some tracks that have been released; also included is a
detailed 36-page booklet with notes by John Ingman and several previously
unpublished photographs.




This is, to use an overworked phrase, a 'must' for Buddy Holly fans - and
Rollercoaster's most exciting release since their Something Special from
Buddy Holly LP in 1986. The full track listing is as follows:




CD1:
Love Me
Don't Come Back Knockin' (previously unissued)
Don't Come Back Knockin'
Midnight Shift (previously unissued false start)
Midnight Shift (previously unissued)
Midnight Shift
Blue Days, Black Nights
Baby Won't You Come Out Tonight
I Guess I Was Just A Fool
It's Not My Fault
I'm Gonna Set My Foot Down
I'm Changin' All Those Changes
Rock-A-Bye Rock
Because I Love You
Rock Around With Ollie Vee (fragment)
Rock Around With Ollie Vee
I'm Changin'All Those Changes
That'll Be The Day
Girl On My Mind
Ting-A-Ling
Rock Around With Ollie Vee
Modern Don Juan
You Are My One Desire (false start)
You Are My One Desire

CD2:
Have You Ever Been Lonely
Bo Diddley
Ain't Got No Home
Holly Hop
Gone
Gone
Gone (previously unissued)
Have You Ever Been Lonely
Have You Ever Been Lonely
Have You Ever Been Lonely (previously unissued complete)
Brown-Eyed Handsome Man
Good Rockin' Tonight
Rip It Up
Blue Monday
Honky Tonk
Blue Suede Shoes
Shake, Rattle & Roll
Bo Diddley
Brown-Eyed Handsome Man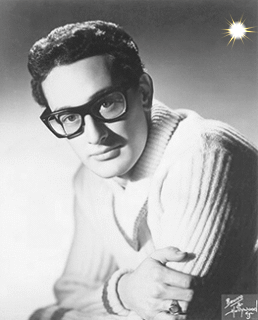 Nearly all of the twenty-four studio tracks on CD1 were
sourced from the original quarter-inch tape masters.


Because of the age of these tapes and the fact they were
not always stored in optimum conditions, we have done
our best to restore the sound and technical quality to
what it was originally as much as possible.




In doing so and in order to present some fragmented
recordings for your listening enjoyment, we have also
created complete versions of two tracks where they did
not exist originally.





It is unfortunate that Decca Records did not generally retain out-takes from
their sessions in 1956 as these would be fascinating to hear today (they were taped over or removed from the original reels so that the tape could be
re-used) Some idea of the quantity of these can be guessed from the take
numbers – although 'take 76' in the case of Modern Don Juan can hardly be
taken seriously, especially as the 'slate' does not include the master number
as most others do. It is frustrating to hear a take number announced and
realise that the actual take has been removed. Careful listeners may also
hear the remains of previous recordings which were recorded over but not
completely erased - examples of these can be heard very faintly at the ends
of a couple of tracks. We are fortunate indeed that a couple of out-takes did
survive, probably by accident, and that after all this time Buddy's fans are
able to hear them in such great quality.



The tracks on CD2 were mostly recorded on a home recorder in Holly's garage in Lubbock, Texas and thus some defects in the sound quality will remain. We have done our best to minimise any faults on these historic recordings.


However, they are, simply, the best and most exciting early recordings of
Buddy Holly, featuring for the most part, Buddy on vocals and guitar and Jerry Allison on drums – forget the White Stripes, this is rock'n'roll's finest duo!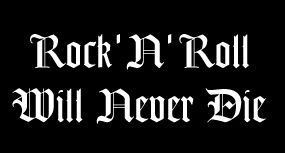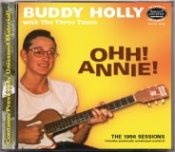 Jewel Case 2 CD