| | |
| --- | --- |
| | |
| | Buddy Holly, UK 1958 |



Am 21. März waren Tommy Allsup und Johnny Rogers die Stargäste im total

ausgebuchten Queen's Hotel in Blackpool mit 250 begeisterten Zuhörern.

All photos courtesy of Paul King


Queen's Hotel Blackpool - Friday 21st March, 2008

This was third of four Tommy Allsup and Johnny Rogers shows I was fortunate to

attend. I travelled with them on the mini-bus from Liverpool to Blackpool's Queen's

Hotel. Also on board was my wife Dot, Johnny's wife and two children, and our host

Tony Marsh.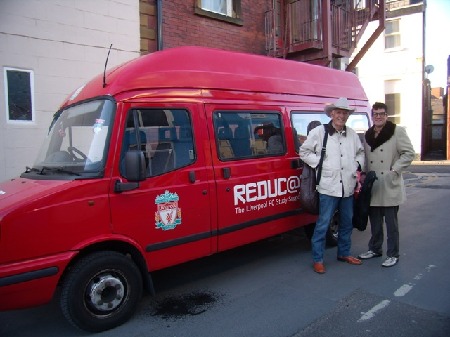 Johnny Rogers and Tommy Allsup with the Tour van, it belongs to Liverpool FC!

After setting up at the seafront hotel we separated and visited the nearby funfair

and slot machine arcades! We then regrouped and together with the the duos

backing band 'Juke Box Eddies' we feasted on fish, chips and peas - what else

when in Blackpool?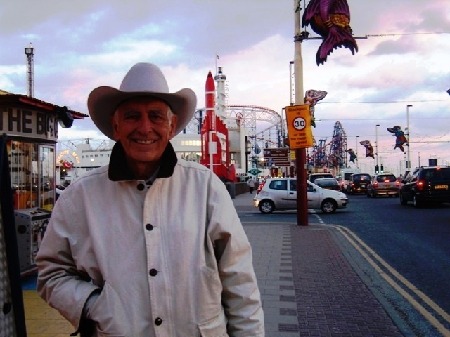 Tommy Allsup by the sea at Blackpool, near South Beach Pleasure Park

Back at the venue an expectant audience of around 250 hotel guests, members of

Blackpool Rock 'n' Roll Society and other fans including some who had travelled

great distances waited in anticipation. George had travelled from Derbyshire, as he

had done for three previous shows, Ted had made the long journey from Wiltshire.

Some of the 250 strong audience at the Queen's Hotel

A DJ played the opening session to get the Blackpool R 'n R Society dancers in good

form. Mike Byrne's splendid 'Juke Box Eddies' then played for more than

an hour. Mike on keyboard and lead vocals, Ray on slap bass, Geoff on lead and

steel guitar, Jimmy Hughes on the drums. We were treated to some great rock 'n'

roll standards to get us warmed up for the main event.

Tommy Allsup, Johnny Rogers and Tony Marsh with fan Dot King

At around 10.30 pm, Tommy and Johnny came on to a rousing reception and

swung right into some classics - 'Maybe Baby', 'Think It Over', 'It Doesn't Matter

Anymore', etc. By the time the set had finished at 12.15am we had

experienced yet another wonderful show. A standing ovation followed with loud

cheering and whistling which naturally brought the boys back for an encore. This

included a terrific version of 'Crying, Waiting, Hoping' - easily the best rendition I've

ever heard with a double guitar break (as often happened with these boys) by

Tommy and Johnny. 'Not Fade Away' followed leading into the final

song 'Mona'. Wow!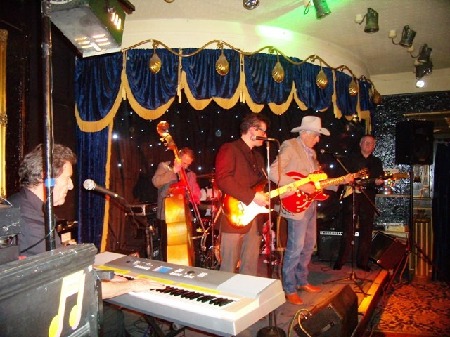 Juke Box Eddies members Mike (keyboard) and Ray (double bass) with Johnny Rogers, Tommy Allsup and Tony Marsh

'Juke Box Eddies' provided the backup as they often did on the tour, with Tony

Marsh taking over from Geoff but playing rhythm guitar (although I'm sure he was

trying hard to get the lead at times!). Mike Byrne and Tony did a terrific job too on

accompanying vocals.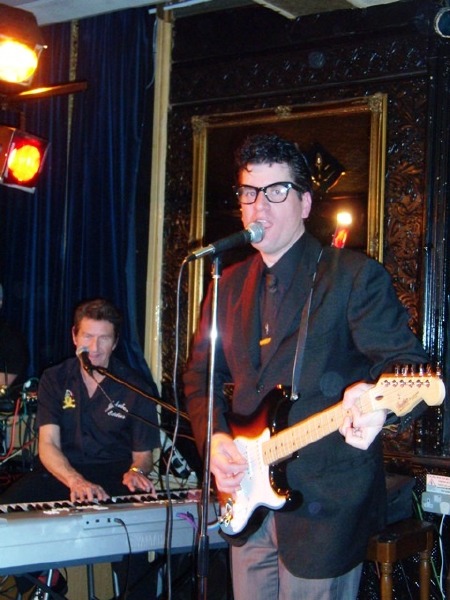 Mike Byrne and Johnny Rogers

If you're a 'buddyhollic', Tommy and Johnny are unbeatable. If you're not, then

you will become a 'tommyandjohnnyhollic' because these two are truly sensational.

Without doubt, this is the finest Buddy Holly Tribute act in the world - ever. At the

end of each of the three shows I had the fortune to attend, I felt emotionally

drained, as did all other 'buddyhollics' present.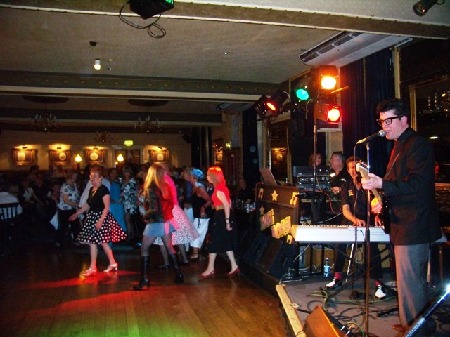 Johnny Rogers singing with the Blackpool Rock 'n' Roll Society dancers

Thank you Johnny, for giving us those wonderful Buddy numbers we don't hear

elsewhere - 'Little Baby', 'Dearest', 'It's Too Late', 'An Empty Cup', 'You've Got

Love', 'Take Your Time', and many, many more. I've known and seen Tommy and

Johnny play for several years now, and they just get better and better. Tommy of

course is the maestro, and has undoubtedly influenced Johnny. Incredibly, it is also

true that Johnny has brought out the very best in Tommy - long may it continue.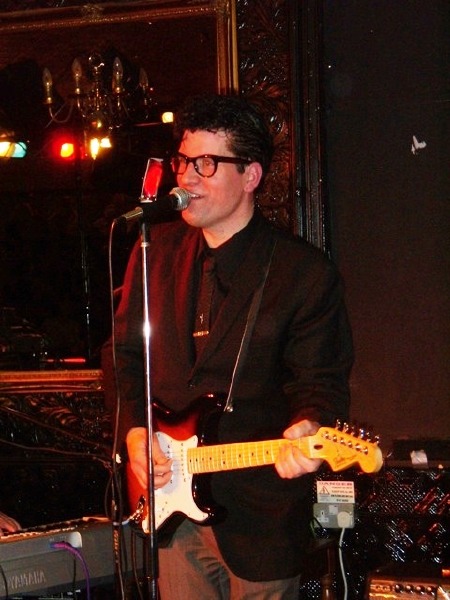 Johnny Rogers

A huge vote of thanks also goes to Tony and Nona Marsh who made this whole

tour possible. They kindly hosted Tommy and Johnny and his family at their home

for over two weeks. Tony coordinated all the conditions necessary to make all the

shows we witnessed a great success.

PAUL KING

Johnny Rogers


Kudos to Paul King for his great report from Blackpool.

Hans

| | |
| --- | --- |
| | |
| | Keeping the flame alive and burning bright : |





Wie gehts, Hans?

Great site you have, amigo. Estoy muy contento de todo.

Buddy would be very proud of your display honoring him.

He truly was one of the principal pioneers of rock and roll. I was in my late teens when he hit the airwaves, which resulted in me becoming one of his ardent fans.

Tu Compadre para siempre,

Dick Stewart

Editor - "The Lance Monthly"