BUDDY's GRAVE IN LUBBOCK TX

Photo courtesy C. Curry 2009

Part of the Clear Lake Mirror Reporter Article

" One week and counting...The Surf Ballroom prepares for a historic week " " The numbers are staggering: Seven hundred forty-seven room nights reserved at local hotels. One-hundred seventy-five volunteers putting in more than 5,000 hours. Sixty trips planned to airports in Minneapolis, Des Moines and elsewhere to pick-up and deliver entertainers, crews and other guests to Clear Lake.

And that's just the tip of the list organizers of next week's 50 Winters Later Tribute at the Surf Ballroom are compiling. "We're still trying to get our arms wrapped around all of this," said Laurie Lietz, executive director of the Surf Ballroom & Museum/North Iowa Cultural Center and Museum. Lietz remains calm, cool and collected amid a flood of messages and spread sheets detailing every aspect of scheduling for the nearly week-long event.

The 50th anniversary of the original Winter Dance Party, featuring Buddy Holly, Ritchie Valens, J.P. "the Big Bopper" Richardson and others has dominated every day of the job she accepted almost one year ago. "Planning started Feb 18, 2008 -- as last year's event closed -- for a way to commemorate this special year," said Lietz, who accepted the post at the Surf Ballroom days after it was announced a non-profit organization would handle day to day operations at the famous ballroom…continued -

Marianne Morf (Editor).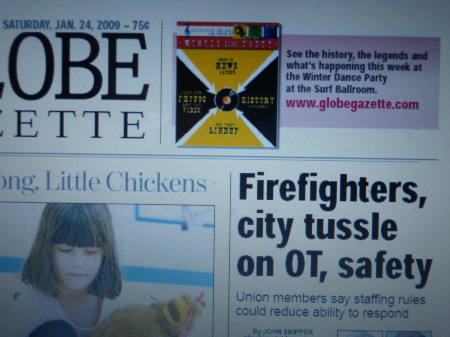 Mason City Globe Gazette


Commemorating the life and times of Buddy Holly, Ritchie Valens, J.P. 'The Big Bopper' Richardson…News…Photos…Video……History...Memorabilia…Lineup…See the history, the legends and what's happening this week at the Winter Dance Party at the Surf Ballroom globegazette.com

Part of the article posted January 25, 2009. Mason City Globe Gazette



" As tragic as the deaths of three young aspiring rock musicians was, JERRY and BARB DWYER of Clear Lake can't forget the fourth victim of that fateful 1959 plane crash — pilot ROGER PETERSON, 21, a Dwyer Flying Service employee, was flying the plane carrying Buddy Holly, Ritchie Valens and J.P. "The Big Bopper" Richardson that crashed north of the Mason City Municipal Airport on Feb. 3, 1959. The Alta, Iowa, native showed up at Dwyer Flying Service in Mason City in early 1958 looking for a job. "He was such a nice, clean-looking, nice looking, clean-cut young man," Barb recalled. Jerry was out of town that day. "He (Peterson) had said he'd do anything but he wanted to fly. He'd been flying ever since he was a kid because his father owned a small aircraft. "I told him as far as I'm concerned you're hired. But Jerry would have to have the final say-so." The Dwyers hired Peterson. Peterson married his high school sweetheart Leanne Lenz in September 1958. "She worked at KGLO-TV," Barb said.

"They were married and they moved to Clear Lake and they lived on North Shore and she worked at the TV station and they'd been married not a year yet when this happened. "She was very kind of quiet, reserved but friendly, very nice. She made friends easily. "We had a group of young people that worked for us. They would all get together and sometimes we'd join them, too. "At that time, we were all pretty young and we did a lot of things together," Barb said.That same year, at Peterson's urging, the air service bought a four-seat, 1947 Beechcraft Bonanza, a fast and sophisticated plane for the time and an aircraft Peterson had always wanted to fly. It was the plane he was flying the night of the crash.

Peterson was an experienced pilot, Jerry said. "He'd been out to the East Coast. He'd been all over for us flying these airplanes. I mean he flew all the other airplanes we had," Jerry said. Jerry strongly disagrees with the conclusion of the Civil Aeronautics Board that the most likely cause of the crash was pilot error. "What got me is they said he was not familiar with this airplane, which was a crock. If you drove your car out to California and back and to New York and to Florida a few times you would probably know how the lights worked and a few other things," Jerry said. Jerry has his own theories about what caused the crash. But he doesn't want to share them right now. He plans to discuss that in a book he is writing about the accident. The CAB concluded that the secondary cause of the crash was poor weather conditions. That's another finding that the Dwyers dispute.." It was not snowing at that stage. When the airplane left I could see the wing lights and the taillights," Jerry said. "The weather service here told Jerry that there should be no problem with the flight," Barb said.

The weather was expected to deteriorate in Fargo, N.D., where the plane was heading, but the weather in Mason City was no problem, the Dwyers said. The flying time from Mason City to Fargo, was about 90 minutes. The flight for the rock musicians for their next gig in Fargo was booked by someone from the Surf Ballroom. "They said they had some young men that didn't want to go on the bus and that they wanted to go to Fargo, N.D.," Barb said. Jerry told Barb that he might be getting a late-night call. He was thinking of having Peterson stay the night in Fargo if the weather worsened. "No phone call. Jerry was up all night calling. He called everywhere. He called everywhere on the route that he would have gone. He talked to every FAA station there was," Barb said. "You can't get the phone number of Fargo tower. You can't get it," Jerry said. He eventually was able to get the number from some friends.

The plane never got to Fargo. Jerry found the plane wreckage the next morning. "It took me about six minutes to find the airplane," he said. That's the only accident the Dwyers have ever been involved in. In the furor of the moment, the Dwyers received death threats. "Every year for a while we just got out of town to our place on Florida. We avoided it," Barb said. "There were some people that hated my guts," Jerry said. Peterson has stayed in their hearts. The responsibility of putting him in the plane that night is never far from their minds. Barb said Deanne Peterson eventually remarried and moved to Minnesota. "Anybody that had any children would love to have him for a son," said Jerry, fighting back tears. " He was a ood looking, smart kid that listened and did a good job," Jerry said. Mason City Globe Gazette. "

JIM COLLISON thinks the call came in at about 9:30 a.m. But it could have been 10 o'clock, he said. After 50 years, the hands on the clock of memory get a little fuzzy. The late Thor Jensen, the crusty, no-nonsense city editor of the Globe Gazette, got the call. " There had been a plane crash," he said. "With fatalities." Jensen dispatched Collison, the county reporter, and photographer Elwin Musser to the crash scene in Clear Lake.

It was Feb. 3, 1959, a date to be remembered in folklore as "the day the music died." Singers Buddy Holly, Ritchie Valens and J.P. Richardson, better known as "The Big Bopper," had performed at the Winter Dance Party at the Surf Ballroom the night before. After the concert, they boarded a private plane at Mason City Municipal Airport to take them to their next gig in Fargo, N.D. The plane crashed shortly after takeoff, killing everyone aboard, including the pilot, Roger Peterson.

Collison and Musser knew none of this as they headed to the airport when the wreckage was spotted, several hours after the crash. All they knew was it was bitterly cold and they had a deadline to meet. In those days, the Globe Gazette was an afternoon newspaper so they had to hustle. They rode to the scene together in Musser's car. Elwin Musser, 89, said when they got there, they found that police had blocked the path to the crash site because the coroner had not yet arrived. He and Collison stayed in his car to stay warm and Musser turned on his car radio while he waited.

It was then that he learned the three singers had been killed in a plane crash in Iowa. And it all came together for him. So, while Musser and Collison were the first news people on the scene, they were not the first to report it to the rest of the world. The word was already out. "I had vaguely heard of Buddy Holly but I was not a fan of that kind of music," said Musser. When the coroner Ralph Smiley came, he and Collison followed him to the crash scene. He took many photos, including some with Collison in them, notebook in hand, scribbling notes as best he could in the frigid temperatures. Musser said the men did their jobs as quickly as possible and then quickly headed back to the office.

"I knew we'd be getting phone calls, and we did," said Musser. "I was sending pictures to The Associated Press while I was doing pictures for the Globe. I was one busy paper-hanger that day." Collison, 75, estimated he and Musser waited about a half-hour for the coroner to arrive and had to hustle to do their work and get back to the Globe. "While we were out there, Thor was at the office working the phones. He already had the lead and some of the story written by the time we got back. I filled in the rest with the details. That's why the story that appeared in the paper that day had no byline," said Collison. Like Musser, he said he didn't know who the victims were until he was at the scene. He does not recall hearing the names on the car radio. How did he learn their identities?

"My practice as a reporter was to ask questions, so I imagine I asked," he said. One of the investigating sheriff's deputies was Duane Mayfield, a personal friend of Collison's, and he thinks Mayfield may have filled him in. (When Mayfield retired from the sheriff's department, he became an insurance adjuster — and his specialty was investigating airplane crashes, said Collison.) He's amazed at all the attention the plane crash has gotten over the years. "If 50 years ago, somebody had told me this, I would have been very surprised," he said. "Of course the loss of human life was tragic, but I was not familiar with the singers or a fan of their music."To tell you the truth, about a month before the plane crash, I covered a fatal accident down in Dows on New Year's Eve. "In my mind, the story I wrote about that fatality, coming as it did on New Year's Eve, was much more interesting and significant."



In 1972, Don McLean had a No. 1 hit single with 'American Pie', which recounted 'the day the music died,' his reaction to the news of Buddy Holly's death when Don was a young boy delivering newspapers in 1959.

My account is even more personal, since I was at the Surf Ballroom for that last concert on Feb. 2, 1959, and was also at the crash site the next morning after hearing the news on the radio. I was there. In 1959, I was 15 years old and a sophomore at Joice High School.

There was always a teen dance night at the Surf Ballroom in Clear Lake, with a bill that usually included several good bands. The Surf would fill up with teenagers from all over North Iowa. The bands usually started at 8 p.m. and finished at midnight. There was no drinking and no smoking, just good music and dancing. I was too young to drive, so my dad always gave me a ride and waited for me.

The Winter Dance Party poster for Feb. 2, 1959, had all the kids talking at school. Buddy Holly, Ritchie Valens and the Big Bopper, Dion and the Belmonts, all on the same night ! From a 15-year-old girl's perspective, Buddy Holly was great performer, but he was a 22-year-old married guy, the Big Bopper was ancient at 28, but Richie Valens was 17, close to our age, and all the girls loved him.

I saved up babysitting money for weeks to earn enough for the ticket, and had nothing left over for popcorn or pop. I did manage to buy a couple of yards of cloth at Field's Store in Joice to make a new pleated skirt for the dance. I called it my "Banana Boat" skirt, in honor of Harry Belafonte's hit single "The Banana Boat Song," since there were calypso people in the print of the fabric. Combined with a white blouse, red scarf and saddle shoes, I had my outfit ready. I still have the skirt and scarf.

On the Monday night of the concert, light snow was falling, and Dad didn't want to take me. I begged and begged and he relented, agreeing to drop me off at the Surf and visit my aunt and uncle, Mildred and Harry Percy, in Clear Lake, until the dance was over. There were about 1,000 kids there that night, which wasn't a great turnout since the Surf would hold 2,300 people, but the attendance was probably lower than expected due to the weather.

The groups played all of their hits — Buddy Holly did "Peggy Sue," "Oh Boy," "Maybe Baby," and "That'll Be The Day"; Ritchie Valens did "La Bamba," "Let's Go," and "Oh Donna"; the Big Bopper did "Chantilly Lace" and "The Big Bopper's Wedding." I remember when the Big Bopper came on stage, because at first there was only a telephone on a stand in the middle of the stage. The phone rang, the Big Bopper walked out in his leopardskin jacket and answered it with "Hello-o-o-o, baby!," and the crowd went wild.

When Ritchie Valens was singing, all of us girls were up in front, trying to get as close to him as possible. At the Surf teen dances we spent most of our time dancing, not sitting around and listening. I remember dancing with a couple of guys from Clarion, and it was always fun to meet new people from towns you had hardly heard of before. But all too soon it was 12 and the show was over.

Dad was waiting for me in the Surf lobby. We drove home through the snow, and Dad said again that it was against his better judgment to go out that night. The next morning Dad pounded on the kitchen ceiling with a broom handle to wake me up in the bedroom directly above, and said the radio news just reported that there had been a plane crash with some musicians on board.

I listened to the next report and started crying, and insisted that we go down to the crash site. Surprisingly, Dad agreed and loaded everyone up in the family Chevy and we headed to the site northwest of Clear Lake, about 9 miles south of our farm. It was cold and windy as we trudged through the snowy field to the crash site.

The plane wreckage was against a fence line with lots of debris scattered about. I remember someone or something covered with a blanket. I remember police officers trying to keep people back, voicing concerns that they didn't want the scene disturbed or anything to disappear.

I walked along the fence line, trying to see what I could, then got back into the '57 Chevy with the family, crying, causing my younger sisters, Gloria and Kathy, to start crying as well. Dad got us back in time to catch the school bus, and I remember Karen Dahlby sobbing on the bus after she heard the news. That's all we talked about at school that day, and radio stations KGLO in Mason City and WDGY in Minneapolis, the two stations I usually listened to, played the music of Buddy Holly, Ritchie Valens, and the Big Bopper over and over again, for days. And then — nothing.

Twenty years later, D.J. Darrell Hensley, aka The MAD HATTER, held the first Buddy Holly Memorial concert at the Surf. He liked to refer to the event as the Mad Hatter's Tea Party. I lived in Clear Lake at the time and was excited to be part of the revival. The first year the crowd was thin, but continued to grow over the years. The movies about Buddy Holly and Richie Valens helped spread the message, and the reunion grows bigger and better every year. This year, the 50th anniversary of the Winter Dance Party should prove to be a great event. I've got my ticket, and might even wear my red banana boat skirt and scarf from 50 years ago. Any of you Clarion boys care to dance ? "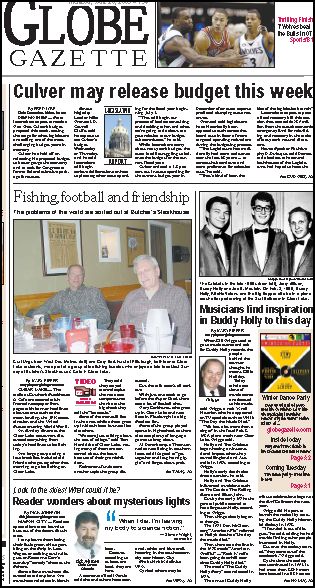 Mason City Globe Gazette


"Musicians find inspiration in Buddy Holly to this day" " Winter Dance Party - keeping up with the latest news from the '50 Winters Later' tribute by clicking globegazette.com… Inside today – Why aren't The Crickets in The Rock and Roll Hall of Fame ? A2...Coming Tuesday The Dance Party – From then to now…A1. " When Bill Griggs used to go to music stores and ask for Buddy Holly records, the people behind the counter thought he mean't Billie Holliday…by the early 1970s the general public seemed to have forgotten…according to Griggs…then things slowly began to change…1971 hit 'American Pie'…1973 film 'American Graffiti' with noted Holly boost…1978 film 'The Buddy Holly Story'…1979 Surf tributes began…Griggs did his part… by launching the Buddy Holly Memorial Society in 1975 " I founded it out of disgust "…he had trouble finding other people interested in Holly but once the society started they 'came out of the woodwork' Griggs said…by the time the society was terminated in 1991 it had more than 5,500 members located in all 50 states…see HOLLY A2 - Mary Pieper.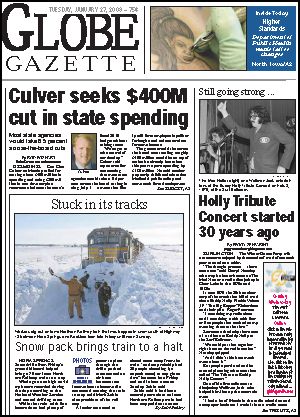 Mason City Globe Gazette


" Still going strong…" " Holly Tribute Concert started 30 years ago — The Winter Dance Party tribute concerts enjoyed by thousands of music fans each year started on a whim. " The thought process — there was none," said Darryl Hensley, who may be better known as The Mad Hatter, a radio disc jockey… see TRIBUTE, A2 - Peggy Senzarino, Burlington " .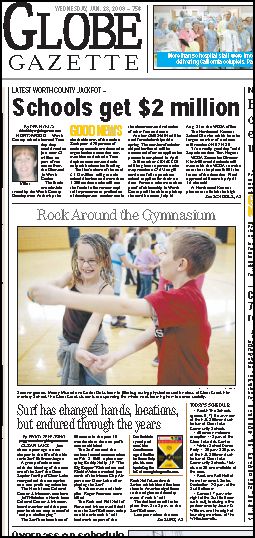 Mason City Globe Gazette

" Rock Around the Gymnasium " " Surf has changed hands, locations, but endured through the years…see SURF, A2 - Peggy Senzarino " " Today's Schedule...Rockin The Schools…Afternoon Welcome Reception… at The Clear Lake Arts Center…Winter School Dance Party…Rock and Roll Hall Of Fame Landmark Series Dedication…Concert: 7pm-Midnite at The Surf Ballroom (Sold Out) featuring Jason D. Williams and the original founding members of The Whitesidewalls "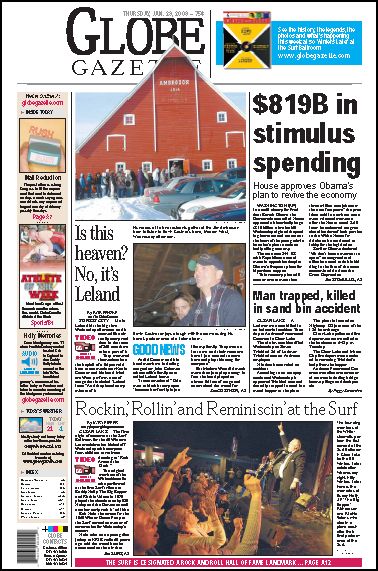 Mason City Globe Gazette

" Rockin', Rollin' and Reminiscin' at the Surf…Clear Lake – The first night of concerts at the Surf Ballroom for the 50 Winters Later celebration kicked off Wednesday with everyone from children to retirees dancing to 'Rock Around The Clock'. The original members of the Whitesidewalls, who performed at the first Surf tribute to Buddy Holly, The Big Bopper and Ritchie Valens in 1979, played the classic tune by Bill Haley and the Comets as well as other early rock 'n' roll hits.

Bob Hale, the emcee for the 1959 Winter Dance Party at the Surf, served as master of ceremonies for Wednesday's concert. Hale, who was a young disc jockey at KRIB radio 50 years ago, told the crowd how he announced on the air that…see SURF, A2 …The Surf Is Designated A Rock And Roll Hall Of Fame Landmark… page A12 - Mary Pieper "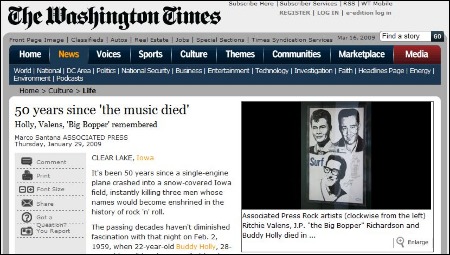 The Washington Times online


" 50 years since 'the music died' Holly, Valens, 'Big Bopper' remembered…Thousands of people were expected to gather Wednesday in the small northern Iowa town…" plus apt quote from California scribe & fan Jim Dawson " They say these things come in threes. Well, all three happened at the same time." Plus " Associated Press Rock Artists" 3-Stars art poster. – Marco Santana, Associated Press –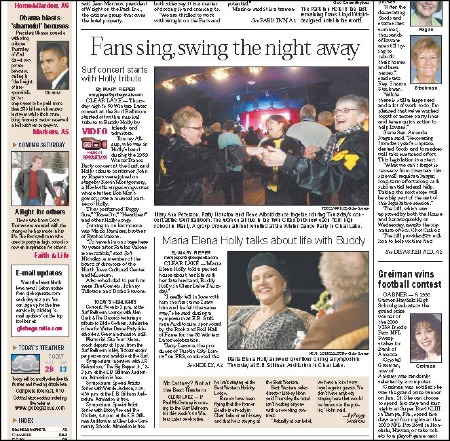 Mason City Globe Gazette

" Fans sing, swing the night away… Surf Concert Starts with Holly tribute. " "Thursday night's '50 Winters Later' concert at the Surf Ballroom started off with a musical tribute to Buddy Holly by friends and admirers. Tommy Allsup, who was in Holly's band during the 1959 Winter Dance Party concert at the Surf, and Holly tribute performer Johnny Rogers were joined onstage by Kevin Montgomery, a Nashville singer-songwriter whose father, Bob Montgomery, was a musical partner of Holly. They performed 'Peggy Sue', 'Rave On', 'Heartbeat' and other Holly songs. Joining in on harmonica was Mario Ramirez, brother of Ritchie Valens. ' To have him on stage here 50 years after Ritchie Valens is incredible,' said Jeff Nicholas, a member of the board of directors of the North Iowa Cultural Center and Museum. Also scheduled to perform were The Comets, Johnny Tillotson and Dodie Stevens." (Center double-panel with pic of jiving local ladies, and pic of smiling Maria-Elena in a dark beret), " Maria Elena Holly talks about life with Buddy. Maria Elena Holly told a packed house about her life with her late husband, Buddy Holly, in Clear Lake Thursday." "I really fell in love with him the first time I saw him and he felt the same way," she said during a symposium at E.B. Stillman Auditorium sponsored by the Rock and Roll Hall of Fame for the 50 Winters Later celebration. Terry Lacona, the producer of "Austin City Limits" on PBS, conducted the…see HOLLY, A2 " – Mary Pieper. Plus, " McCartney ? Not at the Best Western Clear Lake — If Paul McCartney is coming to the Surf Ballroom for this week's 50 Winters Later celebration, he isn't staying at the Best Western Holiday Lodge. Rumors have been flying that the former Beatle is already in Clear Lake or on his way and that he is staying at the Best Western. Best Western sales director Libbey Hohn said Thursday the hotel isn't hosting anyone with a recording contract. "Actually at our hotel, we have a lot of very loyal regular guests. We don't have anybody staying here that would be famous to the public," Hohn said.— By Peggy Senzarino. Plus " Today's Highlights.. Concert: Noon to 3 p.m. at the Surf Ballroom Lounge with Alan Clark & The Classics featuring a tribute to Eddie Cochran. Admission is free for Winter Dance Party ticket holders. General admission is $5. Memorial Site Tour: Motor coach departs at 1 p.m. from the Surf Ballroom lobby. Tickets are $7 per person and available at the Surf. Symposium: Interview with J.P. Richardson, "The Big Bopper Jr.," 2-3 p.m. at the E.B. Stillman Auditorium. Admission is free. Symposium: Special Artists Series with Wanda Jackson, 3:30-4:30 p.m. at the E.B. Stillman Auditorium. Admission is free. Symposium: Special Artist Series with Bobby Vee and The Crickets, 5-6 p.m. at the E.B. Stillman Auditorium at Clear Lake Community Schools. Admission is free."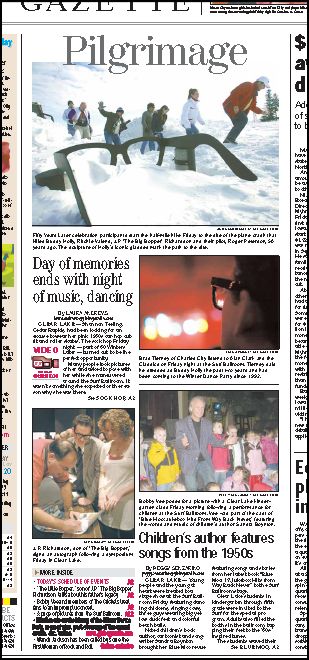 Mason City Globe Gazette

" Fifty Years Later celebration participants start the half-mile hike Friday to the site of the plane crash that killed Buddy Holly, Ritchie Valens, J.P "The Big Bopper" Richardson and their pilot, Roger Peterson, 50 years ago. The sculpture of Holly's iconic glasses mark the path to the site. Day of memories ends with night of music, dancing. By Laura Andrews Clear Lake — Shannon Teeling, Cedar Rapids, had been looking for an excuse to wear her pink 1950s car-hop outfit and roller skates. The sock hop Friday night — part of 50 Winters Later — turned out to be the perfect opportunity. Many people took pictures of her and asked to pose with her while she maneuvered around the Surf Ballroom. It wasn't something she expected or the reason why she was there. Teresa Prince/The Globe Gazette. Brad Tierney of Charles City listens to Alan Clark and the Classics on Friday night at the Surf Ballroom. Tierney said he dressed as Buddy Holly the past two years and has been coming to the Winter Dance Party since 1992..' Peggy Senzarino/The Globe Gazette. 'Bobby Vee poses for a picture with a Clear Lake kindergarten class Friday morning following a performance for children at the Surf Ballroom. Vee was part of the cast of "Blue Moo: Jukebox Hits From Way Back Never," featuring the words and music of children's author Sandra Boynton. Children's author features songs from the 1950s By Peggy Senzarino. Clear Lake – Young people and the young at heart were treated to a stage show at the Surf Ballroom Friday featuring dancing chickens, singing cows, three guys wearing big yellow duck feet and colorful beach balls. Noted children's book author, cartoonist and songwriter Sandra Boynton brought her Blue Moo revue featuring songs and stories from her latest book "Blue Moo: 17 Jukebox Hits from Way Back Never" to the Surf Ballroom stage. Clear Lake students in kindergarten through fifth grade were invited to the Surf for the special program. Adults also filled the booths in the ballroom, tapping their feet to the '50s inspired tunes. The students waved their …See Blue MooA2 Video Online at globegazette.com. " J. P. Richardson, son of "The Big Bopper," signs an autograph following a symposium Friday in Clear Lake. • Today's Schedule Of Events A2 • "The Little Bopper," son of J.P "The Big Bopper" Richardson, talks about his father's legacy. A2 • Bobby Vee and members of The Crickets treat fans to an impromptu concert. A2 • A page of pictures from the Surf Ballroom. A12 • Much more on the history of the Winter Dance Party, more photos, past coverage of the annual events, etc., online. • Wanda Jackson has been called by some the First Woman of Rock and Roll. Online exclusive See Sock Hop, A29..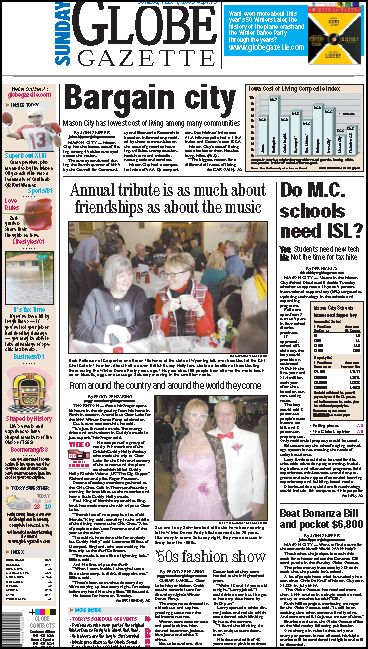 Mason City Sunday Globe Gazette


" Annual tribute is as much about friends as about music ". " Barb Patterson of Carpenter, and Karen Titchener of the state of Wyoming talk over breakfast at the Chit Chat Cafe in Thornton " " but about half a dozen British Buddy Holly fans started a tradition of breakfasting there during the Winter Dance Party years ago. This year about 90 people from all over the world feasted on biscuits, eggs and sausage Saturday morning in the small town cafe. - From around the country and around the world they come By Peggy Senzarino." " Thornton — Steve McGregor spent 22 hours in the air getting from his home in Perth in western Australia to Clear Lake for the 2009 Winter Dance Party celebration. But it sure was worth it, he said. 'It's just fantastic music. The energy, drive and enthusiasm in Buddy's music is just superb,' McGregor said. He was part of a group of nearly 180 members of the British Buddy Holly Society who made the trip to Clear Lake for the 50th anniversary of the concert and the plane crash which killed Buddy Holly, Ritchie Valens, J.P. 'The Big Bopper' Richardson and pilot Roger Peterson. Dozens of society members gathered at the Chit Chat Cafe in Thornton Saturday morning for breakfast, to share stories and hear a little Buddy Holly music. Paul King of Northhamptonshire, England, has made more than 20 trips to Clear Lake. 'There's lots of new people, a lot of old friends,' King said, standing in the middle of the dining room at the Chit Chat. 'A lot of people we don't see from one end of the year to the other.' 'I wouldn't have done this for anybody but Buddy Holly,' said Lawrence Elliott of Liverpool, England, who was making his first trip to the Surf Ballroom. ' The music, it was like a lightning bolt, ' Elliott said. And his first trip to the Surf ? 'When I went inside, I thought it was like a time warp. It didn't disappoint me,' Elliott said. 'There's been so much to do every day. We're staying up late every night. I'm asleep before my head hits the pillow,' Elliott said. He leaves for home on Tuesday. See Friends, A3 Teresa Prince/Globe Gazette " — " Clear Lake, Mayor Nelson Crabbet the sartorial tone for Saturday night's Winter Dance Party. The mayor was dressed in a black tux and top hat, greeting guests near the ballroom entrance. Women wore sweater sets and poodle skirts. Men donned letterman jackets, blue jeans and white T shirts. Not to be outdone, Sue and Larry Schwienebart of Baxter looked they were headed to their high school prom. 'We're 15 and 16 years old tonight,' Larry joked. 'I could drive a car but I've got to have my date home by 10:30 p.m.' Larry sported a white dinner jacket and red tie which was adorned with blinking lights at the corners. 'I found the blinking tie in an antique store downtown.' His date and wife of 43 years wore a pink lace dress." "Peggy Senzarino/The Globe Gazette. Sue and Larry Schwienebart of Baxter have been coming to the Winter Dance Party tribute concerts for 20 years. Like many in crowd Saturday night, they were dressed in finery from the 1950s.'50s fashion show See FASHION, A3. MORE INSIDE • TODAY'S SCHEDULE OF EVENTS A3 • Performers who were part of the original Winter Dance Party talk about that time. A3 • Volunteers are the key to Surf survival A3 • Music pros discuss the Clovis Sound A4 • Fans share tales of fateful last concert."

Clear Lake Mirror Reporter

" Welcome Rock & Roll Fans ! 50 Winters Later…" (Top center panel low-res only online due to merchandise value) with T-shirt merchandise promo, " T-shirt design makes this one a keeper…" "… through June 2009, commemorative T-shirts, featuring images of Buddy Holly, Ritchie Valens, J.P. 'The Big Bopper' Richardson are being sold…" plus, " CL vision offers broadcasts from Surf event…"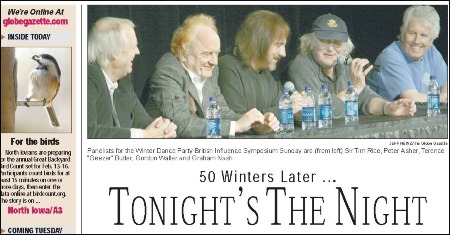 Feb 2, 2009 Mason City Globe Gazette


" 50 Winters Later…Tonight's The Night " " Panelists for the Winter Dance Party British Influence Symposium Sunday are (from left) Sir Tim Rice, Peter Asher, Terence 'Geezer' Butler, Gordon Waller and Graham Nash. – Jeff Heinz / Globe Gazette ". " After British reminiscing and a memorabilia sale Sunday, the star studded finale will rock on tonight, By John Skipper Clear Lake — Graham Nash said there's a simple reason why so many performers have come to Clear Lake this week to pay tribute to Buddy Holly. 'We're giving back,' he said Sunday during a symposium featuring British musicians at E.B. Stillman Auditorium. The performers will continue to 'give back' with a star-studded 50 Winters Later show tonight, the 50th anniversary of the last concert of Holly, Ritchie Valens and J.P. 'The Big Bopper' Richardson. Nash, who sang with the Hollies and later with Crosby, Stills & Nash, talked about Holly's influence during a panel discussion that included Peter Asher and Gordon Waller, known professionally as Peter & Gordon; Sir Tim Rice, a writer whose credits include "Jesus Christ Superstar" and "Evita"; and Terence "Geezer" Butler, bass player for the heavy-metal band Black Sabbath, who has… See PARTY, A 2 (Next pic)

Graham Nash

" Graham Nash autographs a poster after the British Influence Symposium - photo Jeff Heinz/Globe Gazette ". " Former Garner resident Jim Olson, now of Pensacola, Fla., sells memorabilia Sunday" " Memories and more for sale By John Skipper Clear Lake — Jim Olson of Pensacola, Fla., felt right at home Sunday as he displayed his wares at the Record and Memorabilia Show at Clear Lake Middle School. The retired career Army man and 1961 graduate of Garner High School was back in the heartland where he grew up and he was surrounded by memorabilia dealers, collectors and music fans attending the 50 Winters Later activities. Olson could relate to all of it. "I've always enjoyed music and I was raised up at a very fortunate time," he said. "I remember when Buddy Holly and Ritchie Valens and The Big Bopper were killed, and it was sad but it didn't make much of an impression on me," he said.. "But Don McLean's song ('American Pie') about 'the day the music died' introduced a…" see SHOW, A2.